November 18, 2020 | Volume II, Issue 22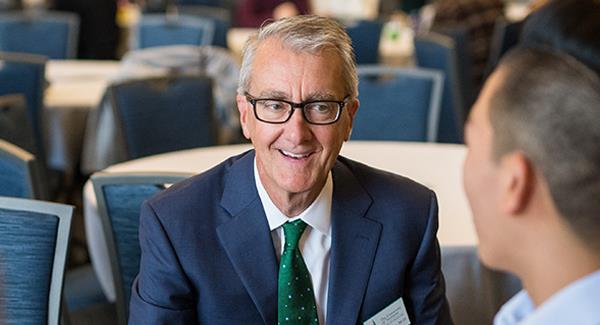 A Message of Thanks

Dear Larner Community,

Thanksgiving is almost here. Typically, this would prompt anticipation of gatherings with family and friends, but this is a holiday like none other. Although I'm confident there is light at the end of the tunnel, this has been a very tough year for everyone.

Even as we go through these ongoing challenges, our community has responded. Our learners have accommodated the curricular changes with a can-do attitude, as they progress toward their degrees. Our faculty likewise have had to respond to lab closures, teaching adjustments and clinical disruption, and have kept moving forward. And our staff, on whom we all depend every day, have stepped up and carried on in the face of ongoing adversity. I am amazed by the spirit, talent, and commitment of all of you. And I am profoundly grateful.

I am also hopeful. This week we heard of a second vaccine trial that appears to be safe and over 90 percent effective. This is a very big deal. Initial vaccinations should begin this calendar year, with broad distribution in the spring. We just need to keep up our diligence through masks, physical distancing, and avoiding gatherings. I know this is difficult, and we are all fatigued. All of us have to sacrifice now to assure that we and others are around in future years, to make up for the hugs we lost in 2020.

So, as I reflect on a Thanksgiving like no other, I am thankful for all of you. Our Larner College of Medicine will emerge from this current situation even stronger, thanks to our people. Please stay strong and stay safe and know that you are appreciated.

Sincerely,
Rick
Richard L. Page, M.D.
Dean, The Robert Larner, M.D. College of Medicine
The University of Vermont
Pictured above: Dean Page

Computer Safety at Larner
In the aftermath of the recent cyberattack of the UVM Health Network, members of the Larner College of Medicine community have understandable concerns. The College of Medicine Technology Services (COMTS) team has worked hard to minimize the risk of this incident and continues to emphasize that thoughtfulness and caution should be the way to approach digital communications now and always. Please refer to the November 12 email message from COMTS to the Larner community for details about keeping your software up-to-date and running virus-detecting programs. The COMTS help desk is available at 802-488-5553, and individual concerns can be emailed to Jill Jemison, assistant dean for technology and chief information officer for health sciences, or Darcy Pientka, assistant director and information security officer.

A COMTS COVID-19 Remote Work Toolkit and other information can be accessed on the COMTS website.
Pictured above: The University of Vermont Medical Center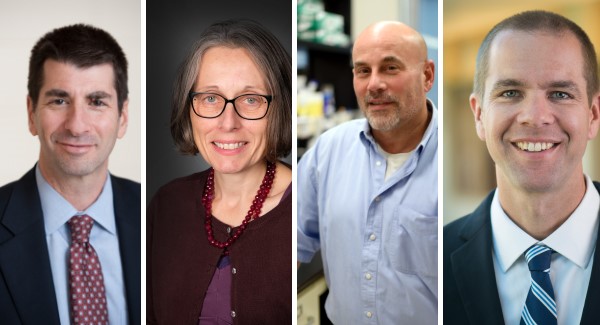 Faculty, Staff & Student Research Excellence Featured at Annual Celebration
A diverse array of research by members from across the Larner community was highlighted at the fifth annual "Dean's Excellence in Research Celebration" on November 4 and 5.

The event, held virtually this year, included the Graduate Student Research Showcase; a presentation by 2019 UVM Medical Alumni Association Distinguished Graduate Alumni Award recipient and Professor of Neurological Sciences Marilyn Cipolla, Ph.D.'97; a "State of Research at the Larner College of Medicine" presentation by Senior Associate Dean for Research Gordon Jensen, M.D., Ph.D.; the Dean's Excellence in Research Awards; and a keynote address by 2019 UVM Larner College of Medicine Research Laureate and University Distinguished Professor and Chair of Pharmacology Mark Nelson, Ph.D.

Awards ceremony attendees were welcomed by Dean Jensen, Dean Richard Page, M.D., UVM Vice President for Research Kirk Dombrowski, Ph.D., and UVM Provost Patricia Prelock, Ph.D., who congratulated and thanked research faculty, staff, and students at the College for their commitment, creativity, and perseverance throughout the year and the pandemic. "Your keen ability to navigate, learn, and excel, for me, has been truly awe inspiring...a timely and true embodiment of our land grant mission," said Provost Prelock.

During the Awards Ceremony portion of the program, Dean Jensen and Associate Dean for Undergraduate and Graduate Education and Postdoctoral Training Christopher Berger, Ph.D., recognized winners of the Graduate Student Showcase, UVM Health Network Medical Group awards, and Larner College of Medicine awards.

Award recipients include: graduate students Melissa Boucher, Alex Thompson, and Katharine Beca (Tooke); Clinical Instructor of Surgery Stas Amato, M.D.; postdoctoral fellow Vitor Mori, Ph.D.; alumna Christina Evans (Cahill), M.D.'18; Assistant Professors of Medicine Devika Singh, M.D., Katharine Cheung, M.D., Ph.D., Shahid Ahmed, M.D., and Hibba Rehman, M.D.; Assistant Professor of Radiology Scott Raymond, M.D.; Associate Professor of Radiology David M Johnson, M.D., Associate Professor of Mechanical Engineering Rachael Oldinski, M.S., Ph.D.; Assistant Professor of Surgery Jessica Cintolo-Gonzalez, M.D.; Faculty Scientist in Biochemistry Jon Ramsey, Ph.D.; Professor of Obstetrics, Gynecology, and Reproductive Sciences Elizabeth Bonney, M.D., M.P.H.; Department of Medicine Research Analyst Cheryl Collins, M.S.; Department of Pathology and Laboratory Medicine Research Analyst Terri Messier; Department of Medicine Research Manager Sara Ardren; Assistant Professor of Pediatrics Jessica Heath, M.D.; Associate Professor of Medicine Jason Botten, Ph.D.; and Professors of Medicine Harold Dauerman, M.D., Daniel Weiss, M.D., Ph.D., and Anne Dixon, M.A., B.M., B.Ch.

Read more about the celebration and watch a recording of presentations by Dean Jensen, Dr. Cipolla, and Dr. Nelson, and the award ceremony.
Pictured above: (From left to right) Drs. Dauerman, Dixon, Weiss and Botten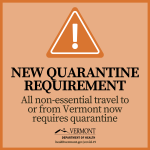 Faculty, staff, and students are advised to not travel out of Vermont, unless they are heading home until the start of the Spring 2021 semester. The Vermont Department of Health has identified travel as one of the main causes of the spread of COVID-19 in the state of Vermont. On November 10, Vermont Governor Phil Scott announced the suspension of the travel map and a required 14-day quarantine (or 7 days and a negative test) for any non-essential travel into Vermont.

Link here for more information on the Vermont Department of Health website.
Find UVM-specific COVID-19 information here.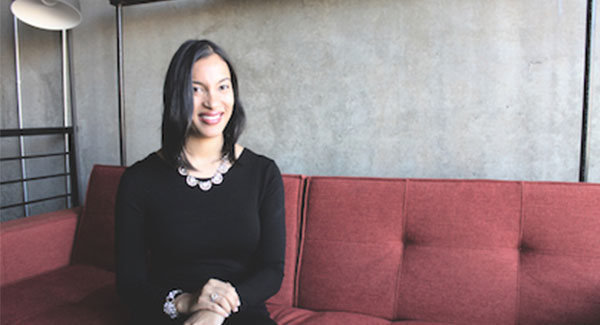 Coleman Named Larner Wellbeing Advisor
Senior Associate Dean for Medical Education Christa Zehle, M.D., and Associate Dean for Diversity, Equity and Inclusion Margaret Tandoh, M.D., are pleased to announce the appointment of Marissa N. Coleman, Psy.D., as a wellbeing advisor at the College. As a wellbeing advisor, Dr. Coleman is available to Larner medical and graduate students for large group presentations and small group or individual discussions on wellbeing. She is available specifically for members of the BIPOC (Black, Indigenous, and People of Color) community, and for consultations with individual students.

"The appointment of Dr. Coleman is in direct response to student feedback about the diverse needs of our students. Dr. Tandoh and I are excited to collaboratively expand our team and provide needed resources to support LCOM medical and graduate students during these uncertain and challenging times as we navigate a pandemic that has exposed associated health and financial inequities and our long history of systemic racism. We are committed to providing a supportive, equitable and inclusive environment for all members of our student community," Dr. Zehle said

Dr. Coleman is a licensed clinical psychologist and lead staff psychologist and equity, diversity, and inclusion advisor at the University of Vermont Medical Center, where she has practiced since 2018. Dr. Coleman serves as a co-advisor, along with Dr. Tandoh, for the Larner College of Medicine Student National Medical Association student interest group. She has held previous positions at the University of Vermont Counseling and Psychiatry Services, and Children's Healthcare of Atlanta, in Georgia. She is also the co-founder of an international mental health consulting firm and continues to see patients in private practice.

Dr. Coleman received her B.A. in psychology from DePaul University before earning her Master of Arts and Doctor of Psychology degrees from The Chicago School of Professional Psychology. She completed predoctoral work at Advocate Illinois Masonic Medical Center, The Chicago Children's Advocacy Center, and Miami Children's Hospital in Florida, and was a postdoctoral fellow in psychology at Emory University School of Medicine. She is an American Academy of Psychotherapists Scholarship recipient and an International Affairs Research Fellow at The Chicago School of Professional Psychology. Dr. Coleman has published research in a number of journals, including the Journal of Family Violence and the Journal of Pan-African Studies, and is a contributor to the Guilford Press Handbook of Depression.
"Providing culturally humble support is central to my identity as a clinical psychologist," said Dr. Coleman. "I am pleased to be able to collaborate with Larner College of Medicine faculty, staff, and students. I look forward to contributing to the equity initiatives within the College and am thrilled to do my part in enhancing the sense of belonging for traditionally underrepresented communities in medicine."
Pictured above: Dr. Coleman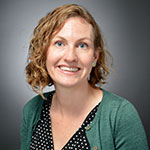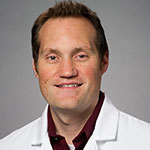 Ryan Clouser, D.O., associate professor of medicine, has been named a member of the Air Medical Physician Association's Education and Practice Committee.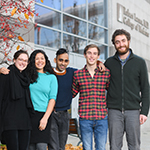 In 2017, Class of 2021 medical students Raghav Goyal, Christina Dawson, Sam Epstein, and Reed Hauser started the Social Justice Coalition (SJC) as an informal reading group. Over the past three years, the group has made far-reaching contributions to the Larner and greater Burlington, Vt., communities, and catalyzed important changes and additions to the College's medical curriculum. In August 2020, the group was officially named a Student Leadership Group, akin to the Medical Student Council and the Student Education Group. Faculty advisors include Professor of Medicine and UVM Medical Center Director of Clinical Ethics Tim Lahey, M.D., M.M.Sc.; Associate Professor of Medicine Shaden Eldakar-Hein, M.D.; Clinical Assistant Professor of Psychiatry Michael Upton, M.D.; and Assistant Professor of Pediatrics Maria Mercedes Avila, Ph.D., M.Ed. Michelle Bookless, digital content manager for the College's Office of Medical Communications, was recently appointed as the staff liaison.
(Pictured at left, from left to right: Ms. Thornburgh, Ms. Dawson, Mr. Goyal, Mr. Hausser, Mr. Epstein)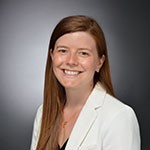 Leigh Ann Holterman, Ph.D., director of curriculum evaluation and assessment in the Teaching Academy, has been appointed assistant professor in the Department of Psychiatry.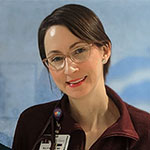 Assistant Professor of Medicine
Elly Riser, M.D.,
is first author of an abstract, titled "Integrating Addiction Medicine into Undergraduate Medical Education: The Time is Now," that was accepted and presented at the New England Society of General Internal Medicine (SGIM) Regional meeting, held virtually November 6 and 7. The abstract also received the organization's Medical Innovation Award at the meeting. Coauthors on the abstract include
Leigh Ann Holterman, Ph.D.
;
Sanchit Maruti, M.D.,
assistant professor of psychiatry;
John Brooklyn, M.D.,
clinical associate professor of family medicine;
Stephen DeVoe, M.P.H., M.S.,
Department of Medicine quality program project director;
Bradley Tompkins,
quality analyst in the Department of Medicine;
Jacqueline Drouin, MPA
, clinical coordinator for clerkship; and
Halle Sobel, M.D.,
associate professor of medicine and SGIM New England Region president.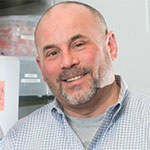 Professor of Medicine Daniel Weiss, M.D., Ph.D., has received several new research grants, including: a $200,000 two-year American Lung Association COVID-19 Action Initiative grant to study–in collaboration with Professor of Microbiology and Molecular Genetics Markus Thali, Ph.D.–how the SARS-CoV-2 virus damages the epithelial cells lining the lungs, which impacts severely ill COVID-19 patients needing mechanical ventilation in intensive care; a joint $296,000 Department of Defense Medical Discovery Award with Adam Jakus, Ph.D., of Dimensions Inx to develop and evaluate regenerative tracheal implants made from 3D-printed biomaterials; and a $100,000 Cystic Fibrosis Foundation Path for a Cure award, in collaboration with Adam Feinstein, Ph.D., of Carnegie Mellon University, to develop and validate the nanofabrication process for creating bioengineered lung tissue.

CITATION HIGHLIGHTS
Infeld M, Friede KA, San TR, Knickerbocker HJ, Ginsburg GS, Ortel TL, Voora D. Platelet reactivity in response to aspirin and ticagrelor in African- Americans and European-Americans. J Thromb Thrombolysis. 2020 Nov 6. doi: 10.1007/s11239-020-02327-w. Epub ahead of print. PMID: 33159252.
Villanti AC, Johnson AL, Halenar M, Sharma E, Cummings KM, Stanton CA, Delnevo CD, Wackowski OA, Bansal-Travers M, Pearson JL, Abrams DB, Niaura RS, Fong GT, Elton-Marshall T, Hatsukami D, Trinidad DR, Kaufman A, Sawdey MD, Taylor EV, Slavit WI, Rass O, Compton WM, Hyland A. Menthol and mint cigarettes and cigars: Initiation and progression in youth, young adults and adults in Waves 1 - 4 of the PATH Study, 2013 - 2017. Nicotine Tob Res. 2020 Nov 7:ntaa224. doi: 10.1093/ntr/ntaa224. Epub ahead of print. PMID: 33159209.
Annadurai V, Smith CB, Bickell N, Berns SH, Kelley AS, Lindenberger E, Morrison LJ, Yuen JK, Egorova N, Franco R, Back AL, Gelfman LP. Impact of a Novel Goals-of-Care Communication Skills Coaching Intervention for Practicing Oncologists. J Palliat Med. 2020 Nov 5. doi: 10.1089/jpm.2020.0207. Epub ahead of print. PMID: 33155862.
Nowak SA, Parker AM, Radhakrishnan A, Schoenborn N, Pollack CE. Using an Agent-based Model to Examine Deimplementation of Breast Cancer Screening. Med Care. 2020 Nov 5. doi: 10.1097/MLR.0000000000001442. Epub ahead of print. PMID: 33165149.
Folsom AR, Cushman M. Exploring Opportunities for Primary Prevention of Unprovoked Venous Thromboembolism: Ready for Prime Time? J Am Heart Assoc. 2020 Nov 16:e019395. doi: 10.1161/JAHA.120.019395. Epub ahead of print. PMID: 33191841.
Rohmann JL, Longstreth WT Jr, Cushman M, Fitzpatrick AL, Heckbert SR, Rice K, Rosendaal FR, Sitlani CM, Psaty BM, Siegerink B. Coagulation factor VIII, white matter hyperintensities and cognitive function: Results from the Cardiovascular Health Study. PLoS One. 2020 Nov 16;15(11):e0242062. doi: 10.1371/journal.pone.0242062. PMID: 33196677.
Steingard S. Grief and Hope for 2021. Community Ment Health J. 2020 Nov 7:1–2. doi: 10.1007/s10597-020-00742-0. Epub ahead of print. PMID: 33159631; PMCID: PMC7648224.
Halvaei I, Litzky J, Esfandiari N. Advanced paternal age: effects on sperm parameters, assisted reproduction outcomes and offspring health. Reprod Biol Endocrinol. 2020 Nov 13;18(1):110. doi: 10.1186/s12958-020-00668-y. PMID: 33183337.
McClure K, Erdreich B, Bates JHT, McGinnis RS, Masquelin A, Wshah S. Classification and Detection of Breathing Patterns with Wearable Sensors and Deep Learning. Sensors (Basel). 2020 Nov 13;20(22):E6481. doi: 10.3390/s20226481. PMID: 33202857.
Kennedy AG, Regier L, Fischer MA. Educating community clinicians using principles of academic detailing in an evolving landscape. Am J Health Syst Pharm. 2020 Nov 6:zxaa351. doi: 10.1093/ajhp/zxaa351. Epub ahead of print. PMID: 33155056.
Lee B, Hanley JP, Nowak S, Bates JHT, Hébert-Dufresne L. Modeling the impact of school reopening on SARS-CoV-2 transmission using contact structure data from Shanghai. BMC Public Health. 2020 Nov 16;20(1):1713. doi: 10.1186/s12889-020-09799-8. PMID: 33198707.
Imlay H, Dasgupta S, Boeckh M, Stapleton RD, Rubenfeld GD, Chen Y, Limaye AP.
Risk Factors for Cytomegalovirus Reactivation and Association with Outcomes in Critically Ill Adults with Sepsis: A Pooled Analysis of Prospective Studies.
J Infect Dis. 2020 Nov 7:jiaa697. doi: 10.1093/infdis/jiaa697. Epub ahead of print. PMID: 33159200.

View Archive | Subscribe

Published by the Office of Medical Communications
The Larner College of Medicine
at The University of Vermont
Copyright 2020