March 23, 2022 | Volume IV, Issue 6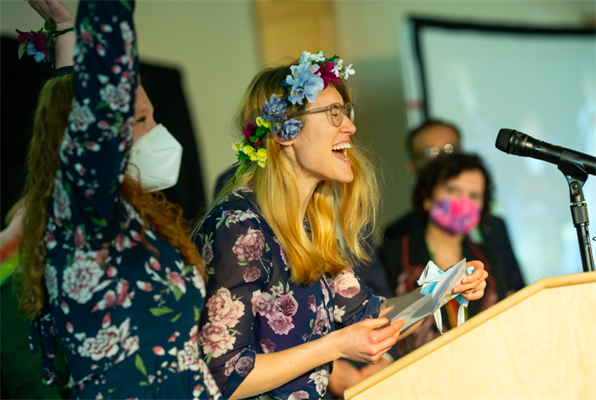 Medical Class of '22 Celebrates Milestone at In-Person Match Day
The Class of 2022's medical school journey turned upside-down in March 2020 when the COVID-19 pandemic forced a stay-at-home order, a pivot to remote learning, and put their clinical training on hold. After two years of virtual events, the Larner College of Medicine proudly celebrated these resilient senior medical students at an in-person Match Day event on March 18 in the UVM Davis Center's Grand Maple Ballroom.
UVM's traditional in-person event – set aside in 2020 and 2021 due to COVID-19 restrictions – features bagpiper and radiation oncology faculty member H. James Wallace, M.D., leading the senior class into the venue, mascot "Dr. Moo," a skit by the Office of Medical Education, a crowd of enthusiastic supporters, and cheers, tears, and smiles. There is even a Match Day theme, which this year was "floral."
Among the students that learned where they matched on March 18 were:
Kalin Gregory-Davis, who was born at home, studied midwifery, and practiced as a licensed birth doula before medical school. For her, Match Day represented a major step toward her goal of becoming an obstetrician/gynecologist. She'll continue her training as a resident at Brown University/Women & Infants Hospital in Providence, R.I.
Malla Keefe, a San Francisco, California-area native whose pre-medical school experiences in clinical settings allowed her "to witness the unique intimacy of the patient-provider relationship." She is happy to be able to realize her goal of working in rural medicine at the Family Medicine Residency of Idaho in Boise.
Prasanna Kumar, who had his significant other, Neha, by his side when they announced their couples match. The future physicians, who met as undergraduate students at University of North Carolina at Chapel Hill, share a passion for global health. He'll be doing an emergency medicine residency and she'll be an internal medicine resident at Brown University/Rhode Island Hospital in Providence, R.I.
Read the full Class of 2022 Match Day article.
Pictured above: Class of 2022 medical student Rachel Harrison announces her residency Match on-stage in the UVM Davis Center Grand Maple Ballroom at the Larner Match Day event.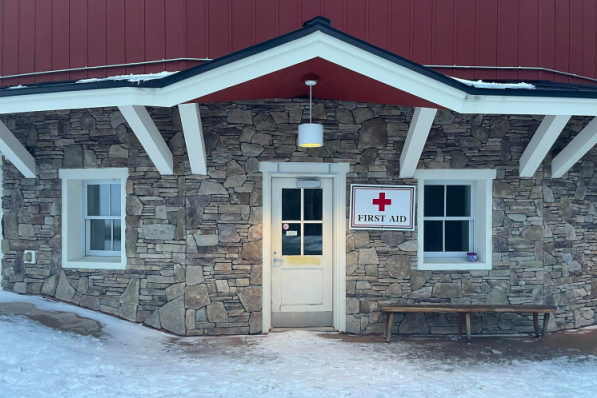 Larner College of Medicine Faculty Volunteer to Create Clinic at Sugarbush
A new medical clinic at Sugarbush Resort— Three Peaks Medical Clinic — is scheduled to open in December 2022. The clinic will function as a non-profit with a mission to provide the resort area community access to on-mountain medical care and will provide a venue for facilitating wilderness, emergency, and sports medicine research. UVM Division of Emergency Medicine faculty members who will volunteer at the clinic include Wilderness Medicine Program Director Sarah Schlein, M.D., Ellen Stein, M.D. M.B.A., J. Ship, M.D., Katherine Dolbec, M.D., and Mark Bisanzo, M.D. Nathan K. Endres, M.D., associate professor of orthopaedics and member of the U.S Ski Team physician pool, will also volunteer.
The primary goal of the facility will be to evaluate and treat on-hill injuries as well as basic walk-in primary care for resort guests and community members. Patients will not be charged for medical care provided by the doctors and will pay only for services such as x-rays. Donations will be accepted for assessment and evaluation of illness or injury.
A fundraising campaign is underway, with a goal is to raise $250,000 to purchase medical equipment and support initial operating costs. Sugarbush is providing the space rent-free, which will allow the clinic to keep annual operating costs minimal.
Sugarbush hosted a former medical clinic at Lincoln Peak for 48 years in collaboration with the University of Vermont Medical Center (UVMMC). Founded by Robert Johnson, M.D., professor emeritus of orthopaedics and rehabilitation, the former clinic treated 300-500 patients a year, easing the burden on hospital emergency rooms and providing immediate on-mountain care during hours when most local facilities were closed. It also provided opportunities for Dr. Johnson and colleagues to collect comprehensive data on skiing and snowboarding injuries, informing some of the most groundbreaking research on snow sports injuries and prevention in the world. The former clinic closed in 2019.
As an orthopaedic resident at UVMMC, Dr. Endres enjoyed a rotation at the former clinic.
"We worked side-by-side with great teachers like Bob Johnson and other faculty. It was very rewarding and a fantastic educational opportunity," Endres said. "I'm excited that there will be a new iteration of the clinic, and to continue the rich legacy of Dr. Johnson's research."
Learn more about how to contribute to this initiative.
Pictured above: The current clinic building (Photo courtesy of Sugarbush Resort)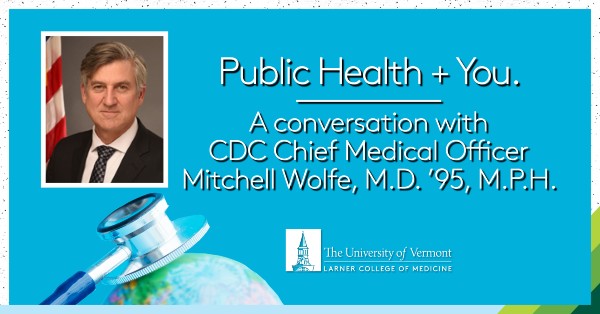 A Conversation with CDC Chief Medical Officer and Alum Mithcell Wolfe, M.D.'95, M.P.H.
In honor of National Public Health Week (April 4-10), UVM Larner College of Medicine faculty, staff, graduate students, medical students, and post-doctoral trainees are invited to participate in a live virtual presentation and conversation titled "Public Health + You," with Centers for Disease Control and Prevention Chief Medical Officer and 1995 medical alum of the College Mitchell Wolfe, M.D.'95, M.P.H.
The event, which will be held on April 7 at 4:00 p.m. on Microsoft Teams, is jointly hosted by the College, UVM Professional and Continuing Education, and the Larner Public Health Graduate program. Kelsey Gleason, Sc.D., assistant professor of public health, will moderate.

Registration for the event is required.

Pictured above: Promotional poster for the event with a photo of Dr. Mitchell Wolfe and text that reads: "Public Health + You. A conversation with CDC Chief Medical Officer Mitchell Wolfe, M.D.'95, M.P.H."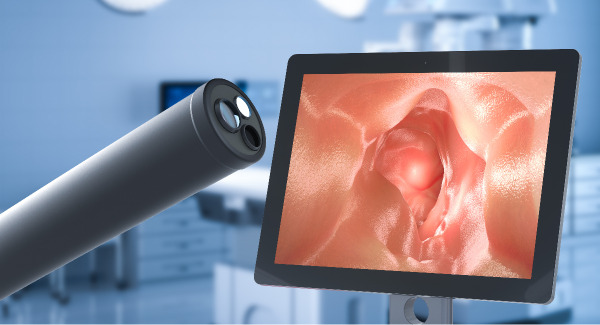 UVM Clinicians Answer Questions about Colorectal Cancer Screening
Colorectal cancer is the third most common cancer diagnosed in both men and women. According to the American Cancer Society (ACS), people born in 1990 have double the risk of developing colon cancer and quadruple the risk of rectal cancer compared to those born before 1950. In 2018, ACS updated its age recommendation in 2018 to start regular colorectal screenings at age 45.

Sarah Gillett, Ph.D., M.D., assistant professor of medicine and a hematologist at the University of Vermont Medical Center and member of the UVM Cancer Center, says that most early-stage colorectal cancers often present no symptoms at all. "That's why screening is so important," she explains.

A colonoscopy allows a doctor to look at the inner lining of the large intestine using a thin, flexible tube called a colonoscope that has a tiny camera that can be moved slowly through the rectum and into the colon. During the test, the doctor looks for polyps, ulcers, tumors, inflammation or bleeding. The doctor can remove any concerning tissue during the test and review it under a microscope to see if it is cancerous. A colonoscopy takes about 30 to 45 minutes and if it is normal, only needs to be done once every 10 years.
Read more answers from Dr. Gillet, Ellen Davis, M.D., a UVM Health Network - Porter Medical Center general surgeon, and UVM Cancer Center Director Randall Holcombe, M.D., M.B.A., in a UVM Health Network HealthSource article, titled "9 Questions You're Too Shy to Ask: Colon Health."
Pictured above: Stock photograph portraying a colonoscope and a digital monitor displaying the inside of a patient's colon as viewed through the colonoscope.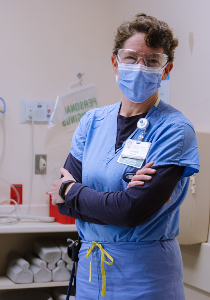 On the first day on the ED service, I got there a little early. One of the attending physicians asked the resident to help with a shoulder dislocation. I followed along, and eventually found myself at the patient's side, holding his hand and breathing with him while the team manipulated his other arm. The next thing I know, I was helping them with the maneuver and providing traction on his dislocated shoulder. The attending [physician] pulled me into the team and allowed me to participate. It was an amazing example of teamwork, instruction, learning and healing."
- Class of 2022 medical student Lauren Struck
Pictured at left: Lauren Struck stands in the UVM Medical Center's Emergency Department wearing blue scrubs and a surgical face mask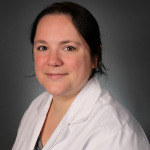 Sierra Bruno, Ph.D., a Cellular, Molecular and Biomedical Sciences doctoral candidate, successfully defended her dissertation, titled, "Mitochondrial dynamic regulation of the lung epithelial response to complex allergen," on February 28, 2022. Her advisor is Vikas Anathy, Ph.D., associate professor of pathology and laboratory medicine.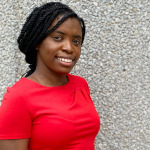 Debora Kamin Mukaz, Ph.D., postdoctoral associate in the Division of Hematology/Oncology, is the recipient of an American Heart Association Postdoctoral Fellowship. The award is designed to enhance the training of postdoctoral applicants who are not yet independently funded, but are embedded in an appropriate investigative group with the mentorship, support, and relevant scientific guidance of a research mentor. Dr. Kamin Mukaz's proposal focuses on the role of structural racism on the health disparities seen in hypertension. In conjunction with the longitudinal REasons for Geographic And Racial Differences in Stroke (REGARDS) study, she will conduct a comprehensive study of the effects of five dimensions of residential segregation (evenness, exposure, concentration, centralization, and clustering) on the risk of 9.4-year incidence of hypertension. In order to develop mechanistic hypotheses, she will identify associations of the same five dimensions of residential segregation with thrombo-inflammatory biomarkers related to risk of hypertension; factor IX, D-dimer, interleukin-6, C-reactive protein, interferon gamma, and tumor necrosis factor alpha. The goal of this research is to increase knowledge about inequities in cardiovascular health and allow for design of programs to decrease racial disparities in hypertension.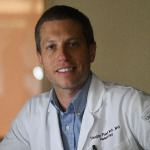 Timothy Plante, M.D., M.H.S., assistant professor of medicine and Bloomfield Early Career Professor in Cardiovascular Research, received the Sandra Daugherty Award for Excellence in CVD or Hypertension Epidemiology from American Heart Association (AHA) at the 2022 AHA Scientific Sessions for his research on cytokines and risk of hypertension in the REasons for Geographic And Racial Differences in Stroke (REGARDS) study.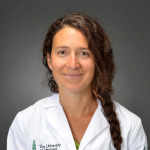 Sarah Schlein, M.D., associate professor of surgery and wilderness medicine director in the Division of Emergency Medicine, is the recipient of the 2021 WMS Ice Axe Award from the Wilderness Medical Society. This award honors an individual with a distinguished record of public service in wilderness medicine who is also a strong advocate for the WMS and outdoor health and safety. The award recipient's accomplishments may be in clinical practice, teaching, exploration, the arts or research.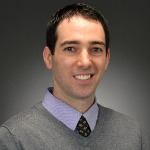 Adam Sprouse-Blum, M.D., assistant professor of neurological sciences and Clinical and Translational Sciences doctoral degree candidate, has been awarded the American Headache Society's 2022 Above and Beyond Award in recognition of "...remarkable and important significant service to the Society and to the field of headache medicine..." He will receive the award at the Society's Annual Scientific Meeting in June 2022.

CITATION HIGHLIGHTS


Collin LJ, Veres K, Gradus JL, Ahern TP, Lash TL, Sørensen HT. Preexisting stress-related diagnoses and mortality: A Danish cancer cohort study. Cancer. 2022 Mar 15;128(6):1312-1320. doi: 10.1002/cncr.34036. Epub 2021 Nov 19. PMID: 34797563; PMCID: PMC8882160.
Vatovec C, Hanley J. Survey of awareness, attitudes, and compliance with COVID-19 measures among Vermont residents. PLoS One. 2022 Mar 14;17(3):e0265014. doi: 10.1371/journal.pone.0265014. PMID: 35286344; PMCID: PMC8920266.
Getz SA, Tariq K, Marchand DH, Dickson CR, Howe Vi JR, Skelton PD, Wang W, Li M, Barry JM, Hong J, Luikart BW. PTEN Regulates Dendritic Arborization by Decreasing Microtubule Polymerization Rate. J Neurosci. 2022 Mar 9;42(10):1945-1957. doi: 10.1523/JNEUROSCI.1835-21.2022. Epub 2022 Jan 31. PMID: 35101965; PMCID: PMC8916761.
Copeland WE, Tong G, Gifford EJ, Easter MM, Shanahan L, Swartz MS, Swanson JW. Adult criminal outcomes of juvenile justice involvement. Psychol Med. 2022 Mar 10:1-8. doi: 10.1017/S0033291722000393. Epub ahead of print. PMID: 35264271.
Ament Z, Patki A, Chaudhary N, Bhave VM, Garcia Guarniz AL, Gao Y, Gerszten RE, Correa A, Judd SE, Cushman M, Long L, Irvin RM, Kimberly WT. Nucleosides Associated With Incident Ischemic Stroke in the REGARDS and JHS Cohorts. Neurology. 2022 Mar 9:10.1212/WNL.0000000000200262. doi: 10.1212/WNL.0000000000200262. Epub ahead of print. PMID: 35264422.
Leikauskas JA, Read JS, Kelso P, Nichols Heitman K, Armstrong PA, Kwit NA. Anaplasmosis-Related Fatality in Vermont: A Case Report. Vector Borne Zoonotic Dis. 2022 Mar 9. doi: 10.1089/vbz.2021.0095. Epub ahead of print. PMID: 35263192.
Ehrlich O, Schweitzer NS, Berry DL. Functional Goals and How Palliative Patients With Cancer Managed Pain. Pain Manag Nurs. 2022 Mar 11:S1524-9042(22)00010-8. doi: 10.1016/j.pmn.2022.02.004. Epub ahead of print. PMID: 35288039.
Cioffredi LA, Anderson H, Loso H, East J, Nguyen P, Garavan H, Potter A. Prenatal cannabis exposure predicts attention problems, without changes on fMRI in adolescents. Neurotoxicol Teratol. 2022 Mar 18:107089. doi: 10.1016/j.ntt.2022.107089. Epub ahead of print. PMID: 35314358.
Melbostad HS, Wachtel DS, Lipke KA, Badger GJ, Matusiewicz AK, Rey CN, MacAfee LK, Dougherty AK, Heil SH. Preliminary Side Effect Profile, Safety, and Tolerability of Hormonal Contraception Among Women Receiving Opioid-Agonist Therapy. Contraception. 2022 Mar 10:S0010-7824(22)00061-0. doi: 10.1016/j.contraception.2022.02.013. Epub ahead of print. PMID: 35283082.
Johnson O, Gerald LB, Harvey J, Roy G, Hazucha H, Large C, Burke A, McCormack M, Wise RA, Holbrook JT, Dixon AE. An online weight loss intervention for people with obesity and poorly controlled asthma. J Allergy Clin Immunol Pract. 2022 Mar 15:S2213-2198(22)00242-2. doi: 10.1016/j.jaip.2022.02.040. Epub ahead of print. PMID: 35304842.
Krishnan AM, Gadela NV, Ramanathan R, Jha A, Perkins ME, Metersky ML. A Comparative Analysis of Catheter Directed Thrombolysis with Anticoagulation Alone or Systemic tPA in Acute Pulmonary Embolism with Cor Pulmonale. J Intensive Care Med. 2022 Mar 14:8850666221083241. doi: 10.1177/08850666221083241. Epub ahead of print. PMID: 35285742.

View Archive | Subscribe

Published by the Office of Medical Communications
The Larner College of Medicine
at The University of Vermont
Copyright 2022