June 1, 2022 | Volume IV, Issue 11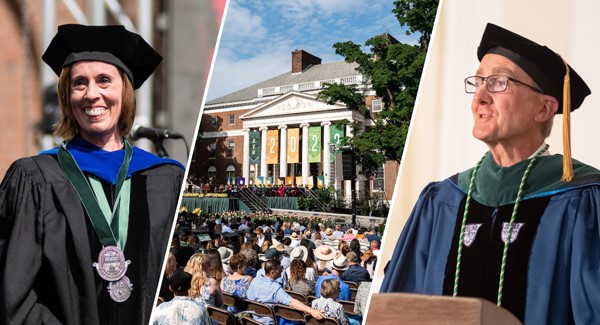 A Message from Dean Page
Dear Larner community,

With our academic year winding down, I want to take a moment to thank and congratulate all of you – faculty, students and staff – for your efforts and accomplishments amid ongoing challenges.

Commencement weekend brought this year into fine focus. I had the privilege of taking part in the Graduate College ceremony on Saturday, May 21st, where doctoral and master's degree recipients from the Cellular, Molecular and Biomedical Sciences, Neuroscience, Pharmacology, Medical Science, and Public Health graduate programs received their hoods. The next morning, at the University's main commencement, I had the honor of witnessing the installation of the newest University Distinguished Professor, our own Dr. Yvonne Janssen-Heininger from the Department of Pathology and Laboratory Medicine. And then that afternoon in the Ira Allen Chapel, 113 members of the Class of 2022 received their hoods, took the Oath, and emerged from that beautiful building as the newest generation of physicians. My thanks to all who participated, including Francis Mtuke, class of 2022, and our commencement speaker, Senator Bernie Sanders, who exhorted our graduates to lead the effort to build a better, more equitable health care system.
I am confident that our M.D. Class of 2022 will work toward a more just healthcare system, just as so many members across our community already are doing. There is so much to do now, and a world that needs healing in so many ways, especially in the wake of the senseless murders in the last two weeks. Even with such events, I hope you can pause and acknowledge the progress you and your colleagues have achieved this year at our College: the students you've educated; the new knowledge you've created; the patients you have cared for; and the community you have touched. You have made a difference.

I hope you and your families get some time to relax, and have a safe and enjoyable summer.
Stay well,

Pictured above: Dr. Janssen-Heininger at the UVM main commencement ceremony; a wide-angle shot of the main commencement ceremony; and Dean Page addressing the class of 2022 from Ira Allen Chapel stage at commencement on May 22, 2022.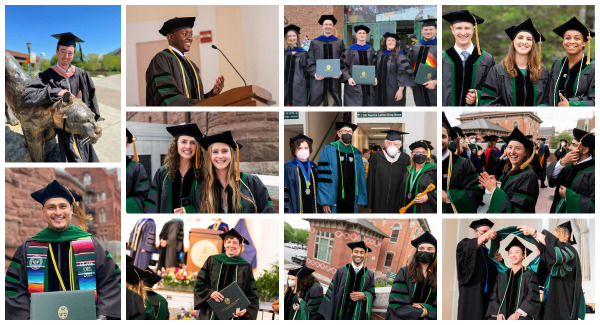 M.D., Ph.D., M.S. Graduates Celebrated at 2022 Commencement Ceremonies
At the UVM Graduate College and Larner College of Medicine 2022 commencement ceremonies, master's, doctoral, and medical degree recipients heard from speakers, including UVM Provost and Senior Vice President Patty Prelock, Ph.D., Senator Bernie Sanders, and medical student speaker Francis Mtuke, M.D.'22.
"Yes, this is truly a day of celebration, but it is also a day of commitment to the future and a commitment to the important role each of you will play in creating a safe, sustainable, just, equitable, inclusive and prosperous tomorrow, not just for some – but for all," Provost Prelock told Graduate College M.S., M.P.H., and Ph.D. degree recipients on May 21. The next day, May 22, at the Larner medical commencement ceremony, Senator Sanders spoke to the soon-to-be doctors, saying, "The overall healthcare system in which you all will be practicing is a system which is dysfunctional, extraordinarily wasteful and expensive, and cruel. I am asking you, as physicians, to lead the effort to fundamentally change that system."
Dr. Mtuke, the medical Class of 2022 student speaker, shared the story of his mother's courage, journeying nearly 10,000 miles from Zimbabwe to the U.S. to take a chance on a new life. He thanked her for her hard work and determination, which led to a career as a nurse, and which inspired him to attend medical school. When he decided to attend Larner, he said, both he and the College of Medicine took a chance on each other. Dr. Mtuke told his classmates, "Because of the chance we took, thousands of war veterans, mothers, fitness instructors, authors, chefs, musicians, athletes, and so many more will have a chance taken on them. A chance taken by doctors who … were also given the opportunity to hone in on the intangibles of being a physician: namely compassion, empathy, and dedication to service."
Pictured above: (Left to right, top to bottom) Robert O'Connor, M.P.H.'22 (Photo courtesy of O'Connor); Francis Mtuke, M.D.'22; Emily Whitaker, Ph.D.'22, Scott Vanson, Ph.D.'22, JJ Bivona, Ph.D.'22, Noelle Gillis, Ph.D.'22, and Cole Davidson, Ph.D.'22 (Photo courtesy of Dr. Bivona); Benjamin Kagan, M.D.'22, Jugerta Istrefi, M.D.'22, and Sunny Hutson, M.D.'22; Jose Calderon, M.D.'22 (Photo courtesy of Dr. Calderon); Abigail Belser, M.D.'22, and Elizabeth Baumgartner, M.D.'22; Provost Patricia Prelock, Ph.D., Dean Richard L. Page, M.D., Senator Bernie Sanders, and faculty marshal Mary Cushman, M.D.; Sheridan Finnie, M.D.'22; Lauren Struck, M.D.'22; Prasanna Kumar, M.D.'22; Kelly Chan, M.D.'22. (Unless otherwise noted, photos by Andy Duback.)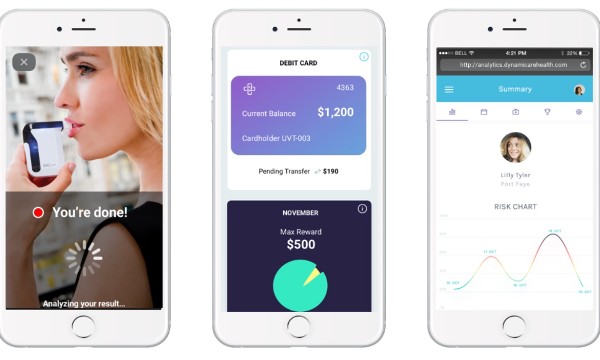 VCBH Study Tests Novel App-Delivery of Financial Incentives for Pregnant Smokers
Over several decades, numerous studies have linked cigarette smoking to adverse health outcomes during pregnancy, birth, and beyond for both babies and pregnant individuals. While evidence shows that smoking cessation strategies incorporating tobacco abstinence-contingent financial incentives are most successful, this strategy has been difficult to deliver for people unable to access clinic-based locations.
A new study published in JAMA Network Open and authored by Vermont Center on Behavior and Health (VCBH) researchers including VCBH Director Stephen Higgins, Ph.D., found that using a smartphone app (developed by DynamiCare Health Inc.) that monitored smoking and delivered incentives to participants' debit cards showed promise in achieving similar or better results than traditional best practices with financial incentives.
The study included 90 pregnant individuals ages 18 years or older from across 33 states who were randomized to receive either "Best Practices" (BP) treatment featuring brief counseling and a tobacco quit line referral or BP with a financial incentives (FI) intervention delivered via a smartphone app. Results showed that individuals assigned to receive BP with FI had nearly four-fold greater odds of smoking abstinence across assessments conducted during pregnancy and following childbirth, compared to individuals receiving standard best practice care.
Read the full article about the study.
Pictured above: Graphic features three screen captures from a smartphone depicting different features of the app used in the study.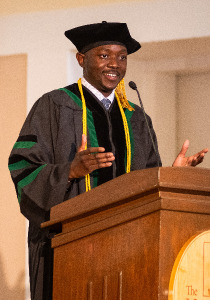 Four years of taking a chance on UVM taught us to be selfless in service, to give humbly and generously, and to rally around our fellows in need...Four years have seen us all grow, develop, and attain the best of what the UVM experience has to offer...And now we find ourselves at the finish line..."
- Francis Mtuke, M.D.'22, graduate of the medical student Class of 2022
Pictured at left: Dr. Mtuke delivers his Commencement speech from the Ira Allen Chapel stage on Sunday, May 22, 2022.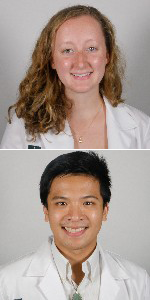 Larner medical students Lindsay Aldrich '25 and Richard Vuong '25 were selected as 2022 Gold Student Summer Fellows by the Arnold P. Gold Foundation. This program is designed to help medical students develop skills to become compassionate, relationship-centered physicians and involves the completion of a research or service project related to community health. Aldrich and Vuong are collaborating with biomedical engineers and physicians to create a mobile health vehicle, dubbed "U-Health," which aims to expand healthcare access to postpartum women in rural parts of Vermont's Rutland County and Northeast Kingdom. Its patient-centered design accommodates a physical space for healthcare workers to provide six-week postpartum check-ups for new mothers and their children. The first test run of U-Health will take place this summer, with a plan to involve additional medical student volunteers for future iterations of the vehicle. The 10-week-long fellowship encourages interprofessional teamwork focused on improving the health of traditionally underserved populations and encouraging a systemic change. It includes a grant of up to $4,000.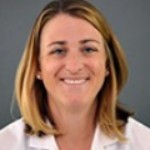 Jessica Badlam, M.D., assistant professor of medicine in the Division of Pulmonary and Critical Care Medicine, is the recipient of a one-year Department of Medicine $50,000 Pilot Grant, which will support her research on "Pregnancy and Reproductive Risk Factors for Pulmonary Arterial Hypertension (PAH) in Women." For her study, she will investigate the role of reproductive factors and exogenous estrogen exposures in PAH onset and severity, and conduct a novel investigation into the prevalence and severity of previous preeclampsia among females with PAH. Anne Dixon, M.A., B.M., B.Ch., professor of medicine, director of pulmonary and critical care medicine, and director of the Vermont Lung Center, is Dr. Badlam's mentor for the grant.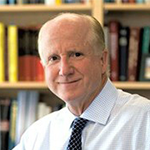 Stephen Higgins, Ph.D., director of the Vermont Center on Behavior and Health and Donaldson Professor of Translational Science in the Department of Psychiatry, has been named the recipient of the 2022 College on Problems of Drug Dependence (CPDD) Nathan B. Eddy Memorial Award. Established in memory of one of the pioneers in the field of drug dependence following his death in 1973, this award acknowledges outstanding research efforts that have advanced our knowledge of drug dependence. CPDD has been in existence since 1929 and is the longest standing group in the United States addressing problems of drug dependence and abuse. Dr. Higgins will be recognized with the award and present a plenary talk, titled "Leveraging the Reinforcement Process to Promote Health: Applications to Substance Use Disorders and Other Chronic Conditions," on June 12 during the CPDD 84th Annual Scientific Meeting.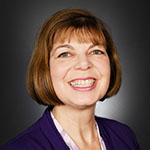 Kathryn Huggett, Ph.D., assistant dean for medical education and director of The Teaching Academy, has been selected as the 2022 recipient of the International Association of Medical Science Educators (IAMSE) Distinguished Career Award for Excellence in Teaching and Educational Scholarship. This award recognizes an IAMSE member who has a distinguished record of educational scholarship, including educational research and dissemination of scholarly approaches to teaching and education. Dr. Huggett will be honored at the 26th Annual IAMSE Meeting in Denver, Colo., June 4-7.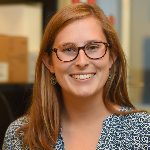 Cellular, Molecular and Biomedical Sciences doctoral student Julia Snyder, Ph.D., successfully defended her dissertation, titled "The Impact of Nitric Oxide on Dendritic Cell Metabolism," on May 16. Dr. Snyder is mentored by Eyal Amiel, Ph.D., associate professor of medical laboratory science and interim chair of biomedical and health sciences in the UVM College of Nursing and Health Sciences.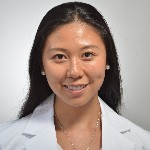 Class of 2022 medical graduate
Irene Sue, M.D.
, received a Lancet Global Health-CUGH Best Student Poster Award at the 2022 Consortium of Universities for Global Health (CUGH) Global Health Conference, which took place March 28-April 1. Her poster, titled "Global Health Narrative Medicine Elective as a Tool for Improving Cultural Competency," won in the Global Health Education track. In addition,
Majid Sadigh, M.D.
, director of the Nuvance Health/University of Vermont Larner College of Medicine Global Health Program, received a VELJI-CUGH Award for Global Excellence in the Faculty Leader in Health Innovation category at the conference.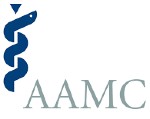 Several members of the Larner College of Medicine community were recognized with Excellence in Medical Education Oral Abstract Presentation Awards by the Association of American Medical Colleges (AAMC) Northeast Group on Educational Affairs (NEGEA), one of the four AAMC Group on Educational Affairs regions. Authors
Kathryn Huggett, Ph.D.
, assistant dean for medical education and director, the Teaching Academy;
Stephen Goldman, M.S.
, manager, database and programming services;
Laurie Gelles, Ph.D.,
educational technology team lead;
Jesse Moore, M.D.,
associate professor of surgery;
Karen Lounsbury, Ph.D.
, director of Foundations; and
Elise Everett, M.D.
, level director, clinical clerkships, were recognized for their presentation, titled "Hot Spots and Cold Hollows: Curriculum Heat Mapping as a Visual Resource for Medical School Curriculum Competency Review." In addition, Dr. Lounsbury and colleagues from Albany Medical College and Penn State Hersey College of Medicine were recognized for their presentation, titled "Cranial Pursuit computer-based neuroanatomy games: An interinstitutional study to assess their impact on learning outcomes."


View Archive | Subscribe

Published by the Office of Medical Communications
The Larner College of Medicine
at The University of Vermont
Copyright 2022