August 17, 2022 | Volume IV, Issue 16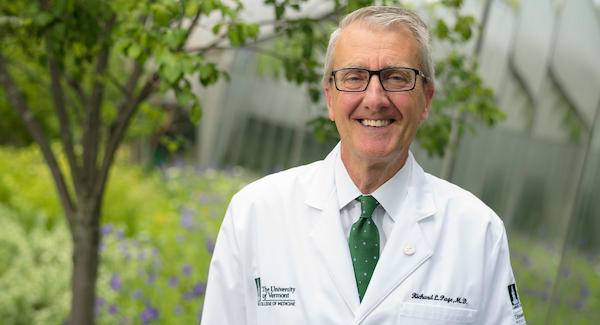 Message from Dean Page
It was with great pleasure last week that I stood before the 124 members of the medical Class of 2026 to welcome them on behalf of all our College faculty, staff and students. This week, our second-year medical students arrived back from their break and new graduate students are beginning their work in our laboratories. I hope all of you have had a chance to "recharge," and encourage you to make the best of the few summer weeks still ahead even as we embrace the new academic year.
We have much to look forward to in 2022–2023. To the south of the Given Building, workers are now putting the finishing touches on the Firestone Medical Research Building. They are pouring concrete for sidewalks and beginning to landscape what will be our new greenspace adjoining our College's entrance. Just two years ago, we were working under the governor's state of emergency guidelines, many of us fully remote, and building projects were on hold. I am glad we persevered, broke ground in September of 2020, and in doing so provided much-needed jobs to many Vermonters at a crucial moment. As a result, this fall, biomedical scientists and trainees will move into the facility in support of our research mission, and in doing so, serve patients today and in the future.
Even as we celebrate this investment in our future, we will also recognize a landmark in the history of our College; in May, when the Class of 2023 strides across the stage at Ira Allen Chapel, we will be celebrating the 200th anniversary of our first medical graduating class. Throughout the coming months we will acknowledge our bicentennial in many ways. All of us—faculty, staff and students—should take pride in our past accomplishments, although what lies ahead is even more exciting.
I wish you all the best in this new academic year.
Stay well,
Pictured above: Dean Richard L. Page (Photo: Andy Duback)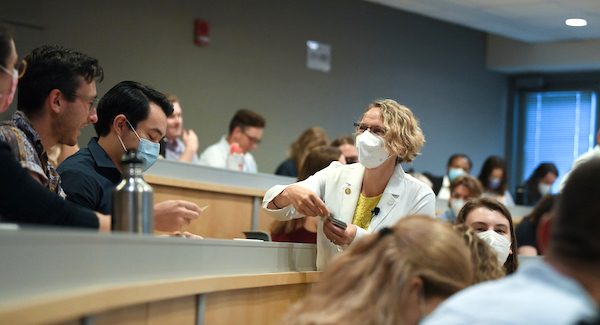 Larner Welcomes Class of 2026 Medical Students to Campus
On Monday, August 8, the college welcomed 124 new medical students in the Class of 2026 to campus, where they participated in Orientation – the first course of the Foundations level of the Vermont Integrated Curriculum.
Students in the Class of 2026 were selected from 9,340 applicants, a more than six percent increase over the previous year. Over a quarter of the new med students are Vermonters, 19 percent identify as LGBTQA+, and 61 percent of class members identify as female. In addition, 20 percent of UVM's newest medical students identify as coming from a lower socio-economic background and 23 percent identify as people underrepresented in medicine – referred to in higher education as "URiM" – and defined by the AAMC as "racial and ethnic populations that are underrepresented in the medical profession relative to their numbers in the general population...[including] African-American/Caribbean-American; Mexican-American; Native-Americans (American-Indians, Alaska Natives, Native Hawaiians); Central and South Americans; and Puerto Ricans." Lewis First, M.D., M.S. This year, students who will be spending their clinical clerkship year at Larner's Connecticut campus also had an afternoon gathering to meet Connecticut campus Associate Dean Jonathan Rosen, M.D., and Assistant Dean for Students Ellen Kulaga, M.D., and get to know members of their cohort. On Tuesday and Thursday, students met with their Professionalism, Communication & Reflection (PCR) course groups and advisors. PCR is a year-long course that is composed of small, process-oriented discussion groups with a faculty preceptor once a week, and focuses on themes including professionalism, self-awareness, personal wellness, communication with peers, colleagues, and patients, social and economic impacts on medicine, and emotional intelligence. The students also participated in wellness activities led by medical student ambassadors in the classes of 2025, 2024, and 2023 – heading out to local mountains to hike and explore the woods of Vermont, rock climb, play tennis, practice yoga, and more.Read the full article about the Larner Class of 2026's Orientation week here.
Each day of the week was packed with activities and exercises to help the students become familiar with the facilities, technology, faculty, staff, and classmates they'll be interacting with over the next few years. Traditionally, the first day of Orientation is also the day the students meet their "first patient," during the "First Patient Simulation" exercise led by Chair of Pediatrics and Chief of the University of Vermont Children's Hospital
Pictured above: Senior Associate Dean Christa Zehle, M.D., distributes Professionalism badges to members of the Class of 2026 during Orientation. (Photo: David Seaver)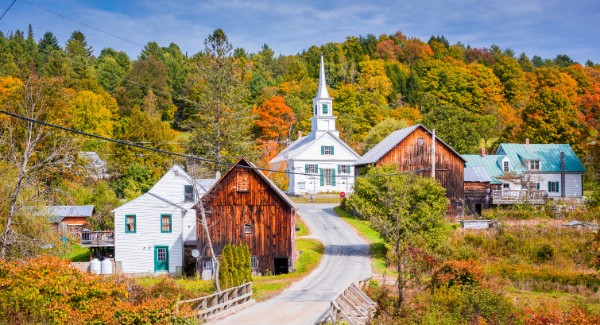 UVM & Maine Partners Receive $20 Million Renewal Grant for NNE-CTR
Vermont and Maine have the oldest populations in the U.S., which, coupled with a rural environment, predisposes northern New Englanders to health challenges including cancer, substance use disorders, food insecurity, obesity, diabetes, Alzheimer's and cardiovascular disease.
To providing researchers in rural communities with the tools for developing and implementing innovative medical treatments for chronic diseases and improving community members' health, the Northern New England Clinical and Translational Research Network (NNE-CTR) was established five years ago with funding from the National Institutes of Health (NIH). Led by principle investigators Gary Stein, Ph.D., chair of biochemistry at the University of Vermont, and Clifford Rosen, M.D., director of the Center for Clinical and Translational Research at MaineHealth, the NNE-CTR team members have built a strong foundation for conducting clinical research. By linking primary care practice centers with academic centers, NNE-CTR fosters development of innovative approaches to conducting community-based research.
NNE-CTR recently received a $20 million-dollar renewal grant from the NIH to ensure continuation of the network's important work. Following the start of the COVID-19 pandemic, this work includes supporting the NIH-funded RECOVER study of long COVID, a study of COVID-19 vaccine hesitancy, and the National COVID Cohort Collaborative registry that shares clinical data as a part of national COVID research.
"The NNE-CTR has exceeded expectations," says Stein. "We are optimistic that this grant will provide the resources necessary to make chronic and life-threatening diseases preventable and curable. The program will capture immense opportunities available through the emerging power of precision/genomic medicine, and, coupled with our important partnership with the Vermont Department of Health, we are poised to meet the obligation of responding to disparities encountered by our underserved populations." Read the full article about the NNE-CTR grant renewal.
Pictured above: Adobe stock photo of a bridge, barns, houses, and fall foliage.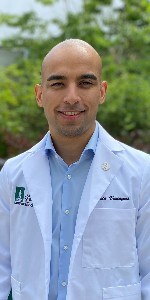 Dr. Lopez has taught me to meet patients where they are at, to be a lifelong learner, and to carry myself in a composed manner through it all. These are lessons I will take with me going forward and I will always be grateful for his guidance."
– Dario Vanegas Betancur, Class of 2025 medical student, in a UVM Larner Med blog post, titled
"When It Starts to Come Together: Doctoring in Vermont."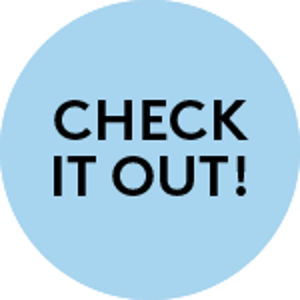 Did you know that UVM Libraries has reached a new agreement that provides access to all Wiley journal articles and support for open access publishing for UVM authors?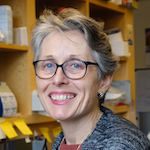 Dean Richard L. Page, M.D., and Senior Associate Dean for Clinical Affairs Jason Sanders, M.D., M.B.A., have announced that on October 1, 2022, Anne Dixon, MA, BM, BCh, professor of medicine, will assume the role of interim chair of the Department of Medicine while a national search is undertaken to identify the next chair. Dr. Dixon is taking over for E.L. Amidon Chair and Professor of Medicine Polly Parsons, M.D., who was named the president and CEO of the Alliance for Academic Internal Medicine (AAIM) and will fully transition to her new position with AAIM on October 1, 2022.
A member of the UVM faculty since 2001, Dr. Dixon has served as director of the Vermont Lung Center since 2019, and is chief of the Division of Pulmonary and Critical Care Medicine and an attending physician at the UVM Medical Center. A fellow of the American Thoracic Society, she has a national and international reputation for her clinical and research expertise in the areas of asthma and lung disease related to obesity and metabolic dysfunction.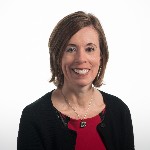 Yvonne Janssen-Heininger, Ph.D., professor of pathology and laboratory medicine, received a two-year, $200,000 Lung Cancer Discovery Award from the American Lung Association (ALA). The grant will support her research project, titled "Glutaredoxin, Glutathione Metabolism and Lung Cancer." According to the ALA, "The Lung Cancer Discovery Award is for highly meritorious research projects with the potential to significantly improve and transform diagnostic and therapeutic paradigms; foster innovation, use novel approaches; and/or accelerate progress in lung cancer research that improves patient care and helps save lives."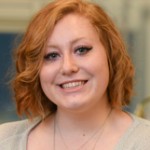 Cellular, Molecular and Biomedical Sciences Program graduate student Kiera Malone received a travel award to attend the American Crystallographic Association 2022 meeting, where she delivered her first talk at a national conference. Malone is mentored by Karen Glass, Ph.D., associate professor of pharmacology.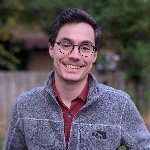 Axel Masquelin, graduate research assistant and pre-doctoral fellow, received a Predoctoral to Postdoctoral Fellow Transition F99/K00 award from the National Institutes of Health's (NIH) National Cancer Institute. The award supports outstanding Ph.D. and other research doctoral candidates in completing their dissertation research training (F99 phase) and timely transition to mentored, cancer-focused postdoctoral career development research positions (K00 phase). The grant will support Masquelin's research through his Ph.D. in biomedical engineering and then on to a subsequent postdoctoral fellowship. Masquelin's research focuses on advancing machine learning for early-lung cancer detection. Previously awarded a NIH T-32 pre-doctoral fellowship from the Vermont Lung Center. Masquelin's mentors are Jason Bates, Ph.D., D.Sc., professor of medicine and molecular physiology and biophysics, and Charles M. Kinsey, M.D., associate professor of medicine, both of whom are UVM Cancer Center members.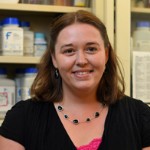 Cellular, Molecular and Biomedical Sciences doctoral student
Theresa Montgomery, Ph.D.
, successfully defended her dissertation, titled "The Microbiome as an Environmental Risk Factor for Multiple Sclerosis," on July 28. Dr. Montgomery performed her research, focused on host-biome interactions in autoimmune disease and the role of the gut microbiome in central nervous system autoimmunity, in collaboration with her advisor,
Dimitry Krementsov, Ph.D
., assistant professor of medical laboratory science.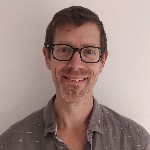 W. Gabe Tharp, M.D., Ph. D., assistant professor of anesthesiology, was awarded a Mentored Research Award from the International Anesthesia Research Society (IARS) for a project, titled "Impaired Lung Mechanics and Intraoperative Ventilator Induced Lung Injury." Dr. Tharp's research seeks to improve the perioperative care of patients with obesity. This study examines the relationship between ventilator settings in the operating room, body habitus, and lung injury. The project was initially supported by a pilot grant from the UVM Health Network Medical Group, which fosters collaboration between faculty physicians, who practice at hospitals and clinics across the UVM Health Network, and community physicians, who care for patients throughout Central and Western Vermont and Northern New York. IARS Mentored Research Awards support the development of promising investigators in anesthesiology and related sciences. Up to four research projects are selected annually. The grants are intended to help create future leaders and prepare applicants to apply for independent research funding.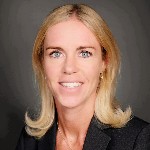 Eline van den Broek-Altenburg, Ph.D., assistant professor of radiology, received one of three 2022 PhRMA Foundation Value Assessment Research Awards for her team's study abstract, titled "The Effect of Medical Innovation on Cost-Effectiveness of Covid-19 Policies in the U.S.," at the International Society for Pharmacoeconomics and Outcomes Research (ISPOR) 2022 conference in June in Washington, D.C. According to Dr. van den Broek-Altenburg, the abstract received a top five percent score at the ISPOR 2022 meeting. The PhRMA Foundation's Value Assessment Initiative seeks transformative, multi-stakeholder-driven solutions to address challenges in assessing the value of medicines and health care services to improve patient outcomes and reduce inefficiency. The initiative offers both research awards and "Challenge Awards" to advance innovation in value assessment.


View Archive | Subscribe

Published by the Office of Medical Communications
The Larner College of Medicine
at The University of Vermont
Copyright 2022