January 12, 2022 | Volume IV, Issue 1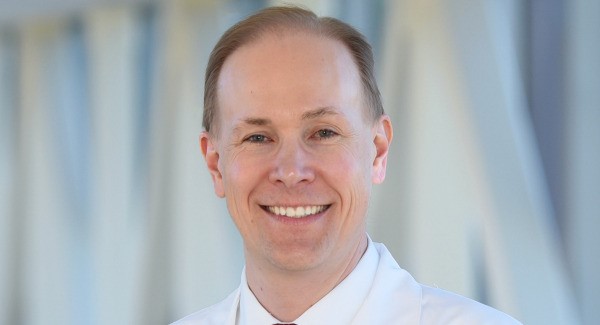 Sanders Selected as Senior Associate Dean and Executive Clinical Leader
On December 21, 2021, the University of Vermont Larner College of Medicine, UVM Health Network, and UVM Health Network Medical Group announced the appointment of Jason Sanders, M.D., M.B.A., to three executive leadership roles—senior associate dean for clinical affairs at Larner, president and CEO of the Medical Group, and Network executive vice president for clinical affairs. He succeeds Claude Deschamps, M.D., who stepped down at the end of September 2021, and Robert Pierattini, M.D., who held all three positions on an interim basis.
Dr. Sanders will join UVM in February 2022 from the University of Oklahoma (OU) Health Sciences Center, where he has served as senior vice president and provost since 2015. In his role as the chief executive for the OU's comprehensive academic health center, Dr. Sanders oversees seven colleges and all clinical, research, and educational programs in Oklahoma City, Tulsa, and across the state, including the OU Physicians group practice and National Cancer Institute-designated Stephenson Cancer Center.

At UVM, Dr. Sanders will lead the Medical Group as it navigates the ongoing COVID-19 pandemic and launches numerous strategic initiatives as part of the Network's multi-year Access Action Plan. As senior associate dean for clinical affairs at Larner, he will join the senior leadership team in advancing research and education, ensuring all three missions of the academic health system—clinical, research and education—continue to be realized. Additionally, he will work closely with department chairs and health care service leaders, and actively collaborate with affiliate Network hospitals to advance a common vision for clinical and academic growth across the Health Network.
Read the full-length article about Dr. Sanders here.
Pictured above: Dr. Sanders. (Courtesy photo)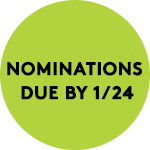 The Larner College of Medicine Office of Medical Education (OME) is now accepting nominations for an outstanding medical student currently on track to graduate in May 2022 and an outstanding physician faculty member for the 2022 Leonard Tow Humanism in Medicine Awards.
Nomination statements should be sent to OME Student Services at
studentcomservices@med.uvm.edu
by Monday, January 24, 2022
. For more information, please see the December 21, 2021 email from the Dean's office.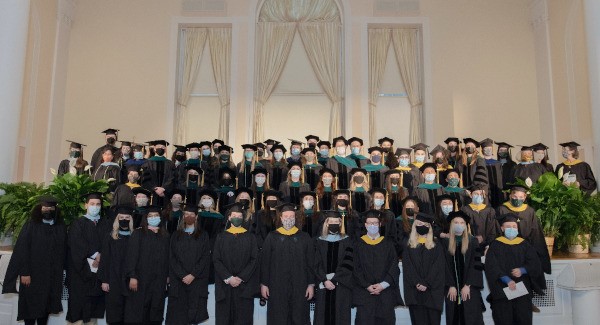 Graduate Students Honored at Annual December Hooding Ceremony
On December 15, 2021, graduate students were honored at the Graduate Student Hooding Ceremony—an annual event held in December to acknowledge UVM master's degree and Ph.D. degree candidates who graduated from their programs in August or October or are graduating this month.

Held prior to the U.S. COVID-19 Omicron variant surge, the in-person ceremony took place in Ira Allen Chapel, where participating students, their families, and faculty were able to gather, masked.

The Larner College of Medicine collaborates on several interdisciplinary cross-departmental programs with the Graduate College, Professional and Continuing Education, College of Agriculture and Life Sciences, College of Arts and Sciences, College of Engineering and Mathematical Sciences, and the College of Nursing & Health Sciences. These programs include public health, pharmacology, pathology, and medical science master's degree programs and the Neuroscience and Cellular, Molecular, and Biomedical Sciences Ph.D. degree programs. Across these six programs, 53 students were honored both in-person and in-abstentia at the ceremony.
Pictured above: Graduate students who participated in the Graduate Hooding Ceremony in December 2021 pose for a group photo in front of and on the stage at the Ira Allen Chapel. Students wear face masks and black commencement robes and caps with ceremonial hoods of varying colors draped around their shoulders and down their backs. (Photo: David Seaver)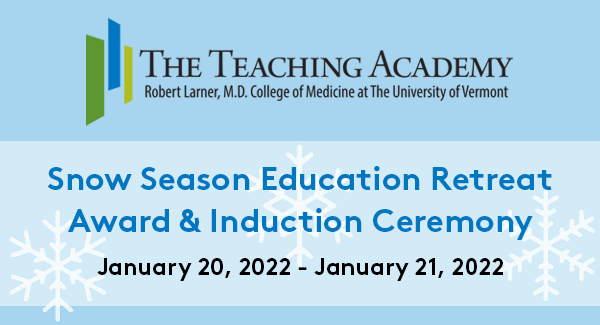 ATTENTION ALL MEDICAL EDUCATORS! The Teaching Academy's annual Snow Season Retreat is taking place virtually January 20-21, 2022.

Program highlights include:
"Human Flourishing: Learning from the Kern National Network for Caring & Character in Medicine," a plenary session featuring Cheryl Maurana, Ph.D., Kimara Ellefson, M.B.A., and Sue Cox, M.D., at 1:05 p.m. on Thursday, January 20.

Teaching Academy Award and Induction Ceremony on Thursday, January 20 at 4 p.m.

Snow Season Poster Session on Friday, January 21, at 4 p.m. in the Hoehl Gallery in the Health Science Research Facility.

med.uvm.edu/teachingacademy/educationretreat
.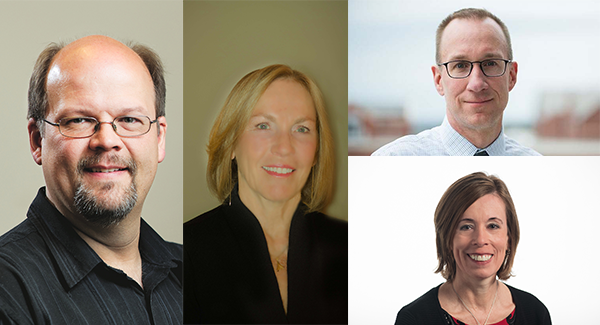 Cancer Center Announces 2021 Pilot Project Grantees
The UVM Cancer Center recently announced the recipients of its 2021 Pilot Project Grants. Each investigator receives a $50,000 grant to pursue their research.

The awardees are:

Frances Carr, Ph.D., professor of pharmacology. Dr. Carr's project, titled "Thyroid hormone receptor beta agonists: Novel applications in anaplastic thyroid cancer," builds upon ongoing research, seeking to deepen its understanding of the thyroid hormone receptor, beta's, unique characteristics as a tumor suppressor in anaplastic thyroid cancer (the fastest growing endocrine cancer).

Alan Howe, Ph.D., professor of molecular physiology and biophysics. Dr. Howe's project, "Characterization of talin as a putative, mechanically-gated A-kinase anchoring protein in ovarian cancer cell migration and invasion," will investigate a newly identified protein complex thought to be responsible for sensing mechanical information from the cellular microenvironment and converting it into biochemical signals that control cell movement.

Yvonne Janssen-Heininger, Ph.D., professor of pathology and laboratory medicine. Titled "Glutaredoxin, glutathione metabolism and lung cancer," Dr. Janssen-Heininger's project is a collaborative undertaking with C. Matthew Kinsey, M.D., M.P.H., associate professor of medicine, and Adrianus "Jos" Van der Velden, Ph.D., associate professor of pathology and laboratory medicine, targeting glutathione levels in cancer organoids.

Michael Toth, Ph.D., professor of medicine. For his project, "A novel in vitro system to determine the role of macrophages in cancer cachexia," Dr. Toth will be working with Dr. van der Velden and Matthew Poynter, Ph.D., professor of medicine, to examine whether immune cells contribute to the effects of tumors to cause unintended weight loss in cancer patients.

UVM Cancer Center member and Associate Professor of Molecular Physiology and Molecular Genetics Jason Stumpff, Ph.D., served as chair of the pilot project grant review committee.
Pictured above (clockwise, from left): Drs. Howe, Carr, Toth, and Janssen-Heininger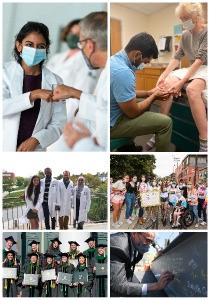 Filled with ever-evolving pandemic safety protocols and guidelines, research breakthroughs, new students, a ceremonial groundbreaking, and age-old traditions with creative twists–2021 was a remarkable year, to say the least.

Through it all, Larner College of Medicine staff, faculty, medical students, graduate students, and alumni persevered and remained committed to our mission of providing excellence in education and research that helps advance the quality and accessibility of patient care, and benefits our communities.

Look back at some moments from life at the Larner College of Medicine in a recent blog post, titled "This Remarkable Year: 2021 in Photos."
Pictured: A collage of photos from the UVM Larner College of Medicine blog. (Clockwise from top left) Class of 2025 medical student "fist bumps" Dean Page on-stage at the Class of 2025 White Coat Ceremony in October; Aathman Swaminathan '24 examines a Standardized Patient in the Clinical Simulation Lab; a group of Larner medical students pose for a group photo at the Burlington, Vt. Pride Parade; Dean Page signs his name on the final steel beam of the Firestone Medical Research Building in Summer 2021; a group of '21 medical students pose, wearing Commencement regalia and holding their diplomas, on the steps of Ira Allen Chapel; Neuroscience Graduate Program students Abigail Testo, Pranav Mathkar, Dan Peipert, and Jenan Husain pose for a group photo wearing their new lab coats on the outdoor balcony of the UVM Davis Center's Grand Maple Ballroom.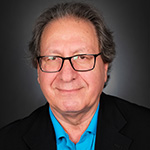 Majid Sadigh, M.D., director of the Nuvance Health/UVM Larner College of Medicine Global Health Program, Christian J. Trefz Family Endowed Chair in Global Health at Nuvance, and clinical associate professor of medicine at UVM, has received the 2022 Drs. Anvar and Pari Velji-CUGH Faculty Leader Award from the Consortium of Universities for Global Health (CUGH). The award, which is funded by the Velji Family Foundation, celebrates global health education, research, and service by honoring individuals and projects that demonstrate committed, creative approaches to serving underserved populations. This honor will be presented to Dr. Sadigh virtually during the 13th Annual CUGH Conference on March 31, 2022, at 3.00 p.m. The award consists of a certificate, $500 to support the recipient's continued work in global health, and waived registration for the conference.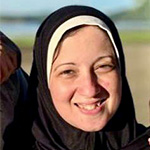 Reem Aboushousha, Ph.D., a faculty scientist in the Department of Pathology and Laboratory Medicine, successfully defended her thesis, titled "Metabolic Reprogramming and Redox Perturbations: an interplay relevant to asthma," in December 2021. Dr. Aboushousha is mentored by Yvonne Janssen-Heininger, Ph.D., professor of pathology and laboratory medicine.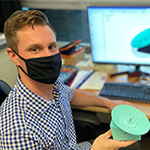 J.J. Bivona, Ph.D., a Cellular, Molecular, and Biomedical Science doctoral student, successfully defended his dissertation, titled "A multi-scale examination of skeletal muscle's contribution to local and systemic immunomodulation," on December 17, 2021. Dr. Bivona, who has been working with his advisor, Matthew Poynter, Ph.D., professor of medicine, served on the Larner College of Medicine's Graduate Student Council from 2019-2021.
Several members of the Department of Medicine's Division of Hematology/Oncology, and the Department of Pathology and Laboratory Medicine presented at the 63rd Annual American Society of Hematology Annual Meeting, held both in-person and virtually December 10-15, 2021. Diego Adrianzen Herrera, M.D., assistant professor of medicine and UVM Cancer Center member, presented three posters and an oral abstract, including, "Peripheral Blood Cytopenia and Risk of Cancer Mortality" (oral), "Bleeding Risk in Patients with Multiple Myeloma Treated for Venous Thromboembolism," "Geographic Disparities in Cardiovascular Death Among Patients with Myelodysplastic Syndromes," and "Analysis of Survival Gains in Myelodysplastic Syndromes after a Decade of the Modern Treatment Paradigm." Mansour Gergi, M.D., hematology/oncology fellow, presented a poster, "Hospitalization as a Risk Factor for Bleeding: The Medical Inpatients Thrombosis and Hemostasis (MITH) Study." Neil Zakai, M.D., M.Sc.,professor of medicine and pathology and laboratory medicine and core director of the Vermont Center for Cardiovascular and Brain Health, presented an oral abstract, "Risk Assessing Medical Inpatients for Hospital-Acquired Venous Thrombosis: The Medical Inpatients Thrombosis and Hemostasis (MITH) Study." Jacqueline Poston, M.D., assistant professor of medicine and pathology and laboratory medicine presented an oral abstract, "Emicizumab for the Treatment of Acquired Hemophilia a: A Multicenter US Case Series." Julian Sprague, M.D., Ph.D., associate professor of medicine, chaired an Education Session for Junior Faculty Career Development. Andrew Goodwin, M.D., professor of Pathology and Laboratory Medicine, presented an invited Education talk on D-dimer testing.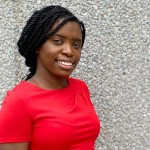 Debora Kamin Mukaz, Ph.D., postdoctoral associate in medicine and a researcher in the Laboratory for Clinical Biochemistry Research, has received a two-year Postdoctoral Fellowship Grant from the American Heart Association. The grant will support her research in the REasons for Geographic and Racial Differences in Stroke (REGARDS) national longitudinal cohort study, which has followed 30,239 Black and white adults since 2003 in an effort to determine why Black Americans and those living in the Southeast have higher stroke mortality. Dr. Kamin Mukaz will 1) comprehensively study the effects of five dimensions of residential segregation (evenness, exposure, concentration, centralization, and clustering) on the risk developing hypertension during follow up; and 2) identify associations of these dimensions of residential segregation with thrombo-inflammatory biomarkers related to risk of hypertension—factor IX, D-dimer, interleukin-6, C-reactive protein, interferon gamma, and tumor necrosis factor alpha. Her hope is that these "findings will increase knowledge about inequities in cardiovascular health and allow for design of programs to decrease racial disparities in hypertension."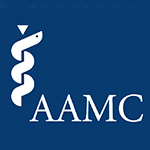 Responses from the medical Class of 2024 has put the Larner College of Medicine among only eight out of 155 medical schools to have achieved more than 90 percent participation in the Association of American Medical Colleges' (AAMC) Year Two Questionnaire (Y2Q). The data, while preliminary, show that Larner had, as of January 3, a preliminary completion rate of 95.1 percent (117 of 123 eligible student participants). Nationally, the preliminary completion rate was 52.7 percent. The AAMC administers the Medical School Y2Q annually to all active, second-year medical students. According to the AAMC, the online questionnaire asks second-year medical students to share their thoughts on a variety of topics, such as learning climate; adjustment to medical school; and future career plans. Student responses to the Y2Q are analyzed and presented in a national report, which is designed to help medical schools understand the climate and culture of medical education.

CITATION HIGHLIGHTS

Bouchard BA, Colovos C, Lawson M, Osborn Z, Sackheim A, Mould KJ, Janssen WJ, Cohen MJ, Majumdar D and Freeman K: Increased histone-DNA complexes and endothelial-dependent thrombin generation in severe COVID-19. Vascul. Pharmacol. 2021. doi: 10.1016/j.vph.2021.106950. Online ahead of print. PMID: 34871770

Flomenbaum MA, Warner RC. Morphologic Markers of Acute and Chronic Stress in Child Abuse [published online ahead of print, 2021 Dec 17]. Am J Clin Pathol. 2021;aqab204. doi:10.1093/ajcp/aqab204

Short SA, Wilkinson K, Long DL, Judd S, Schulte J, Kissela BM, Howard G, Cushman M. Plasma Pro Enkephalin A and Ischemic Stroke Risk: The Reasons for Geographic and Racial Differences in Stroke Cohort. J Stroke Cerebrovasc Dis. 2021 Dec 9;31(2):106237. doi: 10.1016/j.jstrokecerebrovasdis.2021.106237. Epub ahead of print. PMID: 34896817.

Loskutova NY, Lutgen C, Smail C, Staton EW, Nichols SD, Pinckney RG. Stimulant Prescribing Error Assessment Rubric Development. J Patient Saf. 2022 Jan 1;18(1):e282-e289. doi: 10.1097/PTS.0000000000000775. PMID: 32925567.

Al-Dorzi HM, Stapleton R, Arabi YM. Nutrition priorities in obese critically ill patients. Curr Opin Clin Nutr Metab Care. 2021 Dec 20. doi: 10.1097/MCO.0000000000000803. Epub ahead of print. PMID: 34930871.

Nesbit C, Blanchette Porter M, Esfandiari N. Catastrophic Human Error in Assisted Reproductive Technologies: A Systematic Review. J Patient Saf. 2022 Jan 1;18(1):e267-e274. doi: 10.1097/PTS.0000000000000763. PMID: 33208638.

Roberts MS, Haimes MA, Vacek P, Blankstein M, Schottel PC. A Novel Fluoroscopic Method for Assessing Rotational Malalignment of the Tibia. J Orthop Trauma. 2022 Jan 1;36(1):e12-e17. doi: 10.1097/BOT.0000000000002151. PMID: 34001802.

Jorgensen SP, Cartwright MS, Norbury J. Neuromuscular Ultrasound: Indications in the Electrodiagnostic Laboratory. Am J Phys Med Rehabil. 2022 Jan 1;101(1):78-88. doi: 10.1097/PHM.0000000000001790. PMID: 33990480.

Stanojevic S, Kaminsky DA, Miller M, Thompson B, Aliverti A, Barjaktarevic I, Cooper BG, Culver B, Derom E, Hall GL, Hallstrand TS, Leuppi JD, MacIntyre N, McCormack M, Rosenfeld M, Swenson ER. ERS/ATS technical standard on interpretive strategies for routine lung function tests. Eur Respir J. 2021 Dec 23:2101499. doi: 10.1183/13993003.01499-2021. Epub ahead of print. PMID: 34949706.

Bhakta NR, Kaminsky DA, Bime C, Thakur N, Hall GL, McCormack MC, Stanojevic S. Addressing Race in Pulmonary Function Testing by Aligning Intent and Evidence With Practice and Perception. Chest. 2022 Jan;161(1):288-297. doi: 10.1016/j.chest.2021.08.053. Epub 2021 Aug 24. PMID: 34437887.

Gaitán MI, Sanchez M, Farez MF, Fiol MP, Ysrraelit MC, Solomon AJ, Correale J. The frequency and characteristics of multiple sclerosis misdiagnosis in Latin America: A referral center study in Buenos Aires, Argentina. Mult Scler. 2021 Dec 31:13524585211067521. doi: 10.1177/13524585211067521. Epub ahead of print. PMID: 34971521.
Hahn S, Mackey S, Cousijn J, Foxe JJ, Heinz A, Hester R, Hutchinson K, Kiefer F, Korucuoglu O, Lett T, Li CR, London E, Lorenzetti V, Maartje L, Momenan R, Orr C, Paulus M, Schmaal L, Sinha R, Sjoerds Z, Stein DJ, Stein E, van Holst RJ, Veltman D, Walter H, Wiers RW, Yucel M, Thompson PM, Conrod P, Allgaier N, Garavan H.
Predicting alcohol dependence from multi-site brain structural measures.
Hum Brain Mapp. 2022 Jan;43(1):555-565. doi: 10.1002/hbm.25248. Epub 2020 Oct 16. PMID: 33064342; PMCID: PMC8675424.

View Archive | Subscribe

Published by the Office of Medical Communications
The Larner College of Medicine
at The University of Vermont
Copyright 2022