November 17, 2021 | Volume III, Issue 22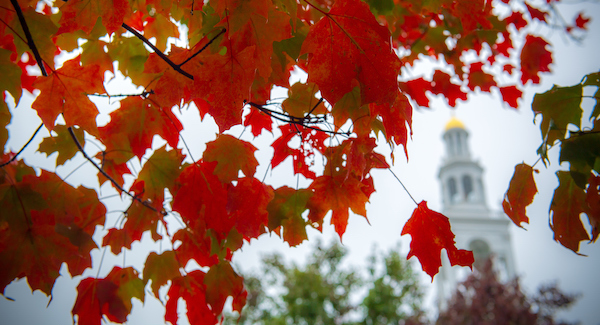 With Gratitude
Dear Larner Community,

Autumn has been especially beautiful this year. Or perhaps I am appreciating anew what I might previously have taken for granted. As we head into the holiday season, it seems appropriate to acknowledge reasons our College has to be grateful.

Although the pandemic has continued longer than expected, and is currently resurgent, millions of lives have been saved thanks to unprecedented progress to develop a vaccine that is now available to anyone over 4 years of age. Furthermore, we have reason to believe that antiviral oral medicines will markedly reduce suffering and death for those infected.

While not dismissing the profound challenges that the pandemic has laid upon us, we should recognize that our work here is valuable, and has real purpose. Medical care and biomedical science have never been more important, and our College is working toward making our world healthier through patient care, public health and research, all while we prepare the next generation of physicians and scientists.

Finally (and perhaps most important), we have an amazing team. A constant over the last twenty months has been the compassion, resilience and professionalism of our staff, faculty and students. Even as difficulties continue, and arise anew, we can be grateful for the exceptional people who make up our College.

I hope that you all find gratitude for what is special in our lives, and enjoy the holiday season with friends and family.

Sincerely,
Pictured above: Photo of red maple tree leaves with a blurred image of UVM's Ira Allen Chapel in the background (Photo: Sally McCay)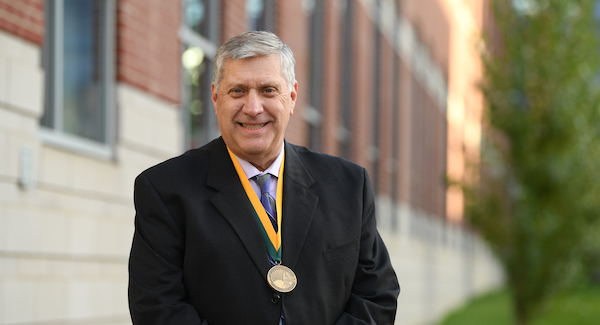 Holcombe Invested as Inaugural Juckett Chair in Cancer Research
On November 4, Larner College of Medicine Dean
Richard L. Page, M.D.
, was joined by University of Vermont President
Suresh Garimella
, E.L Amidon Chair and Professor of Medicine
Polly Parsons, M.D.,
and other UVM and UVM Medical Center leaders for the investiture of
Randall Holcombe, M.D., M.B.A.,
as the inaugural J. Walter Juckett Chair in Cancer Research.
Made possible by a $3 million gift from the Juckett Foundation, a longtime major supporter of the UVM Cancer Center, this endowed position represents the organization's investment in the Cancer Center's goal of improving the lives of cancer patients and families across the region.
Dr. Holcombe, who began his tenure as director of the UVM Cancer Center and chief of hematology/oncology in August, has a reputation for applying innovative thinking to researching and treating cancer within high-risk populations, from September 11 responders to rural Hawaiians. Prior to joining UVM, he was director of the University of Hawai'i Cancer Center, which he led through a successful National Cancer Institute redesignation. His main goal is to build excellence in the research, education, community outreach, and clinical care components of the Cancer Center over the next several years.
Read the full article about Dr. Holcombe's investiture.
Pictured above: Dr. Holcombe (Photo: David Seaver)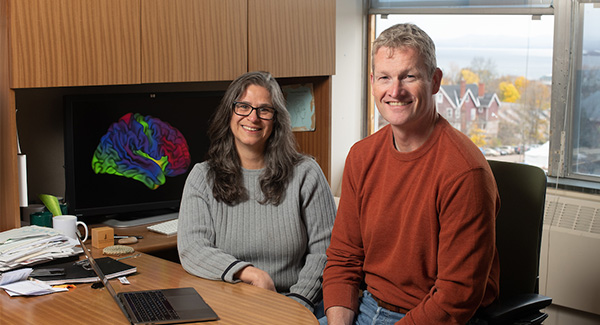 New Study Offers Unprecedented Opportunity to Identify Earliest Brain Development Milestones
Larner College of Medicine researchers recently received a $5.5 million, five-year grant to study brain development during the first few years of life, collecting data that aims to help determine what factors influence a young person's life trajectory.
Funded by 10 institutes and offices at the National Institutes of Health, and the Helping to End Addiction Long-term Initiative SM, or NIH HEAL Initiative SM, the HEALthy Brain and Child Development (HBCD) study is led by the National Institute on Drug Abuse. It complements the landmark Adolescent Brain Cognitive Development (ABCD) study launched in 2015 – a longitudinal study tracking nearly 12,000 youth from age 10 through young adulthood using advanced neuroimaging to observe brain development and has many of the same data collection ingredients as HBCD, say UVM researchers.

Leading the UVM team are Alexandra Potter, Ph.D., and Hugh Garavan, Ph.D., in the Department of Psychiatry. Both professors are involved in the Consortium Administrative Core for the study and are co-lead investigators on the ABCD study. UVM is one of only a handful of universities to have received both HBCD and ABCD awards.
The goal of the HBCD study is to provide a template of normative neurodevelopment and help identify factors that influence development, eventually leading to greater risk or resilience for numerous mental health and neurocognitive outcomes. Sites will enroll 7,500 pregnant women in their second trimester and will follow them and their children for up to 10 years, collecting data on pregnancy and fetal development; infant and early childhood structural and functional brain imaging; brain size and physical characteristics; medical history; family history; biological specimens; and social, emotional and cognitive development.

Read the full article about the HBCD study.

Pictured above: Drs. Potter and Garavan (Photo: David Seaver)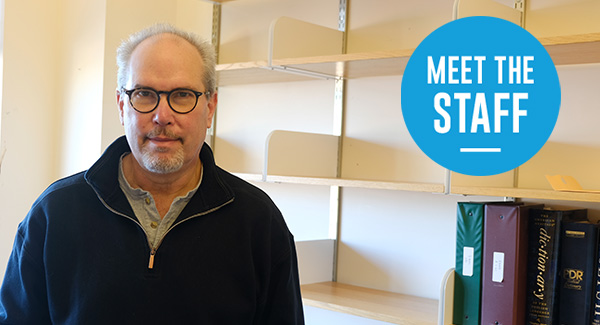 Owen Nadeau, Ph.D., Operations Administrator, Vermont Center on Cardiovascular and Brain Health

Owen Nadeau, Ph.D.,
joined the University of Vermont staff in the fall of 2020 as operations administrator for the Vermont Center for Cardiovascular & Brain Health (VCCBH). Prior to UVM, he worked as a scientist at the former Vermont campus of the Albany College of Pharmacy & Health Sciences, and as a research associate professor at the University of Kansas Medical Center. Dr. Nadeau received his Ph.D. in biochemistry from the University of Vermont and a Master of Science degree in organic chemistry from Indiana University of Pennsylvania.
Over the past year, Dr. Nadeau has been working alongside VCCBH co-principal investigators
Mary Cushman, M.D., M.Sc.,
and
Mark Nelson, Ph.D.,
to organize all facets of the VCCBH, UVM's newest Center of Biomedical Research Excellence (COBRE). As operations administrator, he is responsible for creating agendas for operational meetings, internal and external advisory boards, and the publications and grant writing committee, which he chairs. He meets regularly to mentor and advise the four junior faculty members currently supported by the VCCBH, helping them to secure independent funding. Recently, he helped organize VCCBH's first virtual annual symposium.
Dr. Cushman says his role is vital to the Center's success. "I honestly don't know where we would be without Dr. Nadeau's tireless efforts and contributions to support our vision," she says. "We are proceeding with strong momentum into our second year of funding, for what I hope will be a 15-year NIH center grant."
His favorite part of his job? "Mentoring and learning about the research areas of our Center's junior investigators and co-directors," says Dr. Nadeau.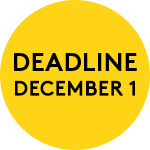 Are you an early career investigator doing cardiovascular research?

Consider applying to compete in the Cardiovascular Research Institute 3rd annual Viridis Montis Early Career Investigator Challenge in Cardiovascular Disease, a merit-based scientific abstract competition for early career scientists at the University of Vermont and UVM Health Network.
Applications are due by 5:00 p.m. on December 1, 2021
and the competition takes place on February 2, 2022. To get more information and submit an application, email
CVRI-VT@med.uvm.edu
.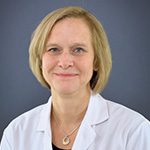 Melissa Davidson, M.D., professor and interim chair of anesthesiology and associate dean for graduate medical education, was recognized by the Association of American Medical Colleges' MedEdPORTAL® as one of two 2021 Associate Editors of the Year. AAMC states "MedEdPORTAL relies on the voluntary contribution of reviewers and associate editors to assess the quality of submissions, ensuring they are accurate, clear, complete, and relevant to health professions education."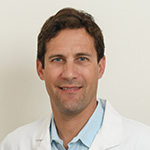 Kalev Freeman, M.D., Ph.D., associate professor of surgery and pharmacology, received a $1.95 million, five-year R35 Maximizing Investigator's Research Award from the National Institutes of Health and the National Institute of General Medical Sciences. Titled "Molecular Mechanisms of Histone-Induced Endotheliopathy in Trauma," the project is an extension of Dr. Freeman's current R01 grant, titled "Impact of Trauma and Its Factors on Vascular Endothelial Function." In collaboration with Dev Majumdar, Ph.D., assistant professor of surgery, Dr. Freeman will use functional genomic and proteomic screens, vascular biology and electrophysiology methods to uncover the molecular basis of vascular damage in trauma for this project.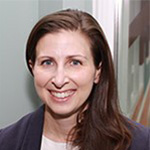 Heather Stein, M.D., clinical assistant professor of family medicine, has been elected medical staff president by the UVM Medical Center staff. In her new role, Dr. Stein, who is chief medical officer for the Community Health Centers of Burlington, is responsible for matters of enrollment, credentialing, and privileging, and oversees matters pertaining to peer review in cases of questionable standards of practice or disciplinary concerns. In addition, the medical staff president also serves as the chairperson for the UVM Medical Center Medical Executive Committee, sits on the UVM Medical Center Board of Trustees as a non-voting, ex-officio member, and serves on several other hospital and medical staff committees. Dr. Stein, who previously served a two-year term as president-elect, will serve as medical staff president for two years.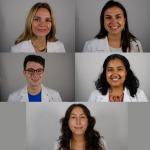 The Class of 2025 medical students recently elected Mimi Falcone, James Fanning, Jharna Jahnavi, Ellen Mats, and Taylor Walker to serve on their class Wellness Committee.
Pictured at left: (From left to right/top to bottom) Walker, Falcone, Fanning, Jahnavi, and Mats.

CITATION HIGHLIGHTS

Bougioukas L, Campbell B, Crooker K, Freed JA, Wilcock J, Singh D, Hale AJ. Invasive Aspergillus flavus sinusitis in an immunocompetent patient using intranasal cocaine. IDCases. 2021;26:e01327.
Horn D, Edwards E, Ssembatya R, DeStigter K, Dougherty A, Ehret D. Association between antenatal ultrasound findings and neonatal outcomes in rural Uganda: a secondary analysis. BMC Pregnancy Childbirth. 2021 Nov 8;21(1):756. doi: 10.1186/s12884-021-04204-7. PMID: 34749679; PMCID: PMC8573986.
Dauerman HL, Tijssen JGP, Montalescot G. The Enduring Legacy of Failed Revascularization Trials. J Am Coll Cardiol. 2021 Nov 9;78(19):1886-1889. doi: 10.1016/j.jacc.2021.08.059. PMID: 34736564.
Zhang D, Abraham L, Sprague BL, Onega T, Advani S, Demb J, Miglioretti DL, Henderson LM, Wernli KJ, Walter LC, Kerlikowske K, Schousboe JT, Chrischilles E, Braithwaite D, O'Meara ES; Breast Cancer Surveillance Consortium. Mammography adherence in relation to function-related indicators in older women. Prev Med. 2021 Nov 9;154:106869. doi: 10.1016/j.ypmed.2021.106869. Epub ahead of print. PMID: 34762965.
Naufal F, Brady CJ, Wolle MA, Saheb Kashaf M, Mkocha H, Bradley C, Kabona G, Ngondi J, Massof RW, West SK. Evaluation of photography using head-mounted display technology (ICAPS) for district Trachoma surveys. PLoS Negl Trop Dis. 2021 Nov 8;15(11):e0009928. doi: 10.1371/journal.pntd.0009928. Epub ahead of print. PMID: 34748543.
Collin LJ, Maliniak ML, Cronin-Fenton DP, Ahern TP, Christensen KB, Ulrichsen SP, Damkier P, Hamilton-Dutoit S, Yacoub R, Christiansen PM, Sørensen HT, Lash TL. Hypoxia-inducible factor-1α expression and breast cancer recurrence in a Danish population-based case control study. Breast Cancer Res. 2021 Nov 4;23(1):103. doi: 10.1186/s13058-021-01480-1. PMID: 34736510; PMCID: PMC8567651.
Bodelon C, Mullooly M, Pfeiffer RM, Fan S, Abubakar M, Lenz P, Vacek PM, Weaver DL, Herschorn SD, Johnson JM, Sprague BL, Hewitt S, Shepherd J, Malkov S, Keely PJ, Eliceiri KW, Sherman ME, Conklin MW, Gierach GL. Mammary collagen architecture and its association with mammographic density and lesion severity among women undergoing image-guided breast biopsy. Breast Cancer Res. 2021 Nov 9;23(1):105. doi: 10.1186/s13058-021-01482-z. PMID: 34753492; PMCID: PMC8579610.
Gutiérrez OM, Shlipak MG, Katz R, Waikar SS, Greenberg JH, Schrauben SJ, Coca S, Parikh CR, Vasan RS, Feldman HI, Kimmel PL, Cushman M, Bonventre JV, Sarnak MJ, Ix JH. Associations of Plasma Biomarkers of Inflammation, Fibrosis, and Kidney Tubular Injury With Progression of Diabetic Kidney Disease: A Cohort Study. Am J Kidney Dis. 2021 Nov 6:S0272-6386(21)00956-2. doi: 10.1053/j.ajkd.2021.09.018. Epub ahead of print. PMID: 34752914.
Schulte JJ, Chapel DB, Attanoos R, Brcic L, Burn J, Butnor KJ, Chang N, Chen H, Dacic S, De Perrot M, Fukuoka J, Galateau-Salle F, Godschachner T, Hiroshima K, Klebe S, Krausz T, Litzky L, Marchevsky AM, Mueller J, Nabeshima K, Nicholson AG, Pal P, Roden AC, Rorvig S, Santoni-Rugiu E, Tazelaar H, Tsao MS, Walts AE, Weynand B, Zaizen Y, Zhang YZ, Husain AN. Comparison of Nuclear Grade, Necrosis, and Histologic Subtype Between Biopsy and Resection in Pleural Malignant Mesothelioma: An International Multi-Institutional Analysis. Am J Clin Pathol. 2021 Nov 8;156(6):989-999. doi: 10.1093/ajcp/aqab054. PMID: 33978147.
Peterman JE, Arena R, Myers J, Marzolini S, Ades PA, Savage PD, Lavie CJ, Kaminsky LA. Reference Standards for Cardiorespiratory Fitness by Cardiovascular Disease Category and Testing Modality: Data From FRIEND. J Am Heart Assoc. 2021 Nov 16;10(22):e022336. doi: 10.1161/JAHA.121.022336. Epub 2021 Nov 8. PMID:34747182.

View Archive | Subscribe

Published by the Office of Medical Communications
The Larner College of Medicine
at The University of Vermont
Copyright 2021