August 11, 2021 | Volume III, Issue 15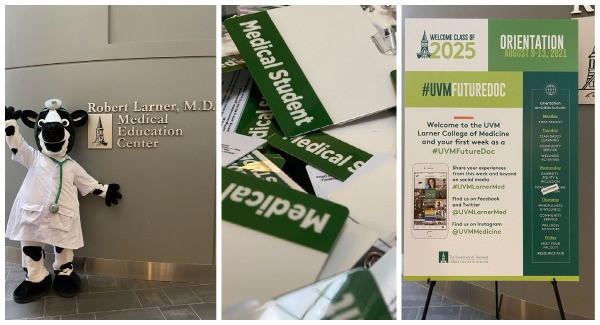 Larner Welcomes Medical Student Class of 2025
The 124 members of the Larner College of Medicine's medical student Class of 2025 launched their journeys to becoming physicians on Monday, August 9, marking the start of a completely new and different academic year.
This week, UVM's newest future doctors will be completing Orientation–the first course in the Foundations level of the Vermont Integrated Curriculum. Their sessions include a "Your First Patient" presentation and debrief; team-based learning practice sessions; Chittenden County-area community service activities; a diversity, equity and inclusion session and keynote; and a session on "Becoming a Doctor at Larner: Professional Identity Formation, Closing Reflection."
Students in the Class of 2025 were selected from more than 8,800 applicants and were the first class to conduct their interviews 100 percent virtually. About a quarter of the new medical students are Vermonters, 18 percent identify as LGBTQ+, and 54 percent of the class members identify as female. In addition, 23 percent of UVM's newest medical students are people from groups underrepresented in medicine.
In a recent communication to the incoming future physicians, Senior Associate Dean for Medical Education
Christa Zehle, M.D.,
thanked class members "for all that you have done and continue to do to mitigate transmission of COVID-19 and to keep our community safe."
Read the full Class of 2025 Orientation article, including profiles of several members of the class.
Pictured above: Photo collage including "Dr. Moo" waving in the Medical Education Center (left); medical student badges (center); and the Orientation schedule poster in the Medical Education Pavilion.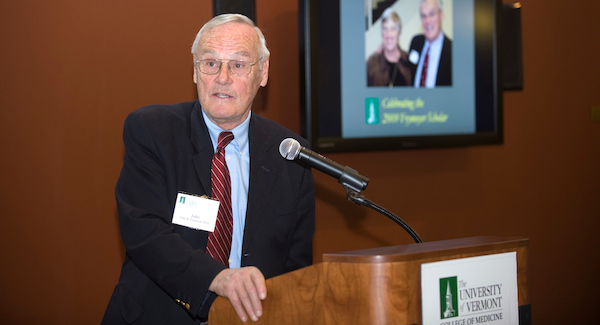 Remembering Former Dean John Frymoyer, M.D.
John W. Frymoyer, M.D.,
the College's fourteenth dean, who guided the institution through much of the 1990s, died on August 2, at the age of 83.
When he arrived in Burlington in the mid-1960s, after receiving his medical degree from the University of Rochester Medical School, Dr. Frymoyer gained distinction as the first resident in orthopaedics at the University of Vermont and its affiliated hospitals. He rose through the faculty ranks to full professor in 1977, and served as chair of orthopaedics and rehabilitation from 1979 to 1987.
In 1991, he was named interim dean of the College, and was appointed dean in 1993, retiring in December of 1999. He also served as CEO of University Health Center, and later was a leader of the merger effort that created Fletcher Allen Health Care–which became UVM Medical Center in 2014–and was named Fletcher Allen's first CEO in 1995, serving until 1998.
Dr. Frymoyer presided over a significant increase in the College's research enterprise, and initiated the curricular reform that resulted in the Vermont Integrated Curriculum. His work is recognized today by the Teaching Academy's John W. and Nan P. Frymoyer Scholars Program, which supports innovative approaches to clinical teaching that emphasize the art of patient care.
Read the full obituary for Dr. Frymoyer.
Pictured above: Dr. Frymoyer (Photo: Raj Chawla).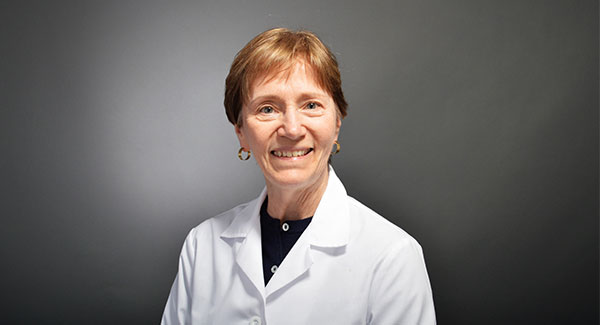 King's Leadership Ushers in Changes to Medical Board Policies on Sexual Misconduct
Sexual misconduct by medical professionals has been a longstanding issue, but rose to new levels of public consciousness in 2015 when news of sexual abuse by U.S.A. women's gymnastics team doctor Larry Nassar hit the headlines.
Later, in 2016, an investigation conducted by the Atlanta Journal-Constitution uncovered evidence of medical regulators neglecting to hold thousands of U.S. doctors accountable for sexually violating their patients. In response to those reports,
Patricia King, M.D., Ph.D.,
professor of medicine and then chair-elect of the Federation of State Medical Boards (FSMB), established and led the FSMB Workgroup on Physician Sexual Misconduct. The group conducted a deep review of all available U.S. sexual misconduct disciplinary data and state medical boards' laws, policies and procedures. The group then revamped the FSMB policy statement and ensured training and resources were in place to educate medical trainees and professionals.
"We deconstructed what boards do," says Dr. King, who adds that states have varying laws and require different levels of proof for making a finding.
King is no stranger to state medical board regulatory work. For 12 years, she served as a member–and chair–of the Vermont Board of Medicine before her election to the FSMB, where she served as chair from 2018 to 2019.
The FSMB working group published their results in an April 27, 2021 JAMA "Viewpoint" commentary, titled
"State Medical Board Recommendations for Stronger Approaches to Sexual Misconduct by Physicians."
Read the full article about Dr. King's FSMB work. Pictured above: Dr. King.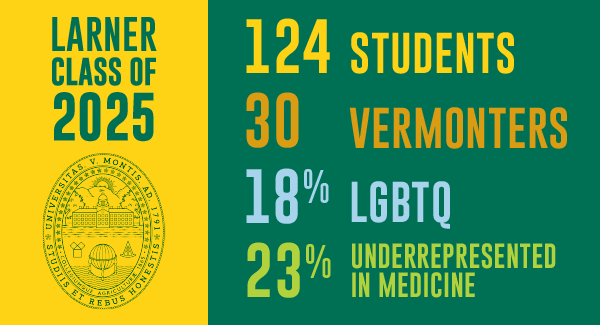 Infographic above: Left: Text reading "Larner Class of 2025" and a University of Vermont seal in green lettering on a yellow background. Right: Text reading "124 students"; "30 Vermonters"; "18% LGBTQ"; and "23% Underrepresented in Medicine" in yellow, orange, light blue, and light green lettering, respectively, on a dark green background.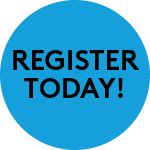 Teaching Academy presents "Essentials of Teaching and Assessment" September 30 & October 1, 2021. Open to all Larner College of Medicine faculty at all teaching sites, this hybrid, two-day intensive course is designed specifically for faculty, residents, fellows, graduate students, and postdocs who are new to teaching. Participants will learn about pedagogy, strategies, and resources for effective teaching and assessment. The course will take place the afternoon of September 30 at UVM's Davis Center and via Zoom the morning of October 1. All Zoom sessions and plenaries will be recorded. Zoom login information for virtual sessions will be provided one week before the event.

Registration closes September 27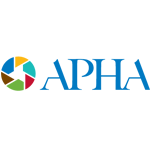 A total of eight submissions from Larner College of Medicine community members were accepted for presentation at the American Public Health Association's 2021 Annual Meeting and Expo, which takes place October 24 to 27. Four Class of 2023 and one Class of 2022 medical student Public Health Projects will be presented and one project will be recognized with a Poster Award. Other accepted presentations include an M.P.H. student project; a presentation on the Larner-United Way pandemic survey collaboration by Jan Carney, M.D., M.P.H., associate dean for public health and health policy, and Thomas Delaney, Ph.D., associate professor of pediatrics; and another project from the Northern New England-Clinical and Translational Research Network regarding its Rural Health Communications network.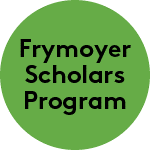 Through the Frymoyer Scholars Program, the John W. and Nan P. Frymoyer Fund for Medical Education supports physicians and nurses who are actively engaged in teaching University of Vermont medical and nursing students and embody the best qualities of the clinician teacher. The program is an investment in outstanding medical education and promotes teaching that emphasizes the art of patient care. The 2021 group project recipients are:
"Improved management of pediatric difficult airways through creation of a collaborative, interprofessional workgroup"–Heather Herrington, M.D., associate professor of pediatrics; Keith Robinson, M.D., associate professor of pediatrics; Katie Dezotelle, R.N., nurse educator in pediatrics; Mark Bisanzo, M.D., associate professor of surgery; Kevin Abnet, M.D., associate professor of anesthesiology; Liz Denton, R.R.T., respiratory therapy supervisor; Michael King, R.N., Department of Surgery; Elizabeth Ulano, M.D, assistant professor of pediatrics; and Kate Soons, R.N., Department of Surgery; and
"What's in the Secret Sauce? Investigating and Designing IPE Best Practices for Serious Illness Communication Trainings"–Naomi Hodde, M.D., assistant professor of medicine; Kacey Boyle, R.N.; Jennifer Hauptman, M.S.W., case manager; and Stephen Berns, M.D., associate professor of family medicine.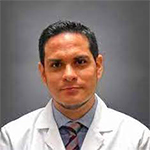 Diego Adrianzen-Herrera, M.D.,
assistant professor of medicine and a UVM Cancer Center member, has been selected by the American Society of Hematology (ASH) to participate in the 2021 ASH Clinical Research Training Institute (CRTI). CRTI is a year-long program that offers a broad education on clinical research methods, research collaborations, statistical analysis, and managing the demands of family and career. The goal of the program is to produce leaders prepared with ideas for clinical hematology research and the tools and resources to make their ideas a reality.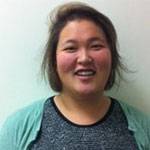 Mindy Kear, department administrator in the Department of Pediatrics, received a 2020-21 LEAF Award from UVM Staff Council. Outstanding Committee Member Awards honor a committee member from each of the four Staff Council Standing Committees whose work, involvement, and dedication was particularly notable and commendable. LEAF stands for "Leadership, Engagement, Advocacy, and Forward-looking," qualities valued in all UVM Staff Council representatives, committee members, and colleagues.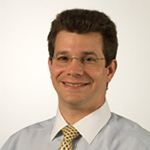 Adam Shafritz, M.D.,
professor of orthopaedics and rehabilitation, was elected as an Active Member of the American Shoulder and Elbow Surgeons (ASES) organization. ASES is an educational body responsible for developing scientific programs and encouraging research. The society's membership, which is by invitation only, is made up of more than 1,200 leading national and international orthopaedic surgeons who specialize in surgery of the shoulder and elbow.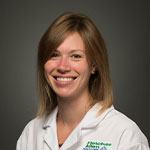 Christina Wojewoda, M.D., associate professor of pathology and laboratory medicine, has received, along with her colleague Daniel Rhoads, M.D., of the Cleveland Clinic, the 2021 College of American Pathologists (CAP) Laboratory Improvement Programs Service Award. The award honors an individual(s) serving within the ranks of the CAP Council on Scientific Affairs who has demonstrated exceptional service. The two pathologists serve as chair and vice chair, respectively, of the CAP microbiology committee.

CITATION HIGHLIGHTS
Bonnell LN, Crocker AM, Kemp K, Littenberg B. The Relationship Between Social Determinants of Health and Functional Capacity in Adult Primary Care Patients With Multiple Chronic Conditions. J Am Board Fam Med. 2021 Jul- Aug;34(4):688-697. doi: 10.3122/jabfm.2021.04.210010. PMID: 34312262.

Zoorob D, Frenn R, Moffitt M, Kansagor A, Cross S, Aguirre F, Edelson MI, Kenny B, Banks E. Multi-institutional Validation of a Vaginal Hysterectomy Simulation Model for Resident Training. J Minim Invasive Gynecol. 2021 Aug;28(8):1490-1496.e1. doi: 10.1016/j.jmig.2020.12.006. Epub 2020 Dec 11. PMID:33310169.

Miller LM, Wu C, Hirsch CH, Lopez OL, Cushman M, Odden MC. Cardiovascular Damage Phenotypes and All-Cause and CVD Mortality in Older Adults. Ann Epidemiol. 2021 Jul 30:S1047-2797(21)00227-1. doi: 10.1016/j.annepidem.2021.07.012. Epub ahead of print. PMID: 34339835.

Girard BM, Campbell SE, Beca KI, Perkins M, Hsiang H, May V, Vizzard MA. Intrabladder PAC1 Receptor Antagonist, PACAP(6-38), Reduces Urinary Bladder Frequency and Pelvic Sensitivity in Mice Exposed to Repeated Variate Stress (RVS). J Mol Neurosci. 2021 Aug;71(8):1575-1588. doi: 10.1007/s12031-020-01649-x. Epub 2020 Jul 1. PMID: 32613552; PMCID: PMC7775277.

Edwards EM, Greenberg LT, Profit J, Draper D, Helkey D, Horbar JD. Quality of Care in US NICUs by Race and Ethnicity. Pediatrics. 2021 Aug;148(2):e2020037622. doi: 10.1542/peds.2020-037622. Epub 2021 Jul 22. PMID: 34301773; PMCID: PMC8344358.

Ades S, Herrera DA, Lahey T, Thomas AA, Jasra S, Barry M, Sprague J, Dittus K, Plante T, Kelly J, Kaufman PA, Khan F, Hammond CJ, Gernander K, Parsons P, Holmes C. Cancer Care in the Wake of a Cyberattack: How to Prepare and What to Expect. JCO Oncol Pract. 2021 Aug 2:OP2100116. doi: 10.1200/OP.21.00116. Epub ahead of print. PMID: 34339260.

Thakor K, Naud S, Howard D, Tandan R, Waheed W. Effect of riluzole on weight in short-term and long-term survivors of amyotrophic lateral sclerosis. Amyotroph Lateral Scler Frontotemporal Degener. 2021 Aug;22(5-6):360-367. doi: 10.1080/21678421.2021.1874992. Epub 2021 Jan 20. PMID: 33467943.

Sobey J, Tsai MH, Evans RE. An update on pediatric sedation techniques in nonoperating room locations. Curr Opin Anaesthesiol. 2021 Aug 1;34(4):449-454. doi: 10.1097/ACO.0000000000001018. PMID: 34039846.

Boucher MN, May V, Braas KM, Hammack SE. PACAP orchestration of stress- related responses in neural circuits. Peptides. 2021 Aug;142:170554. doi: 10.1016/j.peptides.2021.170554. Epub 2021 Apr 15. PMID: 33865930.

Leshner G, Stevens EM, Cohn AM, Kim S, Kim N, Wagener TL, Villanti AC. Cognitive and affective responses to marijuana prevention and educational messaging. Drug Alcohol Depend. 2021 Aug 1;225:108788. doi: 10.1016/j.drugalcdep.2021.108788. Epub 2021 May 28. PMID: 34119879; PMCID: PMC8282745.

View Archive | Subscribe

Published by the Office of Medical Communications
The Larner College of Medicine
at The University of Vermont
Copyright 2021