March 25, 2020 | Volume II, Issue 6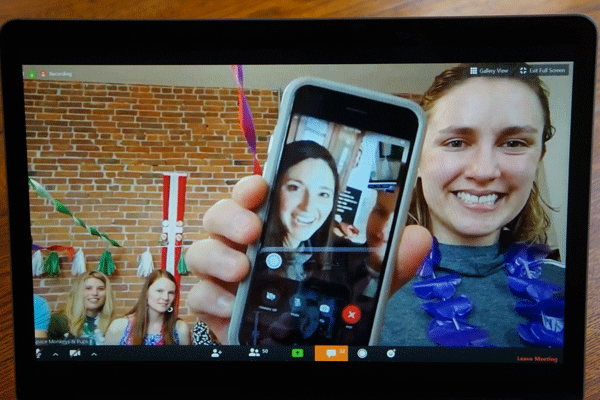 Celebrating Match Day Virtually with SPACE MISSION 2020
The phrase "keep your distance" has taken on a whole new and deeply important meaning in the era of COVID-19 and even Match Day was not immune to honoring this behavior. On March 20, 2020, members of the Larner College of Medicine's Class of 2020 went virtual to ensure social distancing while celebrating the news of where they will be spending the next three to seven years training as residents following graduation.
The "SPACE MISSION 2020" themed event was livestreamed on YouTube for friends, family, faculty, students and staff to view. Nearly 50 "space stations," populated with nine or less people each, connected with "Mission Control," where Dean Richard L. Page, M.D., Senior Associate Dean for Medical Education Christa Zehle, M.D.,and Interim Assistant Dean for Students Shaden Eldakar-Hein, M.D., M.S.,hosted the event via Zoom webinar technology.
Instead of envelopes filled with letters on National Resident Matching Program letterhead, Class of 2020 medical students received emails containing news of the location of their residencies. After remarks from Deans Page, Dean Zehle, and Student Council President Ava Bakhtyari, and a fun skit featuring Deans Zehle and Eldakar-Hein, participating medical student "Space Stations" dialed in to announce their news virtually.
More from Match Day 2020:
Pictured above: Erin Hunt Ellison '20 (at far right) holds up a phone screen featuring classmate Kyna Donohue '20 as other Class of 2020 classmates from their Space Station look on during the College's virtual Match Day celebration.

Keeping Informed About Coronavirus/COVID-19
Message from Dean Richard Page, dated March 25, 2020:
Dear Larner Community:
As per the Governor's Executive Order, and guidance from President Suresh Garimella, Ph.D., we have as of 5 p.m., March 25 suspended all in-person activities at the Larner College of Medicine, and we are expecting all employees to respect the STAY HOME/STAY SAFE order. The College buildings are locked and all work must be conducted from home until at least April 15, 2020. Guidance on telework has been provided by Wanda Heading-Grant, Vice President for the Division of Human Resources, Diversity and Multicultural Affairs.
Relevant exceptions to these policies on telework are individuals in health care or support thereof. We will identify any other individuals who are considered essential to on-campus work. There is exemption for essential research activities, such as research related to COVID-19 and critical work related to animal and other organism populations. University-wide Guidance is provided by Richard Galbraith, M.D., Vice President for Research. Specific guidance for research in our College has been led by Gordon Jensen, M.D., Ph.D., Senior Associate Dean for Research.
The College will continue to operate, albeit remotely. Our medical students will continue to take classes remotely and clinical courses are currently suspended. Graduate student classes are already on line, and accommodations are being made for remote research.
I recognize that, even with our preparation over the last few weeks, this is a major disruption for everyone's lives and leaves many questions unanswered. Further and frequent information will be provided by the College and the University.
I also understand the uncertainty, fear and anxiety that this current situation has brought about. Things will not always be this way. However, right now it is all of our responsibility to do everything we can to battle the greatest public health crisis in our lifetime. This is an amazing community, and I am reminded daily of how special our people are, and how we are committed to our missions of education, clinical care and research. Thank you for all you do and stay well.
Rick

Richard L. Page, M.D.
Dean, The Robert Larner M.D. College of Medicine
The University of Vermont

UVM Scientists Rally to Find COVID-19 Test Alternatives
At a time when COVID-19 test kits are in alarmingly short supply, a team of Larner College of Medicine virus and infectious disease experts have pulled together and, in less than a week, pooled resources, hit the laboratory bench, and tested whether a single-step version of the test could yield the same result as the prescribed two-step test. Their preliminary findings from this small sample, posted on bioRxiv, show a potential alternative that could lead to greater and faster availability of testing for COVID-19.
Charged to find alternative testing options, researchers from the UVM Vaccine Testing Center, UVM Cancer Center, Vermont Integrative Genomic Resource, and Departments of Pathology and Laboratory Medicine, Medicine, and Microbiology and Molecular Genetics collectively landed on an epiphany: maybe kits used for isolating RNA from cells, rather than viruses, could work. The team also tried a more unconventional approach, removing the RNA extraction step altogether. In less than 48 hours, the team gathered a stock of test supplies from labs across campus, developed the experiment, and ran a series of tests using a combination of two positive patients' samples.
Senior study author Jason Botten, Ph.D., first author Emily Bruce, Ph.D., and colleagues underscore the fact that these are very preliminary findings. The team is continuing the research and collecting results, which they hope will further validate this potential solution to the current bottleneck for these tests.
"What this could mean is that labs that can no longer access the prescribed kit may have two new options: either buy these two other kits that can still be purchased, or skip the RNA extraction altogether," Dr. Botten says.
Pictured above, from left to right: UVM Cancer Center and Vermont Integrated Genomics Resource laboratory technicians Scott Tighe, Diana Gerrard, and Jessica Hoffman run tests for a potential alternative to the prescribed COVID-19 test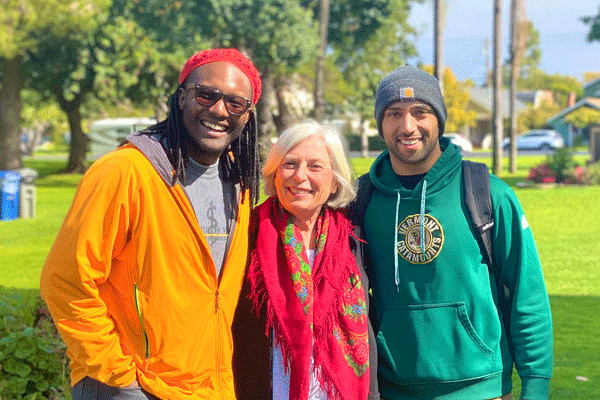 Connecting Across the Years
Medical students Chris Veal '21, left, and Isaac de la Bruere '22, far right, pose for a photo with Class of 1991 alumna and former UVM Assistant Professor of Anesthesiology Mitzi Garahan, M.D. Dr. Garahan and her husband met up with the students in early February in Coronado, Calif. to give them a much-needed break from studying for their United States Medical Licensing Exams. Dr. Garahan shared lunch with the students and entertained them with tales of her experiences in Vermont and as a UVM medical student.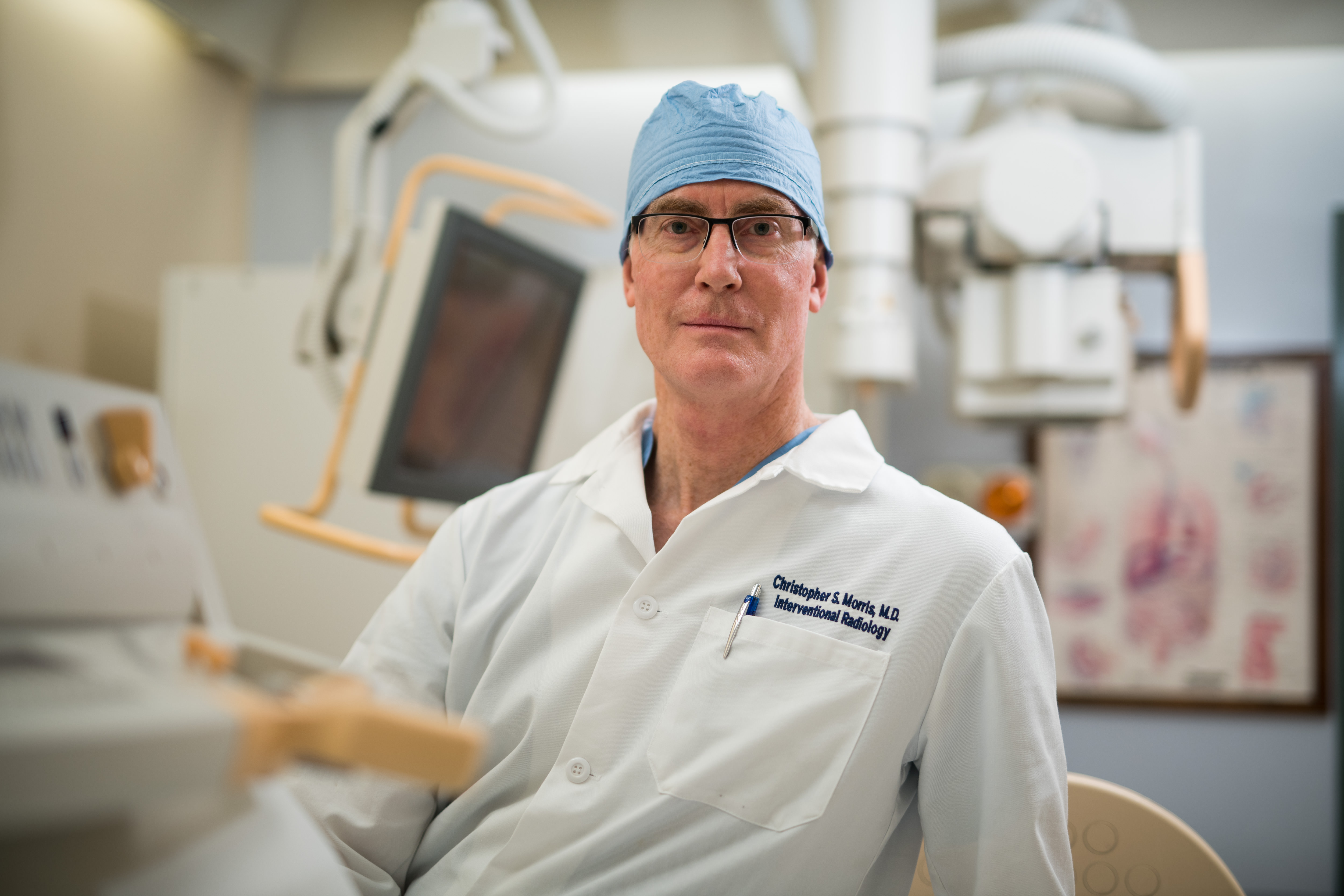 Morris Designs Device to Improve Care for Renal Disease
For patients undergoing peritoneal dialysis for end-stage renal disease, having a catheter that won't stay in place means pain, complications, and more procedures. Thirty years ago, during his radiology residency, Chris Morris, M.D., began to take a hard look at catheters, as he was often called in to fix their placement when they migrated from the lower to the upper abdomen. He quickly started to wonder: Is there a better way?
Fast-forward to the present. Now a professor of radiology at the Larner College of Medicine and an interventional radiologist at the UVM Medical Center, Dr. Morris is still treating patients with end-stage renal disease. He has also designed a prototype device to help eliminate catheter migration, using tungsten ball bearings encased in silastic tubing to weight the catheter, leveraging gravity to keep it in place.
A grant from the UVM Medical Center Fund allowed Morris to complete a safety evaluation and cadaver feasibility project – both had positive results. He recently submitted a paper for publication and a U.S. patent application has been filed. Because the weighted catheter reduces the risk for complications, it may allow more patients to choose peritoneal dialysis—which can be done at home—as opposed to the more costly, hospital-based hemodialysis.
Morris says he's grateful for the grant funding that got the project started, as well as the patients who donated their bodies to science.
"I now have evidence and preliminary findings that show the potential of this device so I can apply to some of the more competitive grants and get one step closer to bringing this technology to patients," he says.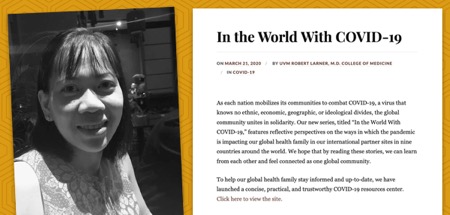 Global Health Diaries: "In the World with COVID-19"
"[The novel coronavirus] was first seen in Vietnam in the days leading to the traditional Lunar New Year, when everyone has time off from work each year to return to their hometown and reunite with their families," writes Phan Thanh Lan, M.D. "The spread of the virus in the context of this special time of year means the psychological bewilderment among our communities has been significant."
Dr. Lan Phan is a cardiologist at Cho Ray Hospital in Ho Chi Minh City, Vietnam, and the Vietnam site director for the Global Health Program at the Larner College of Medicine and Nuvance Health. Her post is the first in a new series for Global Health Diaries, a blog which highlights reflections from participants in the Global Health Program. The series, titled "In the World With COVID-19," features stories and perspectives about the pandemic from colleagues and participants at the program's partner sites, which in addition to Vietnam, include the Dominican Republic, Russia, Uganda, and Zimbabwe.
Read Dr. Lan Phan's post and more on the Global Health Diaries blog.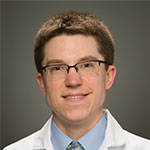 Christopher Anker, M.D., associate professor of radiology, has been named an associate editor on the gastrointestinal (GI) team for the International Journal of Radiation Oncology. He joins a team of seven associate editors, including two international members and five from the U.S., working under the senior GI editor.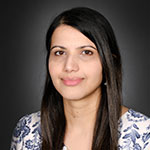 Cardiovascular disease fellow
Lakshmi Nambiar, M.D.,
presented her study, titled "Decade Long Temporal Trends in Hypertension‐Related Deaths, 2007‐2017," during a press briefing ahead of this year's virtual American College of Cardiology 2020 Scientific Sessions meeting. The paper was also published online in a
special supplement to the Journal of the American College of Cardiology
. An article about the study findings was featured on
MedPage Today
.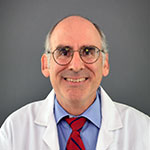 Peter Kaufman, M.D., professor of medicine, has been elected to serve a three-year term on the Alliance for Clinical Trials in Oncology Board of Directors. This organization represents the National Cancer Institute-based national clinical trials network.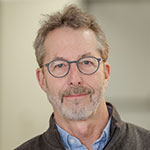 THINKMD, a public benefit corporation founded by Professors of Pediatrics Barry Finette, M.D., Ph.D., and Barry Heath, M.D., has recently released a free COVID-19 Personal Triage, Educational and Surveillance Tool. The tool, designed as a progressive web-based application, guides users through a COVID-19 self-risk assessment based on the latest published peer-reviewed World Health Organization and Centers for Disease Control and Prevention clinical data on presenting signs, symptoms and risk factors. THINKMD is working to distribute this tool globally with international health agencies and organizations, as well as directly to the public, and has established a special partnership with Mondia Media and their mobile network partners in Africa, South Asia, the Middle East, and beyond. Functional on any desktop, tablet, or mobile smartphone, the tool will be available in the near future to work offline in resource-poor areas.

CITATION HIGHLIGHTS

Chaarani B, Kan KJ, Mackey S, Spechler PA, Potter A, Orr C, D'Alberto N, Hudson KE, Banaschewski T, Bokde ALW, Bromberg U, Büchel C, Cattrell A, Conrod PJ, Desrivières S, Flor H, Frouin V, Gallinat J, Gowland P, Heinz A, Ittermann B, Martinot JL, Nees F, Papadopoulos-Orfanos D, Paus T, Poustka L, Smolka MN, Walter H, Whelan R, Higgins ST, Schumann G, Althoff RR, Stein EA, Garavan H; IMAGEN Consortium. Low Smoking Exposure, the Adolescent Brain, and the Modulating Role of CHRNA5 Polymorphisms. Biol Psychiatry Cogn Neurosci Neuroimaging. 2019 Jul;4(7):672-679. doi: 10.1016/j.bpsc.2019.02.006. Epub 2019 Mar 15. PubMed PMID: 31072760; PubMed Central PMCID: PMC6709448.
Hoffman EA, Clark DB, Orendain N, Hudziak J, Squeglia LM, Dowling GJ. Stress exposures, neurodevelopment and health measures in the ABCD study. Neurobiol Stress. 2019 Mar 19;10:100157. doi: 10.1016/j.ynstr.2019.100157. eCollection 2019 Feb. PubMed PMID: 30949565; PubMed Central PMCID: PMC6430638.
Secinaro MA, Fortner KA, Collins C, Rincón M, Budd RC. Glycolysis Induces MCJ Expression That Links T Cell Proliferation With Caspase-3 Activity and Death. Front Cell Dev Biol. 2019 Mar 11;7:28. doi: 10.3389/fcell.2019.00028. eCollection 2019. PubMed PMID: 30915331; PubMed Central PMCID: PMC6421275.
Lesiak AC, Michelson JD. Posterior tibial tendon dysfunction: Imperfect specificity of magnetic resonance imaging. Foot Ankle Surg. 2020
Feb;26(2):224-227. doi: 10.1016/j.fas.2019.03.001. Epub 2019 Mar 12. PubMed PMID:30905497.
de Castro LL, Lopes-Pacheco M, Weiss DJ, Cruz FF, Rocco PRM. Current understanding of the immunosuppressive properties of mesenchymal stromal cells. J Mol Med (Berl). 2019 May;97(5):605-618. doi: 10.1007/s00109-019-01776-y. Epub 2019 Mar 22. Review. PubMed PMID: 30903229.
Khurana S, Paggiaro P, Buhl R, Bernstein JA, Haddon J, Unseld A, Engel M, Casale TB, Dixon AE. Tiotropium reduces airflow obstruction in asthma patients, independent of body mass index. J Allergy Clin Immunol Pract. 2019 Sep - Oct;7(7):2425-2428.e7. doi: 10.1016/j.jaip.2019.03.007. Epub 2019 Mar 19. PubMed PMID: 30898691.
Ząbczyk M, Królczyk G, Czyżewicz G, Plens K, Prior S, Butenas S, Undas A.Altered fibrin clot properties in advanced lung cancer: strong impact of cigarette smoking. Med Oncol. 2019 Mar 19;36(4):37. doi:10.1007/s12032-019-1262-4. PubMed PMID: 30891644.
Little AC, Hristova M, van Lith L, Schiffers C, Dustin CM, Habibovic A, Danyal K, Heppner DE, Lin MJ, van der Velden J, Janssen-Heininger YM, van der Vliet A. Dysregulated Redox Regulation Contributes to Nuclear EGFR Localization and Pathogenicity in Lung Cancer. Sci Rep. 2019 Mar 19;9(1):4844. doi: 10.1038/s41598-019-41395-8. PubMed PMID: 30890751; PubMed Central PMCID:PMC6425021.
Cederholm T, Jensen GL. Invited commentary in response to: Development of a nutritional documentation tool: a Delphi study. Br J Nutr. 2019 Jun;121(12):1321-1322. doi: 10.1017/S0007114519000588. Epub 2019 Mar 20. PubMed PMID: 30890198.
Nymand Ennis Z, Arnspang Pedersen S, Rix Hansen M, Pottegård A, Patrick Ahern T, Hallas J, Damkier P. Use of phthalate-containing prescription drugs and the risk of gastric cancer: a Danish nationwide case-control study. Acta Oncol. 2019 Jun;58(6):852-858. doi: 10.1080/0284186X.2019.1585941. Epub 2019 Mar 18. PubMed PMID: 30882263.
Taatjes DJ, Roth J. In focus in HCB. Histochem Cell Biol. 2019 Apr;151(4):279-281. doi: 10.1007/s00418-019-01777-5. Epub 2019 Mar 16. PubMed PMID: 30879135.
Trieu V, Aulet RM, Ciolino A, Rimash T. SMARCB1-Deficient Sinonasal Carcinoma: A Case Report and Discussion of the Clinical Implications. Ann Otol Rhinol Laryngol. 2019 Jul;128(7):676-680. doi: 10.1177/0003489419836668. Epub 2019 Mar 15. PubMed PMID: 30873845.
Fritz AJ, Gillis NE, Gerrard DL, Rodriguez PD, Hong D, Rose JT, Ghule PN, Bolf EL, Gordon JA, Tye CE, Boyd JR, Tracy KM, Nickerson JA, van Wijnen AJ, Imbalzano AN, Heath JL, Frietze SE, Zaidi SK, Carr FE, Lian JB, Stein JL, Stein GS. Higher order genomic organization and epigenetic control maintain cellular identity and prevent breast cancer. Genes Chromosomes Cancer. 2019 Jul;58(7):484-499. doi: 10.1002/gcc.22731. Epub 2019 Mar 15. Review. PubMed PMID: 30873710; PubMed Central PMCID: PMC6549233.
Soneji SS, Knutzen KE, Villanti AC. Use of Flavored E-Cigarettes Among Adolescents, Young Adults, and Older Adults: Findings From the Population Assessment for Tobacco and Health Study. Public Health Rep. 2019 May/Jun;134(3):282-292. doi: 10.1177/0033354919830967. Epub 2019 Mar 12. PubMed PMID: 30857471; PubMed Central PMCID: PMC6505324.
Ache JM, Polsky J, Alghailani S, Parekh R, Breads P, Peek MY, Bock DD, von Reyn CR, Card GM. Neural Basis for Looming Size and Velocity Encoding in the Drosophila Giant Fiber Escape Pathway. Curr Biol. 2019 Mar 18;29(6):1073-1081.e4. doi: 10.1016/j.cub.2019.01.079. Epub 2019 Feb 28. PubMed PMID: 30827912.
VanOpdorp JR, Ferrentino N, Strader DB, Lidofsky SD. Utility of laboratory monitoring during hepatitis C treatment with ribavirin-free direct-acting antiviral regimens. J Viral Hepat. 2019 Jun;26(6):778-781. doi: 10.1111/jvh.13083. Epub 2019 Mar 25. PubMed PMID: 30801878.

View Archive | Subscribe

Published by the Office of Medical Communications
The Larner College of Medicine
at The University of Vermont
Copyright 2020