February 12, 2020 | Volume II, Issue 3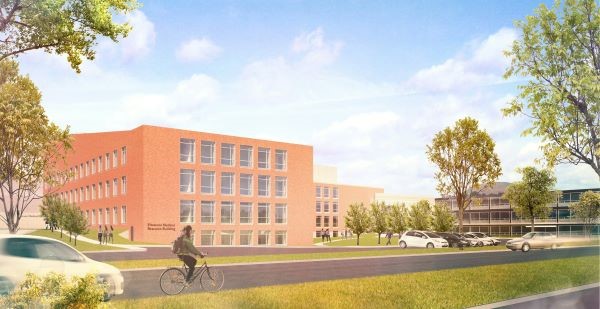 One Step Closer: UVM Board Approves Firestone Medical Research Building
The Larner College of Medicine biomedical research enterprise received another boost on January 31 when the UVM Board of Trustees voted unanimously to approve construction of the Firestone Medical Research Building. In October of 2019, members of the College community gathered to celebrate Class of 1969 medical alumnus Steve Firestone, M.D., for his generous lead gift for the building. Approval from the UVM Board allows the College to begin construction of this new facility. Ground is expected to be broken on the project later this spring near the south end of the Health Sciences Research Facility. "Many people from across the College and the University contributed to this successful approval," said Dean Rick Page, M.D., in a message to the community after the board vote. "I am grateful for everyone who was engaged in moving this project forward."

On January 31, students at the Larner College of Medicine achieved 100 percent participation on the Independent Student Analysis (ISA) survey, a crucial part of the College's LCME reaccreditation process. "Considering how busy our students are, both here on campus and in clerkships and other activities across the nation, this is an extraordinary accomplishment, one that speaks highly of our students' sense of engagement, and their recognition of the importance of the ISA for documenting our current efforts and pointing us toward areas of improvement," said Dean Rick Page, M.D. "I want to thank class leaders Chad Serels '20, Sidney Hilker '21, Matt Hill '22, and Vinh Le '23 for spearheading this vital project."

"Thank you for sharing your voice, for showing your support, for demonstrating that every voice matters, for ensuring the reaccreditation of this school," said the members of the LCME ISA Survey Success Committee in an email to the student body.
Learn more about the College's LCME Reaccreditation process.

Goldman Named Inaugural Follansbee Professor
Glenn Goldman, M.D., an international leader in skin cancer surgery and professor of medicine and chief of dermatology, was invested as the inaugural Rogers and Nancy Follansbee Professor of Dermatology at a ceremony held at the Larner College of Medicine on February 3.

Lenore Follansbee Broughton '83, M.S. '87, established the professorship in memory of her late parents and in recognition of Dr. Goldman's outstanding work to advance dermatology care on the local, national, and international levels. At the time of Dr. Goldman's retirement, the professorship will be renamed the Glenn D. Goldman, M.D. Professorship in Dermatology in his honor.
Pictured above: Dr. Goldman, left, with Dean Rick Page, M.D., following the Investiture.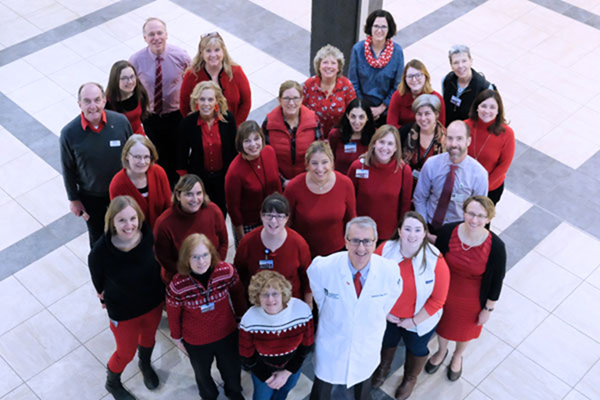 Wear Red Day at the Larner College of Medicine
Members of the Larner College of Medicine community gathered for a photo in the Given Courtyard on February 7 for Wear Red Day. Part of the American Heart Association's Go Red for Women campaign, Wear Red Day aims to raise awareness about cardiovascular disease, the number one killer of women.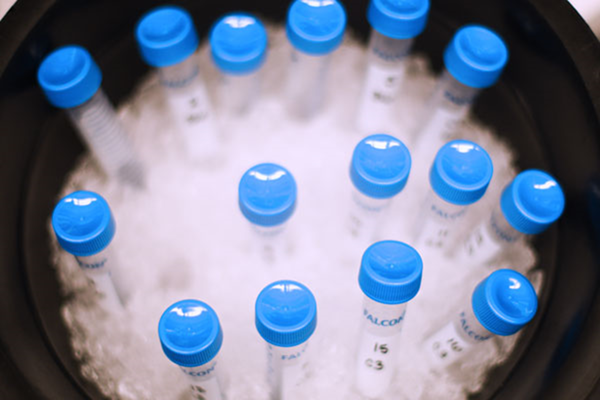 New Medical Student Research Fellowships Announced

Larner medical students who are interested in taking a deeper dive into research have a new opportunity thanks to a Medical Student Research Fellowship Program announced January 31 by Senior Associate Dean for Research Gordon Jensen, M.D., Ph.D., and Director of Medical Student Research and Professor of Medicine Renee Stapleton, M.D., Ph.D.
The two one-year research fellowships will be conducted between the third and fourth years of medical school. Awardees will complete the first three months of the Advanced Integration level of the Vermont Integrated Curriculum starting in March of their third year, and then will complete the remaining portion of the curriculum upon returning to medical school during a fifth year.
Eligible students must have a research mentor who is a full-time Larner College of Medicine faculty member. Applications are due no later than 5 p.m. on March 20, 2020.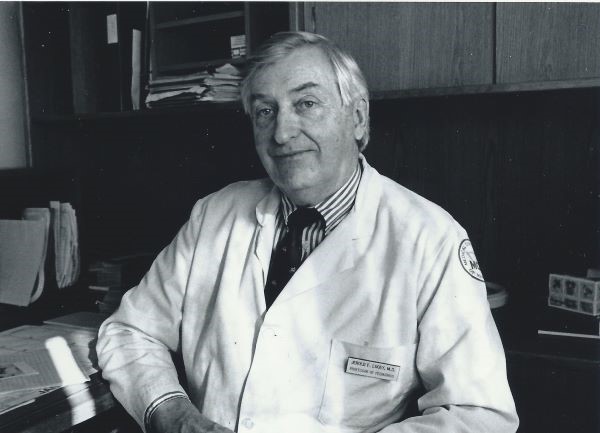 Lucey Prize Recognizes Pediatric Innovation
Jerold Lucey, M.D., was a pioneer in pediatrics who championed innovations that improved the survival and health of preterm babies. He also energized the field of pediatrics by encouraging national and international collaborations and by emphasizing that new ideas and technologies that result from pediatric research and investigation must be backed by documented evidence of their effectiveness.
A member of the UVM faculty from 1956 until his death in 2017, he was editor-in-chief of the journal Pediatrics for 35 years, received numerous medical awards and honors, and was inducted into the Institute of Medicine (now the National Academies of Sciences, Engineering, and Medicine). In 1980, he created an annual national/international conference, "Hot Topics in Neonatology," that he ran for decades.
To honor the memory of Dr. Lucey, the Department of Pediatrics has instituted a new prize to recognize current medical students, residents, and early-career faculty members who are exploring new horizons in neonatology and/or other areas of pediatrics. The prize, which includes $1,500 to each level awardee or their team, will be distributed at a Pediatric Grand Rounds prior to this year's Commencement.
The deadline for submitting proposals for the Lucey Prize is March 13, 2020. Winners will be notified by April 15, 2020.
For more information, please see the Lucey Prize Call for Proposals on the Department of Pediatrics website.
Pictured above: The late Jerold Lucey, M.D.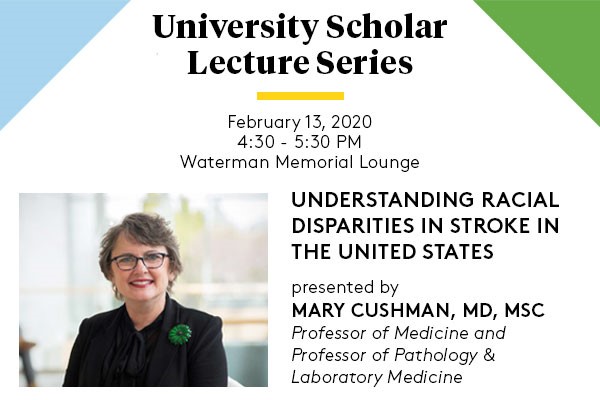 Text only version: University Scholar Lecture Series. February 13, 2020 from 4:30 to 5:30 pm in Waterman Memorial Lounge. "Understanding Racial Disparities in Stroke in the United States," presented by Mary Cushman, M.D., M.Sc., professor of medicine and professor of pathology & laboratory medicine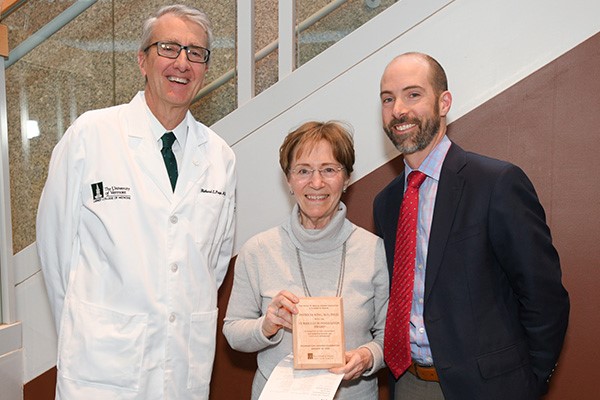 Faculty & Staff Honored at 2020 Foundations Awards
On January 30, faculty, staff, and students from the Class of 2022 gathered in the Hoehl Gallery for the Foundations Awards Celebration, an annual event that marks the end of the first level of the Vermont Integrated Curriculum and honors the members of the College community who helped students along the way.
Student Council Class of 2022 Communications Chair Rachel Tobin kicked off the awards portion of the celebration and spoke about the impact faculty and staff have had on both her education and personal well-being so far. "When I look back on the first year and a half of medical school, what has gotten me through – without a shadow of a doubt – is the people at UVM," said Tobin. "It's the countless faculty, course directors, Standardized Patients, teaching assistants, custodians... librarians, OMSE staff... and deans who do their best to improve our learning and wellness each and every day."
Associate Professor of Pathology and Laboratory Medicine and Nutrition, Metabolism and Gastrointestinal System (NMGI) Course Director Rebecca Wilcox, M.D., was honored with a number of awards including the American Medical Women's Association Gender Equity Award, the Above and Beyond Award, the Foundations Course Director Award, and the Foundations Teaching Award. Also recognized were Professor of Pediatrics and Attacks & Defenses Course Director William Raszka, M.D., with the Dean Warshaw Integration Award; Assistant Professor of Neurological Sciences Ellen Black, Ph.D., with the Silver Stethoscope Award; alumnus Sebastian Franco, M.D. '19 with the Outstanding Teaching Assistant Award; Foundations Curriculum Coordinator Julie Chiappinelli with the Best Support Staff Award; Deb Lyons with the Standardized Patient Award; and Professor of Medicine and Convergence Course Director Patricia King, M.D., Ph.D., with the inaugural Curriculum Innovation Award.
Read more about the Foundations Awards Celebration and additional award recipients.
Pictured above: Dean Rick Page and Associate Professor of Surgery and Director of Active Learning Jesse Moore, M.D., present Professor of Medicine and Convergence Course Director Patricia King, M.D., Ph.D., with the inaugural Curriculum Innovation Award at the Class of '22 Foundations Awards Celebration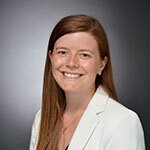 Leigh Ann Holterman, Ph.D., director of curricular evaluation and assessment in the Teaching Academy, was appointed as one of nine commissioners to the UVM President's Commission for Inclusive Excellence. The commission serves as an institutional advisory board whose mission is to advance the strategic diversity and inclusion goals of the university.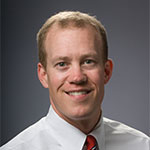 David Lisle, M.D., associate professor of orthopaedics and rehabilitation, was accepted as a fellow of the American Medical Society for Sports Medicine (AMSSM). This designation is awarded to those that have demonstrated an ongoing commitment to lifelong learning, and the advancement of the profession of sports medicine in service to the AMSSM and leadership to the community.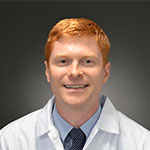 A paper by Patrick Schottel, M.D., assistant professor of orthopaedics and rehabilitation, titled "The Impact of Skin Suture Pattern on Incision Perfusion Using Intraoperative Laser Angiography: A Randomized-Clinical Trial of Ankle Fracture Patients," was selected by the Orthopaedic Trauma Association (OTA) Annual Program Committee as one of the top papers presented at the 2019 OTA Meeting in Denver, Colo. in September 2019. Dr. Schottel's paper will be designated as a Highlight Paper and will be presented in brief synopsis form by an OTA Annual Program Committee member at the 2020 OTA Specialty Day in Orlando, Fla.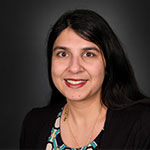 Sherrie Khadanga, M.D., assistant professor of medicine, was recognized with the Young Investigator of the Year award at the American Association of Cardiovascular and Pulmonary Rehabilitation's annual meeting for her study, titled "Optimizing the Exercise Training Response in Women in Cardiac Rehabilitation." She was also selected as one of only 20 early-career cardiologists in the U.S. for the American College of Cardiology Leadership Academy.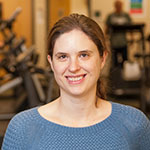 Assistant Professor of Psychiatry Diann Gaalema, Ph.D., was invited to serve as a panelist for the Agency for Healthcare Research and Quality's "Take Heart" initiative to increase the use of cardiac rehabilitation. The three-year initiative aims to create and implement best practices to increase participation of eligible patients in cardiac rehabilitation from 20 percent to 70 percent by 2022.

CITATION HIGHLIGHTS
Alshaabi H, Heininger M, Cunniff B. Dynamic regulation of subcellular mitochondrial position for localized metabolite levels. J Biochem. 2020 Feb 1;167(2):109-117. doi: 10.1093/jb/mvz058. PubMed PMID: 31359061
Evans MF, Vacek PM, Sprague BL, Stein GS, Stein JL, Weaver DL. Microarray and RNA in situ hybridization assay for recurrence risk markers of breast carcinoma and ductal carcinoma in situ: Evidence supporting the use of diverse pathways panels. J Cell Biochem. 2020 Feb;121(2):1736-1746. doi: 10.1002/jcb.29409. Epub 2019 Oct 8. PubMed PMID: 31595577; PubMed Central PMCID: PMC6923596.
Twichell SA, Hunt EAK, Martz K, Somers MJG; NAPRTCS investigators. Effects of changes in adult erythropoietin dosing guidelines on erythropoietin dosing practices, anemia, and blood transfusion in children on hemodialysis: findings from North American Pediatric Renal Trials and Collaborative Studies (NAPRTCS). Pediatr Nephrol. 2020 Feb;35(2):297-303. doi: 10.1007/s00467-019-04359-8. Epub 2019 Nov 10. PubMed PMID: 31709464.
Plante TB, Gleason KT, Miller HN, Charleston J, McArthur K, Himmelfarb CD, Lazo M, Ford DE, Miller ER 3rd, Appel LJ, Juraschek SP; STURDY Collaborative Research Group. Recruitment of trial participants through electronic medical record patient portal messaging: A pilot study. Clin Trials. 2020 Feb;17(1):30-38. doi: 10.1177/1740774519873657. Epub 2019 Oct 3. PubMed PMID: 31581836; PubMed Central PMCID: PMC6992491.
Coylewright M, O'Neill E, Sherman A, Gerling M, Adam K, Xu K, Grande SW, Dauerman HL, Dodge SE, Sobti NK, Saunders CH, Schott SL, Elwyn G, Durand MA. The Learning Curve for Shared Decision-making in Symptomatic Aortic Stenosis. JAMA Cardiol. 2020 Jan 29. doi: 10.1001/jamacardio.2019.5719. [Epub ahead of print] PubMed PMID: 31995126.
Dienz O, DeVault VL, Musial SC, Mistri SK, Mei L, Baraev A, Dragon JA, Krementsov D, Veillette A, Boyson JE. Critical Role for SLAM/SAP Signaling in the Thymic Developmental Programming of IL-17- and IFN-γ-Producing γδ T Cells. J Immunol. 2020 Feb 5. pii: ji1901082. doi: 10.4049/jimmunol.1901082. [Epub ahead of print] PubMed PMID: 32024701
Lesiak AC, Michelson JD. Posterior tibial tendon dysfunction: Imperfect specificity of magnetic resonance imaging. Foot Ankle Surg. 2020 Feb;26(2):224-227. doi: 10.1016/j.fas.2019.03.001. Epub 2019 Mar 12. PubMed PMID:30905497.
Ivanova MY, Achenbach TM, Rescorla LA, Turner LV, Dumas JA, Almeida V, Anafarta-Sendag M, Bite I, Boomsma DI, Caldas JC, Capps JW, Chen YC, Colombo P, da Silva Oliveira M, Dobrean A, Erol N, Frigerio A, Funabiki Y, Gedutien R, Guðmundsson HS, Heo MQ, Kim YA, Lee TS, Leite M, Liu J, Markovic J, Misiec M, Müller M, Oh KJ, Portillo-Reyes V, Retz W, Sebre SB, Shi S, Sigurðardóttir SH, Simulioien R, Sokoli E, Tomasevic T, Vink JM, ZasĘpa E. The Generalizability of Older Adult Self-Report (OASR) Syndromes of Psychopathology Across 20 Societies. Int J Geriatr Psychiatry. 2020 Jan 29. doi: 10.1002/gps.5268. [Epub ahead of print] PubMed PMID: 31994777.
Swierczek S, Prchal JT. Clonal hematopoiesis in hematological disorders. Exp Hematol. 2020 Jan 30. pii: S0301-472X(20)30034-5. doi: 10.1016/j.exphem.2020.01.013. [Epub ahead of print] PubMed PMID: 32007480.
Wehrmann M, Patel SS, Haxel C, Cassidy C, Howley L, Cuneo B, Gien J, Kinsella JP. Implications of Atrial-Level Shunting by Echocardiography in Newborns with Congenital Diaphragmatic Hernia. J Pediatr. 2020 Jan 31. pii: S0022-3476(19)31716-0. doi: 10.1016/j.jpeds.2019.12.037. PubMed PMID: 32014282.
Chamberlain N, Anathy V. Pathological consequences of the unfolded protein response and downstream protein disulphide isomerases in pulmonary viral infection and disease. J Biochem. 2020 Feb 1;167(2):173-184. doi: 10.1093/jb/mvz101. PubMed PMID: 31790139; PubMed Central PMCID: PMC6988748.
Begasse de Dhaem O, Burch R, Rosen N, Shubin Stein K, Loder E, Shapiro RE. Workforce Gap Analysis in the Field of Headache Medicine in the United States. Headache. 2020 Feb;60(2):478-481. doi: 10.1111/head.13752. Epub 2020 Jan 27. PubMed PMID: 31985046.

View Archive | Subscribe

Published by the Office of Medical Communications
The Larner College of Medicine
at The University of Vermont
Copyright 2020