September 9, 2020 | Volume II, Issue 17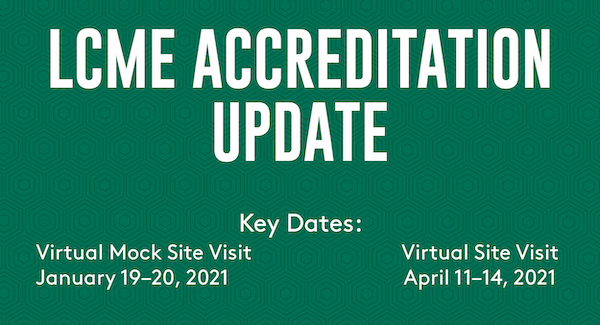 LCME Accreditation Update

The once-every-eight-year accreditation process by the Liaison Committee on Medical Education (LCME) is critical to a medical school's existence, certifying that a medical education program meets the prescribed standards for all U.S. and Canadian medical schools. For the past year, nearly 300 Larner community members–faculty, students, residents, and staff–led by Professor of Medicine and Associate Dean for Public Health Jan K. Carney, M.D., M.P.H., have volunteered on the LCME Task Force and 12 subcommittees. These groups have examined the 12 standards and 93 elements used by the LCME in order to produce a comprehensive analysis of our institutional strengths and challenges. At the same time, our student task force achieved 100 percent response to the Independent Student Analysis Survey (a first for the College), and the results of our 2020 Graduation Questionnaire provided helpful insights on areas of improvement to focus on.

The pandemic has brought changes in meeting format, but not in substance or final deadline.

On January 19 & 20, 2021, a team from the Medical School Advisory Group will conduct a Virtual Mock Site Visit, and provide detailed feedback in order to help the College take final steps to prepare for the LCME Virtual Site Visit from April 11-14, 2021.
See the College's
LCME Accreditation website
for more information.

Endowed Scholarship Honors Collins Oguejiofor '22
The passing of Collins Oguejiofor, a member of the Larner College of Medicine Class of 2022, was a deep loss for the family and friends whose lives he touched, as well as for his teachers and fellow medical students, who recognized what an outstanding physician he would have been.

To honor Collins' memory in a meaningful way, the Oguejiofor family worked with the Larner Development and Alumni Relations Office to establish a diversity scholarship fund in his honor, with an initial goal of raising $50,000 to endow the fund. By early September, gifts and commitments from family members, students, faculty, staff, and friends of the College, combined with matching funds from the Medical Alumni Association's Challenge Program, had met the fund's initial goal.

Learn more and contribute to the scholarship fund.
Pictured above: Collins Oguejiofor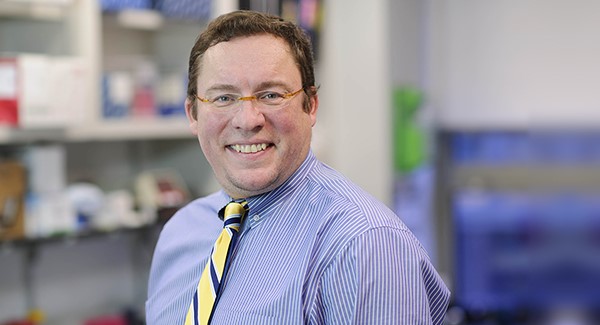 Brentjens Presents Stetson Lecture on Novel CAR T Cell Immunotherapy Cancer Treatment
On September 8, 2020, Dean Richard L. Page, M.D., introduced Fifth Annual Stetson Lecture in Technological Advances in Medicine speaker Renier Brentjens, M.D., Ph.D., as "one of the brightest lights in cancer research." Dr. Brentjens, the director of cellular therapeutics in the Human Oncology and Pathogenesis Program at Memorial Sloan Kettering (MSK) Cancer Center, discussed a novel form of immunotherapy–called chimeric antigen receptor (CAR) T cell therapy–that he and colleagues at MSK pioneered and continue to study as a treatment for certain difficult-to-treat cancers.

In his presentation via Zoom, titled "CARs and Armored CARs: Improving CAR T Cell Therapy for Cancer," Dr. Brentjens discussed the history and evolution of CAR T cell therapy research. This approach, which has been studied with in vitro and mouse models, as well as clinical trials, involves the removal of immune cells from a patient and genetically re-engineering the cells with new proteins that "educate" them to recognize and attack cancer. The cells are then given back to the patient in large numbers as treatment for their cancer.

The Stetson Lecture is supported by a fund established by UVM alumni John Stetson '56, M.D.'60, and Roberta Stetson '57.

Watch a MSK video about "CAR T Cell Therapy: How It Works."
Pictured above: Dr. Brentjens (Courtesy photo)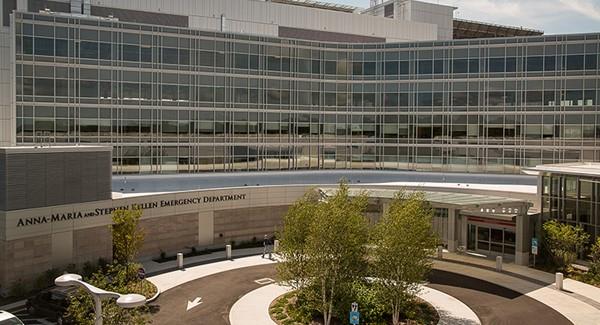 College Announces Clinical Training Site Updates
Several changes to the College's out-of-state clinical education sites have been announced by Senior Associate Dean for Medical Education Christa Zehle, M.D.

Medical student rotations at our clinical training site at St. Mary's Medical Center in West Palm Beach, Fla., have been suspended for the next year. The College plans to maintain this important clinical education relationship and resume student placements at this location when travel and COVID-19 surge risks have been minimized.

At the College's branch campus in Connecticut, there is currently the largest cohort to date–22 students–completing their clinical education at Nuvance Health's Danbury and Norwalk Hospitals. Another 35 students from the Class of 2023 have committed to complete their clinical curriculum there starting in 2021.

After completion of the 2020-21 year, the College's Longitudinal Integrated Clerkship (LIC) at Hudson Headwaters Health Network (HHHN), based in Glens Falls, N.Y., will discontinue. Piloted in 2016, this LIC has educated two additional cohorts of third-year medical students over the past two years, providing an outstanding rural clinical education experience. The College will remain close clinical and educational partners with HHHN and hopes to develop opportunities for clinical education experiences in the months and years to come.

The LIC at Central Vermont Medical Center, initiated in 2019, is educating its second cohort of four students. The aim is to grow this LIC program to serve as a model for establishing additional LIC programs within the UVM Health Network.
Pictured above: Danbury Hospital in Connecticut (Courtesy photo)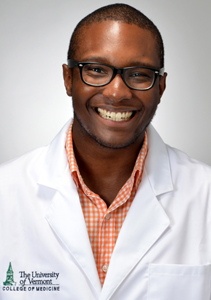 I did not come to Kenosha to riot. I did not come to Kenosha to fight with members of QAnon, a group my parents agree is the 'new KKK.' I came to Kenosha to protest the unjustified shooting of Jacob Blake and the continued mistreatment and killing of Black and Brown people (especially men) in the hands of the police. While my horror from the destruction of this community is heartbreaking, and my disgust with the political manipulation of our shared pain is nauseating, I remain hopeful."
~Class of 2021 medical student Christopher Veal
Read Christopher Veal's full blog post, "'Over 400 Years in the Making:' My Drive to Kenosha."
Pictured above: Mr. Veal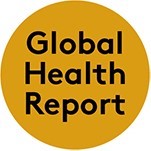 The 2020 Global Health Report is now online!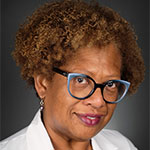 Elizabeth Bonney, M.D., M.P.H.,
professor and director of research in the Department of Obstetrics, Gynecology and Reproductive Sciences, was named to the 2020-2021 class of fellows participating in the Hedwig van Ameringen Executive Leadership in Academic Medicine® (ELAM) Program at Drexel University College of Medicine. The ELAM® Program is the nation's only in-depth program focused on preparing senior women faculty at schools of medicine, dentistry and public health for institutional leadership positions where they can effect positive change. Dr. Bonney, who specializes in immune system function during pregnancy, is a fellow of the American Congress of Obstetricians and Gynecologist and currently serves on the Board of Scientific Counselors for the Eunice Kennedy Shriver National Institute of Child Health and Human Development Division of Intramural Research.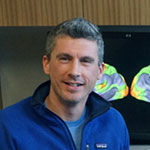 Matthew Albaugh, Ph.D., assistant professor of psychiatry, has been selected to receive a two-year Brain & Behavior Research Foundation Young Investigator Grant, effective January 15, 2021. This funding will help support Dr. Albaugh's work to delineate patterns of neurodevelopment that are associated with mood and anxiety problems using data from the Adolescent Brain Cognitive Development (ABCD) study. Dr. Albaugh recently received a K award from the National Institutes of Health to support his and colleagues' work to develop risk algorithms for anxiety and depression in adolescents using ABCD study data.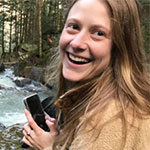 Cellular, Molecular and Biomedical Sciences Graduate Program student Lauren Hinkel, Ph.D., successfully defended her thesis, titled "The Utilization of host-derived compounds by gram-negative bacteria," on August 24, 2020. She will be completing a postdoctoral fellowship in the laboratory of her mentor, Matthew Wargo, Ph.D., associate professor of microbiology & molecular genetics.

CITATION HIGHLIGHTS
Mead AF, Kennedy GG, Palmer BM, Ebert AM, Warshaw DM. Mechanical Characteristics of Ultrafast Zebrafish Larval Swimming Muscles. Biophys J. 2020 Aug 18;119(4):806-820. doi: 10.1016/j.bpj.2020.06.036. Epub 2020 Jul 18. PMID:32755560; PMCID: PMC7451861.

Moshkforoush A, Ashenagar B, Harraz OF, Dabertrand F, Longden TA, Nelson MT, Tsoukias NM. The capillary Kir channel as sensor and amplifier of neuronal signals: Modeling insights on K<sup>+</sup>-mediated neurovascular communication. Proc Natl Acad Sci U S A. 2020 Jul 14;117(28):16626-16637. doi: 10.1073/pnas.2000151117. Epub 2020 Jun 29. PMID: 32601236; PMCID: PMC7368319.

Hoshino A, Kim HS, Bojmar L, Gyan KE, Cioffi M, Hernandez J, Zambirinis CP, Rodrigues G, Molina H, Heissel S, Mark MT, Steiner L, Benito-Martin A, Lucotti S, Di Giannatale A, Offer K, Nakajima M, Williams C, Nogués L, Pelissier Vatter FA, Hashimoto A, Davies AE, Freitas D, Kenific CM, Ararso Y, Buehring W, Lauritzen P, Ogitani Y, Sugiura K, Takahashi N, Alečković M, Bailey KA, Jolissant JS, Wang H, Harris A, Schaeffer LM, García-Santos G, Posner Z, Balachandran VP, Khakoo Y, Raju GP, Scherz A, Sagi I, Scherz-Shouval R, Yarden Y, Oren M, Malladi M, Petriccione M, De Braganca KC, Donzelli M, Fischer C, Vitolano S, Wright GP, Ganshaw L, Marrano M, Ahmed A, DeStefano J, Danzer E, Roehrl MHA, Lacayo NJ, Vincent TC, Weiser MR, Brady MS, Meyers PA, Wexler LH, Ambati SR, Chou AJ, Slotkin EK, Modak S, Roberts SS, Basu EM, Diolaiti D, Krantz BA, Cardoso F, Simpson AL, Berger M, Rudin CM, Simeone DM, Jain M, Ghajar CM, Batra SK, Stanger BZ, Bui J, Brown KA, Rajasekhar VK, Healey JH, de Sousa M, Kramer K, Sheth S, Baisch J, Pascual V, Heaton TE, La Quaglia MP, Pisapia DJ, Schwartz R, Zhang H, Liu Y, Shukla A, Blavier L, DeClerck YA, LaBarge M, Bissell MJ, Caffrey TC, Grandgenett PM, Hollingsworth MA, Bromberg J, Costa-Silva B, Peinado H, Kang Y, Garcia BA, O'Reilly EM, Kelsen D, Trippett TM, Jones DR Matei IR, Jarnagin WR, Lyden D. Extracellular Vesicle and Particle Biomarkers Define Multiple Human Cancers. Cell. 2020 Aug 20;182(4):1044-1061.e18. doi: 10.1016/j.cell.2020.07.009. Epub 2020 Aug 13. PMID: 32795414.

Chong JX, Talbot JC, Teets EM, Previs S, Martin BL, Shively KM, Marvin CT, Aylsworth AS, Saadeh-Haddad R, Schatz UA, Inzana F, Ben-Omran T, Almusafri F, Al-Mulla M, Buckingham KJ, Harel T, Mor-Shaked H, Radhakrishnan P, Girisha KM, Nayak SS, Shukla A, Dieterich K, Faure J, Rendu J, Capri Y, Latypova X, Nickerson DA, Warshaw DM, Janssen PML; University of Washington Center for Mendelian Genomics, Amacher SL, Bamshad MJ. Mutations in MYLPF Cause a Novel Segmental Amyoplasia that Manifests as Distal Arthrogryposis. Am J Hum Genet. 2020 Aug 6;107(2):293-310. doi: 10.1016/j.ajhg.2020.06.014.

Chetlen AL, Petscavage-Thomas J, Cherian RA, Ulano A, Nandwana SB, Curci NE, Swanson RT, Artrip R, Bathala TK, Gettle LM, Frigini LA. Collaborative Learning in Radiology: From Peer Review to Peer Learning and Peer Coaching. Acad Radiol. 2020 Sep;27(9):1261-1267. doi: 10.1016/j.acra.2019.09.021. Epub 2019 Oct 18. PMID: 31636005.

Greene SJ, Rosen L. Tracking medical student emotionality in relation to whole body dissection and donation. Clin Anat. 2020 Sep 5. doi: 10.1002/ca.23676. Epub ahead of print. PMID: 32889750.

Leonard-Duke J, Evans S, Hannan RT, Barker TH, Bates JHT, Bonham CA, Moore BB, Kirschner DE, Peirce SM. Multi-scale models of lung fibrosis. Matrix Biol. 2020 Sep;91-92:35-50. doi: 10.1016/j.matbio.2020.04.003. Epub 2020 May 11. PMID:32438056; PMCID: PMC7434655.

Kloc ML, Velasquez F, Niedecker R, Barry JM, Holmes GL. Disruption of Hippocampal Rhythms via Optogenetic Stimulation During the Critical Period for Memory Development Impairs Spatial Cognition. Brain Stimul. 2020 Aug 29:S1935-861X(20)30229-1. doi: 10.1016/j.brs.2020.08.011. Epub ahead of print. PMID: 32871261.

Parker MA, Weinberger AH, Villanti AC. Quit ratios for cigarette smoking among individuals with opioid misuse and opioid use disorder in the United States. Drug Alcohol Depend. 2020 Sep 1;214:108164. doi: 10.1016/j.drugalcdep.2020.108164. Epub 2020 Jul 2. PMID: 32652375; PMCID: PMC7423737.

Rescorla LA, Ivanova MY, Achenbach TM, Almeida V, Anafarta-Sendag M, Bite I, Caldas JC, Capps JW, Chen YC, Colombo P, da Silva Oliveira M, Dobrean A, Erol N, Frigerio A, Funabiki Y, Gedutienė R, Guðmundsson HS, Heo MQ, Kim YA, Lee TS, Leite M, Liu J, Markovic J, Misiec M, Müller M, Oh KJ, Portillo-Reyes V, Retz W, Sebre SB, Shi S, Sigurðardóttir SH, Šimulionienė R, Sokoli E, Milijasevic D, Zasępa E. Older adult psychopathology: international comparisons of self- reports, collateral reports, and cross-informant agreement. Int Psychogeriatr. 2020 Sep 4:1-12. doi: 10.1017/S1041610220001532. Epub ahead of print. PMID: 32883392.

Lerner-Ellis J, Mighton C, Lazaro C, Watkins N, Di Gioacchino V, Wong A, Chang MC, Charames GS. Multigene panel testing for hereditary breast and ovarian cancer in the province of Ontario. J Cancer Res Clin Oncol. 2020 Sep 3. doi: 10.1007/s00432-020-03377-6. Epub ahead of print. PMID: 32885271.

Herr KD, George E, Agarwal V, McKnight CD, Jiang L, Jawahar A, Pakkal M, Ulano A, Ganeshan D. Aligning the Implicit Curriculum with the Explicit Curriculum in Radiology. Acad Radiol. 2020 Sep;27(9):1268-1273. doi: 10.1016/j.acra.2019.12.028. Epub 2020 Feb 12. PMID: 32061468.

Börger V, Weiss DJ, Anderson JD, Borràs FE, Bussolati B, Carter DRF, Dominici M, Falcón-Pérez JM, Gimona M, Hill AF, Hoffman AM, de Kleijn D, Levine BL, Lim R, Lötvall J, Mitsialis SA, Monguió-Tortajada M, Muraca M, Nieuwland R, Nowocin A, O'Driscoll L, Ortiz LA, Phinney DG, Reischl I, Rohde E, Sanzenbacher R, Théry C, Toh WS, Witwer KW, Lim SK, Giebel B. International Society for Extracellular Vesicles and International Society for Cell and Gene Therapy statement on extracellular vesicles from mesenchymal stromal cells and other cells: considerations for potential therapeutic agents to suppress coronavirus disease-19. Cytotherapy. 2020 Sep;22(9):482-485. doi: 10.1016/j.jcyt.2020.05.002. Epub 2020 May 16. PMID: 32425691; PMCID: PMC7229942.

Damp JB, Cullen MW, Soukoulis V, Tam MC, Keating FK, Smith SA, Bhakta D, Abudayyeh I, Qasim A, Sernyak A, Auseon A, Theriot P, Weissman G. Program Directors Survey on Diversity in Cardiovascular Training Programs. J Am Coll Cardiol. 2020 Sep 8;76(10):1215-1222. doi: 10.1016/j.jacc.2020.07.020. PMID: 32883415.
Ahern TP, Damkier P, Feddersen S, Kjærsgaard A, Lash TL, Hamilton-Dutoit S, Lythjohan CB, Ejlertsen B, Christiansen PM, Cronin-Fenton DP. Predictive pharmacogenetic biomarkers for breast cancer recurrence prevention by simvastatin. Acta Oncol. 2020 Sep;59(9):1009-1015. doi: 10.1080/0284186X.2020.1759820. Epub 2020 Apr 30. PMID: 32351149.

View Archive | Subscribe

Published by the Office of Medical Communications
The Larner College of Medicine
at The University of Vermont
Copyright 2020