October 30, 2019 | Volume I, Issue 17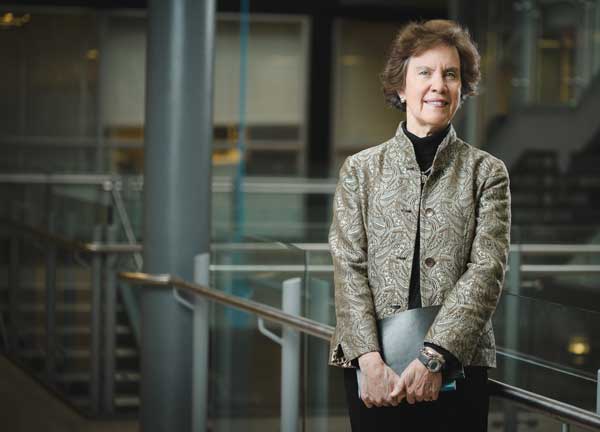 Carney Awarded Prestigious ACP Mastership
Professor of Medicine Jan K. Carney, M.D., M.P.H., MACP, has been awarded Mastership in the American College of Physicians (ACP). This ACP designation recognizes outstanding and extraordinary career accomplishments. Masters must have made a notable contribution to medicine; this may include teaching, outstanding work in clinical medicine, contributions to preventive medicine, improvements in the delivery of health care, or contributions to the medical literature.
Dr. Carney, who is also the College's associate dean for public health and health policy, is a national public health leader and an innovator in education. She developed Vermont's first Master of Public Health degree and other online graduate level public health programs, directs the Rural Health Research and Community Engagement Core for the Northern New England Clinical and Translational Research Network, and is currently Faculty Accreditation Lead for the College's reaccreditation effort. From 1989 to 2003, she served as Vermont Commissioner of Health. She recently served as vice-chair of ACP's Health and Public Policy Committee and was governor of the Vermont ACP Chapter from 2015 to 2019.

Dixon Named Director of Vermont Lung Center
Anne Dixon, M.A., B.M., B.Ch., professor of medicine and division chief of pulmonary disease & critical care medicine, has been named the new director of the Vermont Lung Center.

A fellow of the American Thoracic Society, Dr. Dixon joined the UVM faculty in 2001 and has served as director of clinical research at the Vermont Lung Center for the past 18 years. A nationally and internationally recognized expert in the areas of asthma and lung disease related to obesity and metabolic dysfunction, she is a current and past member of several National Institutes of Health (NIH) and Veterans' Affairs study sections, national guideline panels, and the American Lung Association's national Board of Directors.

Dr. Dixon takes the reins from Charles Irvin, Ph.D., professor of medicine and associate dean for faculty affairs, who served as the Vermont Lung Center's director since 1998. During his tenure, he led the center to become a Center of Biomedical Research Excellence, securing 15 years of funding from the NIH's National Institute of General Medical Sciences. The center also served as one of only 15 American Lung Association Airways Clinical Research Centers in the country.

Read more about this Vermont Lung Center news.

Dean's Excellence in Research Celebration Recognizes Investigators
The College hosted the fourth annual "Dean's Excellence in Research Celebration" on October 28 and 29, showcasing the scholarship of graduate students, trainees, and faculty. Highlights included presentations by Medical Alumni Association Distinguished Graduate Alumni recipient Richard Moss, Ph.D. '75, a keynote address by Joshua Chodosh, M.D., M.S.H.S., of NYU School of Medicine, and an awards ceremony. For the first time this year, attendees could tour the College's core facilities, including the Vermont Integrative Genomics Resource, Flow Cytometry and Cell Sorting Facility, and Microscopy Imaging Center.

College faculty award recipients included:

• Research Mentorship Award: Matthew Poynter, Ph.D., Professor of Medicine
• Rising Star New Investigator Award: Benjamin Lee, M.D., Assistant Professor of Pediatrics
• Mid-Career Investigator Award: Neil Zakai, M.D., M.Sc., Associate Professor of Medicine
• Research Laureate Award: Mark Nelson, Ph.D., University Distinguished Professor & Chair of Pharmacology

Read more about the Dean's Excellence in Research Celebration.
Pictured above: Benjamin Lee, M.D., assistant professor of pediatrics, at center, is recognized by (from far left) Dean Jensen, Dr. First, Dr. Kirkpatrick, and Dean Page.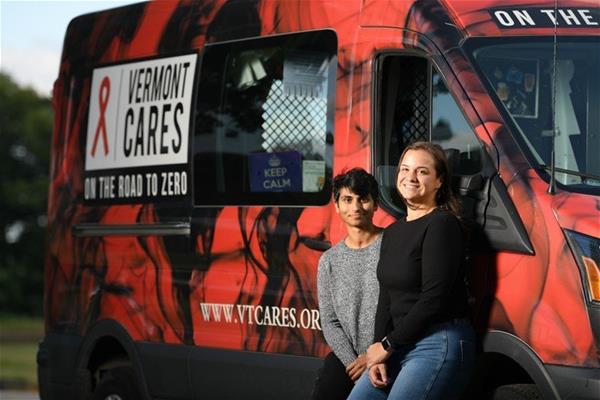 A Lesson in Harm Reduction
Every Friday afternoon, second-year medical students Noorin Damji and Kristina Valentine set off from campus to pick up the well-stocked mobile outreach van owned by a local nonprofit. Together, they drive north to rural communities in Franklin County, Vt., to deliver free packs of sterile hypodermic syringes, fentanyl testing strips, and Narcan to people who inject drugs.

This effort is known in public health as harm reduction. The students, who are completing this project in collaboration with Vermont CARES (Committee for AIDS Resources, Education & Services) as 2019-20 Schweitzer Fellows, provide clients with access to tools and instruction aimed at reducing their risk of infection and fatal overdose. Information about recovery programs is also available, but only if clients show an interest in receiving it.

"The idea that people who inject drugs don't care about their health just isn't true," says Noorin. "I think participating in harm reduction is our social responsibility as physicians." Read more about the project.

Pictured above: Class of '22 medical students Noorin Damji, left, and Kristine Valentine, with the VT CARES mobile syringe van. (Photo: David Seaver)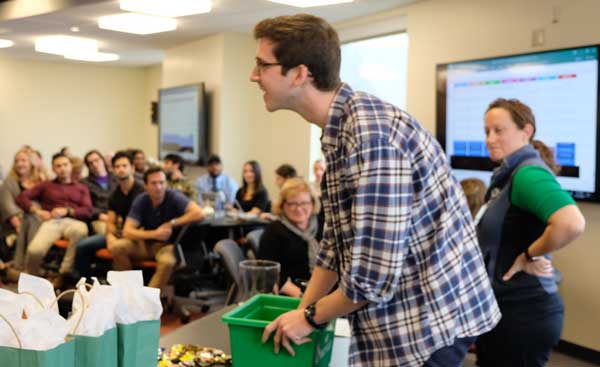 What's next? Clerkship Lottery for Class of 2023

The countdown is on for members of the Class of 2023, who in a few short months will begin the clerkship level of the Vermont Integrated Curriculum. On October 17, these medical students participated in the clerkship lottery— an event featuring prizes and special treats that brings second—year medical students together to determine their flight group and the order that they will be completing their clerkships.

Pictured above, center: Class of 2023 medical student Erick MacLean reaches into the bin for the slip of paper that contains his clerkship flight group assignment, as Interim Assistant Dean of Students Shaden Eldakar, M.D., looks on.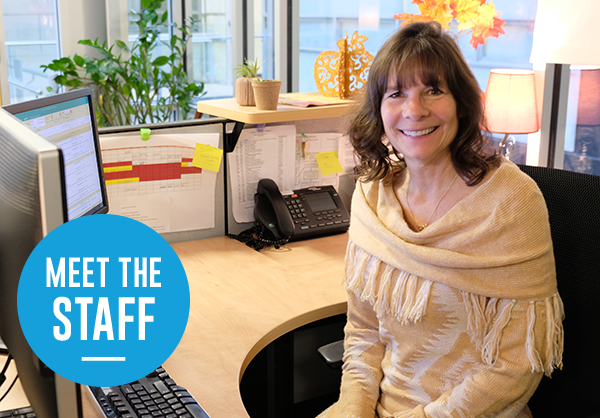 Brenda Shinosky, Office Support Generalist, Department of Pathology and Laboratory Medicine

When you enter the Department of Pathology and Laboratory Medicine suite on the second floor of the Given Courtyard, you come face-to-face with the welcoming smile of Brenda Shinosky. A staff member in the department since she joined the University of Vermont fifteen years ago, Ms. Shinosky has a reputation for being an invaluable resource to her colleagues.

"Brenda serves as a bridge to so many people and has a deep knowledge of the department," said Rebecca Wilcox, M.D., associate professor and vice chair of pathology education.

In her first position in the department, she provided general office support, eventually taking on the role of administrative assistant to Edwin "Ted" Bovill, M.D., former chair and professor emeritus of pathology and laboratory medicine until his retirement, and coordinating Pathology Grand Rounds. Today, she continues to wear multiple hats in support of the department, ranging from medical student coordinator and coordinating the Pathology 101 course and related labs, to providing assistance and guidance to departmental faculty. Additional roles include working with Professor Masatoshi "Matt" Kida, M.D., in support of the Pathology International Education (PIE) program, and providing administrative support for the department's research recruitment efforts.

"I like the people I work with in my office and department and enjoy building relationships with staff and faculty," she says. "You become like family within the environment that you work in and support."

"Brenda is the eyes and ears of our department and our go-to person for historical references about the department," said Michael O'Sullivan, M.S., M.B.A., business manager for the Department of Pathology and Laboratory Medicine.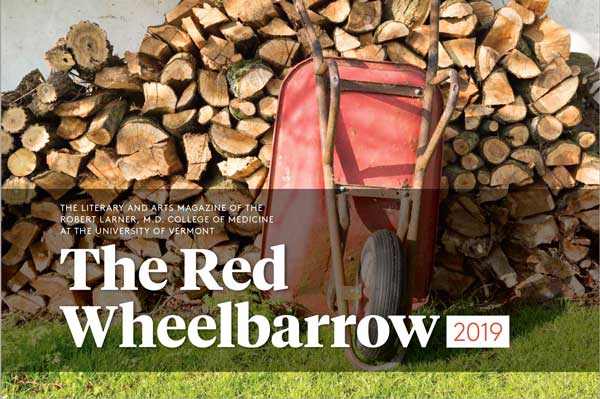 The 2019 issue of The Red Wheelbarrow, the student-run magazine for the literary and visual arts for the Larner community, is out! Named after a poem by physician-writer William Carlos Williams, The Red Wheelbarrow showcases the creative endeavors of students, faculty, staff, and alumni of the College. Printed copies are available in the Office of Medical Student Education and the Office of Medical Communications. Read the latest issue online here.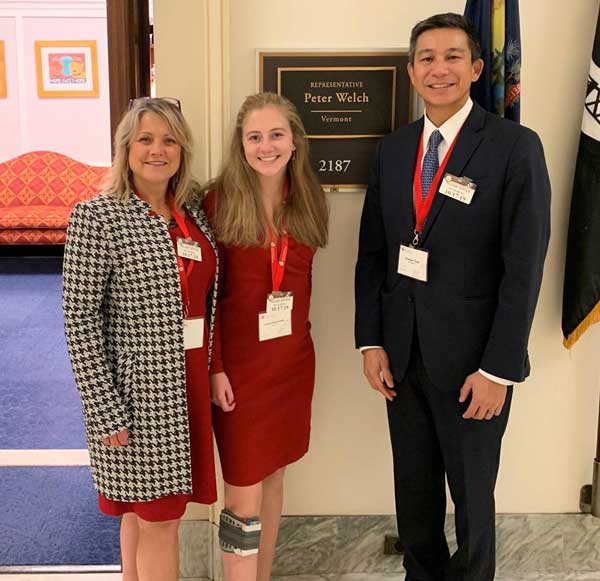 Associate Professor of Medicine and cardiologist Prospero Gogo, M.D., two-time stroke survivor Jamie Heath, and her mother, Joanne Leclerc, traveled to Washington, D.C. to participate in the Vermont office of the American Heart Association's "You're the Cure on the Hill" Lobby Day, October 16-18.

It was awesome to be in DC with Dr. Gogo and meet with congressional members to advocate for the support of legislation to ban the sale of flavored tobacco products, protect families from financially crippling surprise medical bills, and legislation that supports increased research funding. If it wasn't for research funded by the NIH, I probably wouldn't be here today!"

~Jamie Heath, Barre, Vermont



The most powerful message comes from patients. Jamie's story was met with rapt attention by the members of Congress and their staff. The combination of medical professionals and patient advocates is necessary for our big asks from politicians."

~Prospero Gogo, M.D.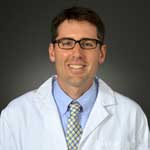 Associate Professor of Pediatrics Keith Robinson, M.D., was appointed to a new role as Vice Chair for Quality Improvement and Population Health for the UVM Children's Hospital and Department of Pediatrics.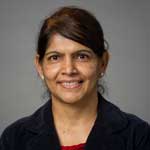 Associate Professor of Pathology and Laboratory Medicine Arti Shukla, Ph.D., delivered an invited talk hosted by Oregon Health & Science University's Knight Cancer Institute called the Michael J. Hasson Lectureship for Mesothelioma on October 7. After her presentation, Dr. Shukla was honored with an award in recognition of her outstanding work in mesothelioma research.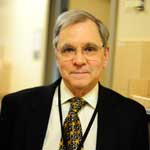 Professor of Surgery Phil A. Aitken, M.D., FACS, was awarded the Distinguished Achievement Award from the New England Ophthalmological Society at their September 6 meeting in Boston.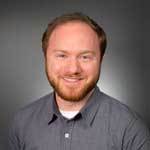 Class of 2020 medical student Eli Goldberg was recently appointed to the Planned Parenthood of Northern New England Board of Trustees.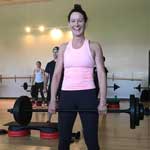 Vermont Lung Center Research Specialist Olivia Johnson, M.S., RDN, coordinated the sixth annual Pump for Pink event, which took place October 19 at the UVM Athletic Complex. The fitness-based event, which features Les Mills Body Pump classes, raised funds for the UVM Cancer Center, and has engaged hundreds on campus and in the community over the years.

CITATION HIGHLIGHTS
Li A, Nelson SR, Rahmanseresht S, Braet F, Cornachione AS, Previs SB, O'Leary
TS, McNamara JW, Rassier DE, Sadayappan S, Previs MJ, Warshaw DM.
Skeletal MyBP-Cisoforms tune the molecular contractility of divergent skeletal muscle systems
.Proc Natl Acad Sci U S A. 2019 Oct 22;116(43):21882-21892. doi:
10.1073/pnas.1910549116. Epub 2019 Oct 7. PubMed PMID: 31591218.
Plante TB, Juraschek SP, Zakai NA, Tracy RP, Cushman M.
Comparison of
Frequency of Atherosclerotic Cardiovascular Disease Events Among Primary and
Secondary Prevention Subgroups of the Systolic Blood Pressure Intervention Trial.
Am J Cardiol. 2019 Sep 6. pii: S0002-9149(19)30994-4. doi:
10.1016/j.amjcard.2019.08.028. [Epub ahead of print] PubMed PMID: 31575423.
Miller HN, Gleason KT, Juraschek SP, Plante TB, Lewis-Land C, Woods B, Appel
LJ, Ford DE, Dennison Himmelfarb CR.
Electronic medical record-based cohort
selection and direct-to-patient, targeted recruitment: early efficacy and lessons
learned.
J Am Med Inform Assoc. 2019 Nov 1;26(11):1209-1217. doi:
10.1093/jamia/ocz168. PubMed PMID: 31553434.
Beaudry J, Consigli A, Clark C, Robinson KJ.
Getting ready for adult
healthcare: Designing a chatbot to coach adolescents with special health needs
through the transitions of care.
J Pediatr Nurs. 2019 Oct 20;49:85-91. doi:
10.1016/j.pedn.2019.09.004. [Epub ahead of print] PubMed PMID: 31644960.
Chetlen AL, Petscavage-Thomas J, Cherian RA, Ulano A, Nandwana SB, Curci NE,
Swanson RT, Artrip R, Bathala TK, Gettle LM, Frigini LA.
Collaborative Learning
in Radiology: From Peer Review to Peer Learning and Peer Coaching.
Acad Radiol.
2019 Oct 18. pii: S1076-6332(19)30454-4. doi: 10.1016/j.acra.2019.09.021. [Epub
ahead of print] PubMed PMID: 31636005.
Girard BM, Campbell SE, Perkins M, Hsiang H, Tooke K, Drescher C, Hennig GW,
Heppner TJ, Nelson MT, Vizzard MA.
TRPV4 blockade reduces voiding frequency, ATP release and pelvic sensitivity in mice with chronic urothelial overexpression of NGF (NGF-OE).
Am J Physiol Renal Physiol. 2019 Oct 21. doi:
10.1152/ajprenal.00147.2019. [Epub ahead of print] PubMed PMID: 31630542.
Roth DL, Haley WE, David Rhodes J, Sheehan OC, Huang J, Blinka MD, Yuan Y,
Irvin MR, Jenny N, Durda P, Cushman M, Walston JD, Howard VJ.
Transitions to
family caregiving: enrolling incident caregivers and matched non-caregiving
controls from a population-based study.
Aging Clin Exp Res. 2019 Oct 19. doi:
10.1007/s40520-019-01370-9. [Epub ahead of print] PubMed PMID: 31630377.
Whitaker EE, Wiemann BZ, Xia JC, Bissonnette B, Liu J, Fadda P, Tobias JD,
Christofi FL.
Distinct, sex-dependent miRNA signatures in piglet hippocampus
induced by a clinically relevant isoflurane exposure: a pilot study.
J Anesth.
2019 Oct 14. doi: 10.1007/s00540-019-02695-5. [Epub ahead of print] PubMed PMID:
31612349
Thomas AA, Rauschkolb PK.
Tumor treating fields for glioblastoma: should it or
will it ever be adopted?
Curr Opin Neurol. 2019 Oct 10. doi:
10.1097/WCO.0000000000000762. [Epub ahead of print] PubMed PMID: 31609738.
Lee B, Dickson DM, Alam M, Afreen S, Kader A, Afrin F, Ferdousi T, Damon CF,
Gullickson SK, McNeal MM, Bak DM, Tolba M, Carmolli MP, Taniuchi M, Haque R,
Kirkpatrick BD.
The effect of increased inoculum on oral rotavirus vaccine take
among infants in Dhaka, Bangladesh: A double-blind, parallel group, randomized,
controlled trial.
Vaccine. 2019 Oct 10. pii: S0264-410X(19)31330-1. doi:
10.1016/j.vaccine.2019.09.088. [Epub ahead of print] PubMed PMID: 31607603.
Aulet RM, Trieu V, Landrigan GP, Millay DJ.
Changes in Opioid Prescribing
Habits for Patients Undergoing Rhinoplasty and Septoplasty.
JAMA Facial Plast
Surg. 2019 Oct 10. doi: 10.1001/jamafacial.2019.0937. [Epub ahead of print]
PubMed PMID: 31600382.

View Archive | Subscribe

Published by the Office of Medical Communications
The Larner College of Medicine
at The University of Vermont
Copyright 2019