September 18, 2019 | Volume I, Issue 14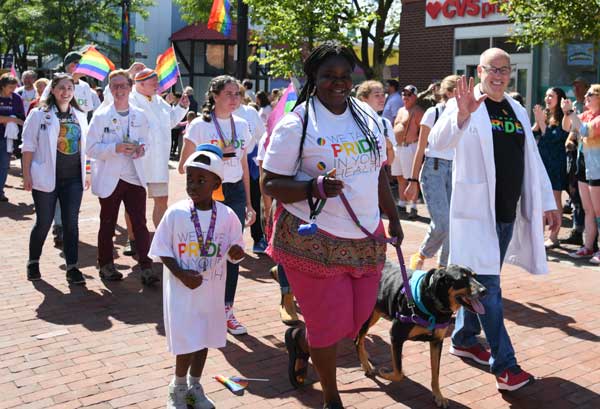 Larner Declares Pride
LGBTQ community members and allies filled Burlington's Church Street and downtown area with smiles, rainbow flags, and bright colors on Sunday, September 8, at the 2019 Vermont Pride Parade and Festival. The Larner College of Medicine was one of more than 90 organizations that participated in the event, which coincided with the 50th anniversary of the Stonewall Riots and had the largest attendance to date in Burlington.
For the first time ever, members of the College joined with the UVM Medical Center, UVM Children's Hospital, and UVM College of Nursing and Health Sciences to represent the academic medical center at the event. Dean Richard L. Page, M.D., his wife Jean Page, and UVM Medical Center CEO Stephen Leffler, M.D., walked together with more than 100 people, most wearing t-shirts stating "We Take PRIDE in Your Health" on the front, and Larner medical students wearing their short white coats.
Former UVM Children's Hospital patients—riding in the back of a colorfully-decorated UVM Medical Center truck with "We Take PRIDE in Your Health" banners on its front and back–led the academic medical center procession. Marchers distributed headbands, bubbles, rainbow stickers, and Larner College of Medicine "PRIDE" and "Diversity, Unity, Excellence, Respect, Inclusion" pins to spectators.
"As I stood at the back of our procession . . . I was taken aback by the sheer number of individuals in white t-shirts and white coats," said Pamela Gibson, M.D., associate professor of pathology and laboratory medicine and Gender and Sexuality Alliance co-advisor, who has helped organize the medical student group for more than six years. "I felt a camaraderie and connection to my fellow employees and trainees who were present that day to walk in solidarity for our LGBTQ community," Dr. Gibson added.

Three Questions with Associate Dean Chris Berger
Christopher Berger, Ph.D., a professor of molecular physiology and biophysics who has served as director of graduate and postdoctoral training for 10 years, was recently promoted to the position of associate dean for graduate education at the Larner College of Medicine. Larner Medicine caught up with him to discuss his role as a scientist, mentor, and education leader.
Larner Medicine: What first drew you to science?
Chris Berger: I've had an interest in science as long as I can remember. As a little boy, I used to mix things together in the bathroom pretending to be a chemist, and would dig for fossils in the backyard. Math and science were always my favorite subjects. I majored in chemistry and physics in college, but really didn't consider a research career until I was halfway done. As a college cross country and track runner, I wondered how my muscles actually worked while I was running. So, I combined my two passions, running and science, and did an independent study to learn cryo-electron microscopy, looking at the ultrastructure of muscle. It opened up a whole new world to me.
LM: How would you describe your role as associate dean for graduate and postdoctoral training?
CB: Graduate education and research training are core missions of the Larner College of Medicine. I see myself as part of a new leadership team at the College that not only recognizes the value in each of these missions, but also the added value in their integration.
First and foremost, I am an advocate for our graduate students and postdocs. They are the backbones of the research enterprise here–doing much of the actual experimental work in our labs, as well as experimental design, data analysis, interpreting results, and writing papers. A big part of my job is helping bring together the appropriate sets of expertise from within our college departments and across the university to train our graduate students and postdocs for the realities of the current scientific workforce. All of our trainees and faculty—regardless of the degree they're seeking or stage of their career—need to develop the same set of professional competencies. I believe one of the great opportunities of this position is to help fully realize how the environment of an academic medical center can foster interactions between those receiving clinical training and those receiving research training.
LM: What was your experience as a trainee and what do you like about being a mentor?
CB: I was fortunate to have good mentors as a graduate student, a postdoc, and as a junior faculty member here at UVM. However, the training environment was different back then; most people were seeking an academic position, so my mentors were well prepared to help me along that path. Now, 30 years later, the landscape is very different. Less than 30 percent of Ph.D.s end up in an academic position–most work in biotech, big pharma, government, non-government organizations, including my own trainees. As a mentor, I love seeing the "Aha!" moments when a trainee gets something complicated they haven't understood before, when they make a new discovery, when they realize they now have a skill they didn't have before. My role allows me to support our faculty and help them to be the best teachers and mentors they can be, by providing curricular and program support, or working with the Associate Dean for Faculty to provide programs and workshops on mentoring.

Stetson Lecture Features MIT/Harvard AI Expert
Hailed by Forbes Magazine as one of Deep Knowledge Analytics' "Top 100 AI Leaders in Drug Discovery and Advanced Healthcare," Leo Anthony Celi, M.D., M.S., M.P.H., wowed the more than 80 attendees at the 2019 Stetson Lecture in Technological Advances in Medicine on September 11 with his presentation on "Using the Hype Around AI to Redesign the Medical Knowledge System."

The clinical research director and principal research scientist at the MIT Laboratory for Computational Physiology, an intensive care physician at Beth Israel Deaconess Medical Center, and a faculty member at Harvard Medical School, Dr. Celi shared his insights on using data science to improve health care outcomes, the value and limitations of algorithms, the use of research in day-to-day operations to improve population health, and the provider's role as "a contributor and custodian of the knowledge system." He also discussed the two open-access Intensive Care Unit databases he co-created, Sana—an open-source cellphone-based software that allows capture and transmission of medical data through cellular networks to a back-end electronic medical system, and his research.

Seven members of the Stetson family attended the event. Pictured above—Front, left to right: Lisa Stetson, Roberta Stetson, Karen Stetson Newman, Dr. Leo Anthony Celi. Back, left to right: Dr. Gordon Jensen, Dr. John Stetson, David Stetson, Dean Richard Page.

View the full Stetson lecture here.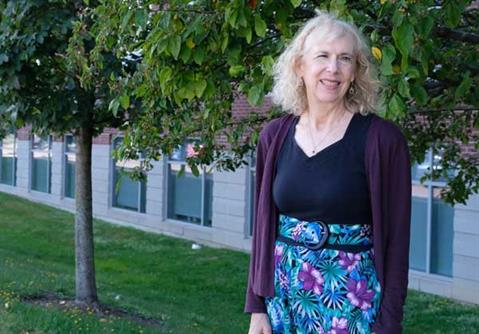 UVM Celebrates Longtime Staff Members
At a September 12th special dinner, during the University of Vermont's Staff Appreciation Week, 17 Larner College of Medicine staff members were recognized for serving the University 20 years or longer. Among those recognized was Diantha Howard, M.A., M.S. (pictured above), Informatics Core manager in the Clinical Research Center, who has worked at UVM for a milestone 45 years.

Ms. Howard received a bachelor's degree in mathematics from Middlebury College and then earned both an M.S. in biostatistics and an M.A. in mathematics from UVM. Her positions over the past 45 years include statistical programmer in medical biostatistics; biostatistician in the College of Agriculture and Life Sciences; informatics manager in the Clinical Research Center, and, concurrently, statistician or data manager for various grants and departments in the Larner College of Medicine. What does Ms. Howard like best about working at UVM? "Being involved in various types of research," she said.
Larner staff members celebrating 20+ years at UVM include:
Mack Gardner-Morse, Orthopaedics & Rehabilitation, 30 years
Sarah Nightengale, Pathology & Laboratory Medicine, 30 years
Kelly Begin, Medicine/Cardiology, 25 years
Susan Campbell, Neurological Sciences, 25 years
Amy Gilman, Office of Clinical Trials Research, 25 years
Sandra May, Pathology & Laboratory Medicine, 25 years
Allison Sturtevant, Pharmacology, 25 years
Thomas Buttolph III, Neurological Sciences, 20 Years
Mary Gagne, Continuing Medical & Interprofessional Education, 20 years
Betty LaMothe, Orthopaedics & Rehabilitation, 20 years
Shelly Naud, Medical Biostatistics, 20 Years
Teresa Smith, Surgery, 20 years
Scott Tighe, UVM Cancer Center, 20 years
Michelle Von Turkovitch, Pathology & Laboratory Medicine, 20 years
Mary Ellen Walker, Pathology & Laboratory Medicine, 20 years
Karen Whitcomb, Continuing Medical & Interprofessional Education, 20 years.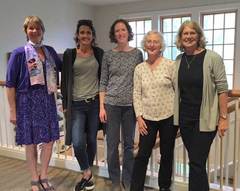 Hope Lodge, with its incredible support services to those of us who have to travel distances to UVM to get medical care, really gets tremendous praise for providing a "home away from home." [...] Returning a few days ago for the next round of my treatment, my husband and I enjoyed a wonderful meal prepared by the Pathology Lab. We have been very impressed by the fact that after a full day's work, these professionals find the time and energy to join us and ensure that we get at least one good meal a day."
~ Celeste, a guest at Hope Lodge and UVM Medical Center patient, commenting on UVMMC's pathology lab team of volunteers who—since 2007—prepare dinner for Hope Lodge guests every Tuesday evening. A total of 40 department members take turns volunteering. Pictured above, from left to right, are the volunteers from the September 10, 2019 dinner: Shelly Hitchcox, Maria Barton, Melissa Barber, Paula Chalfant, and Kathy Hibbert.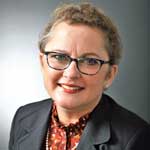 Professor of Medicine and Pathology & Laboratory Medicine Mary Cushman, M.D., M.Sc., joined the American Heart Association Eastern States Board of Directors. Dr. Cushman previously served as the president of the American Heart Association Board of Directors in Vermont and completed two terms on the American Heart Association National Center Board of Directors.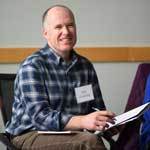 Two publications—Mosaic and The Atlantic--recently published a feature story focusing on research led by Bob Gramling, M.D., D.Sc., Miller Chair in Palliative Medicine and professor of family medicine, and colleagues about conversations between clinicians and dying patients.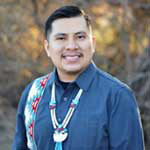 Joshuaa Allison-Burbank, M.A., CCC-SLP, faculty member in the VT LEND program in the Department of Pediatrics, was awarded the National Center for American Indian Enterprise Development 2019 Native American 40 under 40 award in recognition of his work as a speech language pathologist, lecturer, and researcher. He is a member of the Navajo Nation and Acoma Pueblo.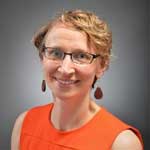 Interim Senior Associate Dean for Medical Education and Associate Dean for Students Christa Zehle, M.D. was featured in the article "5 steps for interview prep" in the Summer '19 edition of Practice Link.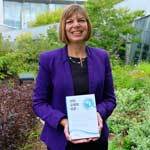 An Introduction to Medical Teaching, a textbook co-authored by Assistant Dean for Medical Education and Teaching Academy Director Kathryn (Katie) Huggett, Ph.D., was recently translated into Korean and published by Springer Science.

CITATION HIGHLIGHTS
Developing as an Academic Medical Educator in Obstetrics and Gynecology
. Graziano SC, Page-Ramsey SM, Buery-Joyner SD, Bliss S, Craig LB, Forstein DA, Hampton BS, Hopkins L, McKenzie ML, Morgan H, Pradhan A, Everett EN; Undergraduate Medical Education Committee, Association of Professors of Gynecology and Obstetrics. Obstet Gynecol. 2019 Sep;134(3):621-627. doi: 10.1097/AOG.0000000000003417.
Lowry KP, Trentham-Dietz A, Schechter CB, Alagoz O, Barlow WE, Burnside ES, Conant EF, Hampton JM, Huang H, Kerlikowske K, Lee SJ, Miglioretti DL, Sprague BL, Tosteson ANA, Yaffe M, Stout NK.
Long-term Outcomes and Cost-effectiveness of Breast Cancer Screening with Digital Breast Tomosynthesis in the United States
. J Natl Cancer Inst. 2019 Sep 10. pii: djz184. doi: 10.1093/jnci/djz184. [Epub aheadof print] PubMed PMID: 31503283.
Morgan HK, Graziano SC, Craig LB, Everett EN, Forstein DA, Hampton BS, Hopkins L, McKenzie ML, Pradhan A, Royce C, Madani-Sims S, Morosky CM; Undergraduate Medical Education Committee, Association of Professors of Gynecology and Obstetrics.
A National Survey of Profiles of Clerkship Directors in Obstetrics and Gynecology
. Obstet Gynecol. 2019 Sep 10. doi: 10.1097/AOG.0000000000003471. [Epub ahead of print] PubMed PMID: 31503156.
Wasserman RC, Varni SE, Hollander MC, Harder VS.
Change in Site of Children's Primary Care: A Longitudinal Population-Based Analysis
. Ann Fam Med. 2019 Sep;17(5):390-395. doi: 10.1370/afm.2416. PubMed PMID: 31501199.
Davey A, Frank RM, Wang KC, Southworth TM, Cole BJ.
Clinical Outcomes of Revision Osteochondral Allograft Transplantation
. Arthroscopy. 2019 Sep;35(9):2636-2645. doi: 10.1016/j.arthro.2019.03.055. PubMed PMID: 31500750.
Smith L, Atherly A, Campbell J, Flattery N, Coronel S, Krantz M.
Cost-effectiveness of a statewide public health intervention to reduce cardiovascular disease risk
. BMC Public Health. 2019 Sep 6;19(1):1234. doi: 10.1186/s12889-019-7573-8. PubMed PMID: 31492118.
Schimberg AS, Wellenstein DJ, van den Broek EM, Honings J, van den Hoogen FJA, Marres HAM, Takes RP, van den Broek GB.
Office-based vs. operating room-performed laryngopharyngeal surgery: a review of cost differences
. Eur Arch Otorhinolaryngol. 2019 Sep 5. doi: 10.1007/s00405-019-05617-z. [Epub ahead of print] Review. PubMed PMID: 31486936.
Lyons KD, Bruce ML, Hull JG, Kaufman PA, Li Z, Stearns DM, Lansigan F, Chamberlin M, Fuld A, Bartels SJ, Whipple J, Bakitas MA, Hegel MT.
Health Through Activity: Initial Evaluation of an In-Home Intervention for Older Adults With Cancer
. Am J Occup Ther. 2019 Sep/Oct;73(5):7305205070p1-7305205070p11. doi: 10.5014/ajot.2019.035022. PubMed PMID: 31484031.
Yu HY, Everett EN, Baecher-Lind L, Hampton BS.
Feasibility of a Regional Approach to an Obstetrics and Gynecology Transition to Residency Course
. R I Med J (2013). 2019 Sep 3;102(7):51-55. PubMed PMID: 31480822.
Nambiar L, Silverman D, VanBuren P, LeWinter M, Meyer M.
Beta-Blocker Cessation in Stable Outpatients with Heart Failure with a Preserved Ejection Fraction
. J Card Fail. 2019 Aug 31. pii: S1071-9164(19)30616-5. doi: 10.1016/j.cardfail.2019.08.020. [Epub ahead of print] PubMed PMID: 31479746.
Parikh RR, Folsom AR, Misialek JR, Rosamond WD, Chang PP, Tang W, Cushman M.
Prospective study of plasma high molecular weight kininogen and prekallikrein and incidence of coronary heart disease, ischemic stroke and heart failure
. Thromb Res. 2019 Aug 22;182:89-94. doi: 10.1016/j.thromres.2019.08.009. [Epub ahead of print] PubMed PMID: 31473403.

View Archive | Subscribe

Published by the Office of Medical Communications
The Larner College of Medicine
at The University of Vermont
Copyright 2019