July 24, 2019 | Volume I, Issue 10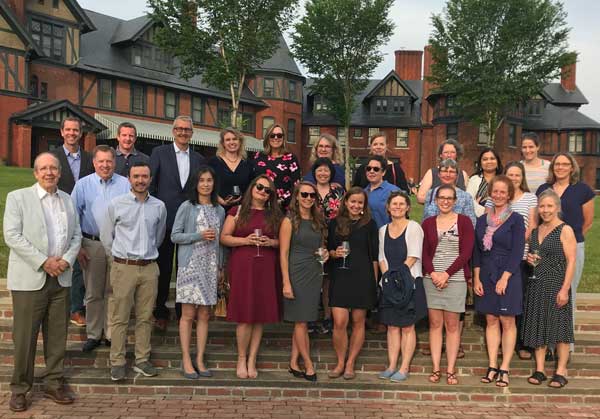 Vaccine Testing Center, Johns Hopkins & NIH Celebrate 10-Year Collaboration
A shared mission to reduce the global health threat of dengue viruses and other cousins of the Zika virus family is what brought together researchers from the UVM Vaccine Testing Center, the Johns Hopkins Bloomberg School of Public Health, and the National Institute of Allergy and Infectious Diseases (NIAID) in late 2008. On June 29, members of the three collaborating institutions—along with Larner College of Medicine Dean Richard L. Page, M.D. (back row, third from left), and Senior Associate Dean for Research Gordon Jensen, M.D., Ph.D. (front row, far left)—gathered for a celebratory ten-year anniversary dinner at Vermont's iconic Inn at Shelburne Farms.
The consortium is led by UVM Vaccine Testing Center Director and Chair of Microbiology and Molecular Genetics Beth Kirkpatrick, M.D. (middle row, far right), Stephen Whitehead, Ph.D. (middle row, far left), senior scientist and virologist at the Laboratory of Viral Diseases at the NIAID, and Anna Durbin, M.D. (front row, fourth from right), professor of international health at the Johns Hopkins Bloomberg School of Public Health. Within the Vaccine Testing Center, consortium clinical research studies are led by Kristen Pierce, M.D. (back row, fourth from right), associate professor of medicine. Human immunology research is led by Sean Diehl, Ph.D. (back row, second from left), assistant professor of microbiology and molecular genetics. In addition to this ongoing collaboration, the UVM team has garnered additional funding from the National Institutes of Health and the Bill & Melinda Gates Foundation to examine ways to prevent and gain a better understanding of dengue virus infections.

Polio: A Memoir
In the late 1940s, polio loomed large as a devastating childhood disease that struck without warning. At eight years old, alumnus John Dick, M.D.'67 contracted the disease while vacationing with his family at Lake Dunmore in Vermont. He wrote a memoir that chronicles the treatment he received at the former Mary Fletcher Hospital (now UVM Medical Center), his long road to recovery, and his journey to becoming a doctor, despite the challenges he faced. Dr. Dick retired in January 2018 after 46 years from his internal medicine practice in Brandon, Vt., and as an attending physician at Rutland Regional Medical Center. Read excerpts from his memoir in the summer issue of Vermont Medicine.

Department of Pathology and Laboratory Senior Lab/Research Technician and Project Coordinator Lyndelle LeBruin, M.S., M.P.H., wrote a blog post about her experience as a member of the Larner Statement on Professionalism Task Force. She says: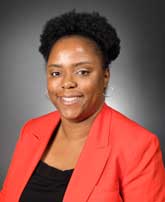 I have always felt a special connection to the Larner College of Medicine community. I am a proud UVM graduate and the Larner College of Medicine has afforded me tremendous professional and career development opportunities. This was a unique opportunity to pay it forward and give back to a place that has given me so much. "
Read more
about professionalism at Larner
.

Welcome New UVM Medical Center Residents and Fellows!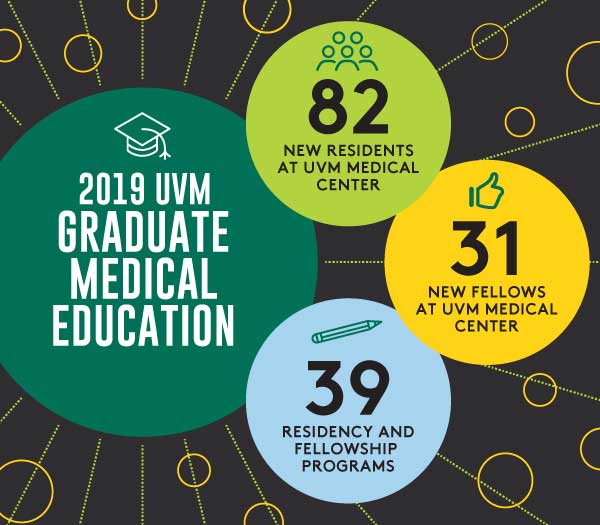 In June, the University of Vermont Medical Center welcomed its new residents and fellows. Read more about the residency programs.

U.S. Public Health Service Presents Award to Medical Student Project Team
Class of 2020 medical students William Earle, Eli Goldberg, Mary Griffin, Amanda Kardys, Nikolas Moring, Elias Schoen, and Emily Vayda were recognized with a 2019 Excellence in Public Health Award from the U.S. Public Health Service (USPHS) Physician Professional Advisory Committee for their Public Health Project, titled "Needs Assessment of Suicide Prevention in Vermont Middle and High Schools." The group, which was mentored by Jan Carney, M.D., M.P.H., associate dean for public health and health policy, Jill Jemison, director of information systems and educational technology, Tom Delaney, Ph.D., assistant professor of pediatrics, and Raj Chawla, M.P.H., faculty technology liaison, also received an honorable mention for their project at the 2018 American Public Health Association annual meeting.
In presenting the award, U.S. Public Health Service Commander Joseph T. Frost, M.P.H., R.D.N., C.D., stated that "these awards are a testament to the education provided by the University of Vermont Larner College of Medicine, and to the high caliber of your students. We hope that this will encourage your faculty and students to continue their strong work in public health."
Pictured above, left to right: Ms. Jemison; Dr. Carney; Mr. Chawla; Dean Page; Mr. Goldberg; Ms. Vayda; Ms. Kardys; Mr. Schoen; Mr. Earle; Dr. Delaney; and Cdr. Frost. (Not pictured: Nik Moring)

Stem Cell & Lung Biology Conference Draws Scientists from Across Globe
In the 16 years since the University of Vermont hosted the first-ever "Adult Stem Cells & Lung Biology" conference, the field has seen promising discoveries, negative Phase 1 clinical trial results, and utilized next-generation technology in the quest to develop new treatments for severe lung disease. This invitation-only biennial conference serves to inspire and motivate the dedicated group of biomedical scientists working towards this goal.
New UVM President Suresh Garimella—a well-regarded scientist himself—helped kick off the 8th "Stem Cells, Cell Therapies, and Bioengineering in Lung Biology and Diseases" conference, which took place July 15-18, 2019. Nearly 120 scientists from five continents and 13 countries came to Burlington to attend the meeting, which highlighted trainee research and offered such sessions as "Understanding Lung Stem Cells in the Digital Age," "Bringing Cell and Tissue-Derived Products to Market," "Visualizing Lung Regeneration," as well as an "Elevator Pitch Competition" for budding inventors, and a "Women and Diversity" career panel discussion.
At the meeting's close, UVM Professor of Medicine and conference co-founder Daniel Weiss, M.D., Ph.D., moderated an open discussion to develop priorities and recommendations for future research to share with the National Institutes of Health and other lung disease research organizations. Weiss also serves a scientific officer for the International Society for Cell & Gene Therapy.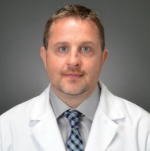 Associate Professor of Anesthesiology Vincent J. Miller, M.D., was appointed Director of Clinical Simulation in the Clinical Simulation Laboratory, a collaborative facility shared by the Larner College of Medicine, the UVM College of Nursing and Health Sciences, and the UVM Medical Center. Miller has served as Director of Anesthesiology Simulation Education since 2008, Simulation Central Line Training Director since 2010, and as Interim Director of the Clinical Simulation Lab since September 2016.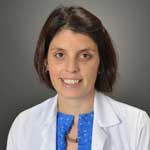 Assistant Professor of Pediatrics Rebecca Bell, M.D., started her term as president of the American Academy of Pediatrics Vermont on July 1. Dr. Bell is looking forward to leading the nationally-recognized Vermont chapter in its continued advocacy efforts on behalf of children and in its support of Vermont pediatricians and the incredible work they do to promote the health and well-being of Vermont's children.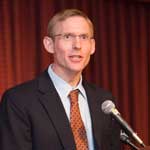 Professor of Medicine Allen Repp, M.D., began serving as Vermont Chapter Governor for the American College of Physicians (ACP) in April 2019. As governor, he serves as the official ACP representative for the Vermont Chapter, providing a link between members at the local level and leadership at the national level.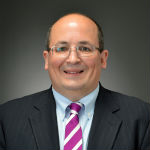 Michael LaMantia, M.D., M.P.H., Miller Chair in Memory and Aging and professor of medicine, was elected a fellow of the American College of Physicians (FACP) on July 1. The FACP distinction recognizes accomplishments and achievements over and above the practice of medicine, as well as excellence and contributions made to both medicine and to the broader community in which the internist lives and practices.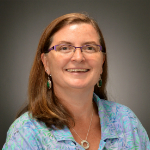 The Madison-Deane Initiative awarded Assistant Professor of Family Medicine Diana Barnard, M.D., the UVM Health Network Home Health & Hospice Madison-Deane Award for Excellence in End-of-Life Care. The award recognizes Dr. Barnard for continuing the legacies of Drs. Madison and Deane by educating others in palliative care and preventing unnecessary "suffering for patients at the end of life."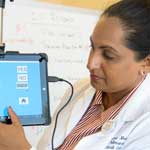 Assistant Professor of Medicine Prema Menon, M.D., Ph.D., was one of three UVM faculty members who received a 2019 UVM SPARK-VT grant. The two-year award will support the further development of her "Ventalect" prototype–a tablet enabled with an algorithm and two-button controller that allows ICU patients on mechanical ventilators to communicate about treatment decisions.

CITATION HIGHLIGHTS
Wong T, King BS, Boggs SD, Urman RD, Tsai MH. Utilizing the procedural times glossary as a roadmap to improve efficiency tracking in non-operating room environments. J Clin Anesth. 2019 Jul 1;59:72-73. doi: 10.1016/j.jclinane.2019.06.029. [Epub ahead of print] PubMed PMID: 31271909.
Lucht SA, Eliassen AH, Bertrand KA, Ahern TP, Borgquist S, Rosner B, Hankinson SE, Tamimi RM. Circulating lipids, mammographic density, and risk of breast cancer in the Nurses' Health Study and Nurses' Health Study II. Cancer Causes Control. 2019 Jul 1. doi: 10.1007/s10552-019-01201-2. [Epub ahead of print] PubMed PMID: 31264139.
Tarleton EK, Kennedy AG, Rose GL, Crocker A, Littenberg B. The Association between Serum Magnesium Levels and Depression in an Adult Primary Care Population. Nutrients. 2019 Jun 28;11(7). pii: E1475. doi: 10.3390/nu11071475. PubMed PMID: 31261707.
Ascierto PA, Bifulco C, Palmieri G, Peters S, Sidiropoulos N. Preanalytic
Variables and Tissue Stewardship for Reliable Next-Generation Sequencing (NGS) Clinical Analysis. J Mol Diagn. 2019 Jun 25. pii: S1525-1578(19)30003-0. doi: 10.1016/j.jmoldx.2019.05.004. [Epub ahead of print] Review. PubMed PMID: 31251989.
Lunde CS, Stebbins EE, Jumani RS, Hasan MM, Miller P, Barlow J, Freund YR, Berry P, Stefanakis R, Gut J, Rosenthal PJ, Love MS, McNamara CW, Easom E, Plattner JJ, Jacobs RT, Huston CD. Identification of a potent benzoxaborole drug candidate for treating cryptosporidiosis. Nat Commun. 2019 Jun 27;10(1):2816. doi: 10.1038/s41467-019-10687-y. PubMed PMID: 31249291; PubMed Central PMCID: PMC6597546.
van Helmondt SJ, Polish LB, Judson MA, Grutters JC. Patient perspectives in sarcoidosis. Curr Opin Pulm Med.2019 Jun 24. doi:10.1097/MCP. 0000000000000602.[Epub ahead of print] PubMed PMID: 31246592.
Floyd JS, Bloch KM, Brody JA, Maroteau C, Siddiqui MK, Gregory R, Carr DF, Molokhia M, Liu X, Bis JC, Ahmed A, Liu X, Hallberg P, Yue QY, Magnusson PKE, Brisson D, Wiggins KL, Morrison AC, Khoury E, McKeigue P, Stricker BH, Lapeyre-Mestre M, Heckbert SR, Gallagher AM, Chinoy H, Gibbs RA, Bondon-Guitton E, Tracy R, Boerwinkle E, Gaudet D, Conforti A, van Staa T, Sitlani CM, Rice KM, Maitland-van der Zee AH, Wadelius M, Morris AP, Pirmohamed M, Palmer CAN, Psaty BM, Alfirevic A; PREDICTION-ADR Consortium and EUDRAGENE. Pharmacogenomics of statin-related myopathy: Meta-analysis of rare variants from whole-exome sequencing. PLoS One. 2019 Jun 26;14(6):e0218115. doi: 10.1371/journal.pone.0218115. eCollection 2019. PubMed PMID: 31242253.
Taatjes DJ, Schrader M, Koji T, Roth J. Histochemistry and Cell Biology: 61 years and not tired at all. Histochem Cell Biol. 2019 Jun 24. doi: 10.1007/s00418-019-01796-2. [Epub ahead of print] PubMed PMID: 31236664.
Jacobs RC, Huynh TT, Ames SE, Tsai MH, Michelson JD. Business Modeling of Orthopaedic Trauma in the Emergency Department: An Untapped Revenue Stream. J Am Acad Orthop Surg. 2019 Jul 1;27(13):e612-e621. doi: 10.5435/JAAOS-D-17-00742. PubMed PMID: 31232799.
Nicoli CD, Sprague BL, Anker CJ, Lester-Coll NH
.
Association of Rurality With
Survival and Guidelines-Concordant Management in Early-stage Non-Small Cell Lung
Cancer
. Am J Clin Oncol. 2019 Jul;42(7):607-614. doi: 10.1097/COC.0000000000000549. PubMed PMID: 31232724.

View Archive | Subscribe

Published by the Office of Medical Communications
The Larner College of Medicine
at The University of Vermont
Copyright 2019