December 11, 2019 | Volume I, Issue 20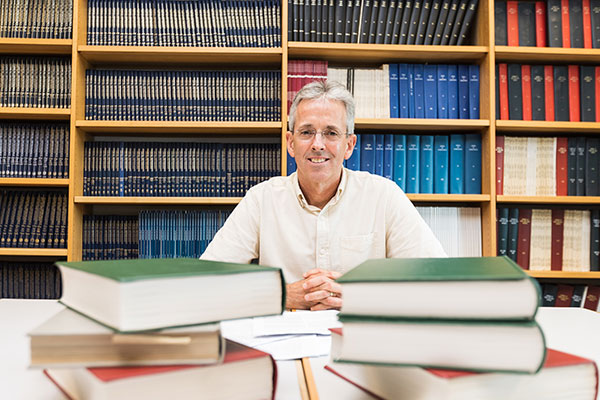 Championing Access to Research
Historically, the biomedical community has been at the mercy of a scientific publishing system that exclusively owns the copyright of published material and restricts reader access. Scientific authors sign over all rights and sometimes have to pay publishers to re-use their own research.

Over the last 20 years, the system has given rise to an "open access" movement: a push by publishing platforms to make new scientific knowledge available to clinicians, researchers, and the public freely and quickly.

Professor of Microbiology and Molecular Genetics Gary Ward, Ph.D., has become a national leader in this effort. He has chaired the board of directors of the non-profit open access publisher Public Library of Science (PLoS), served on the National Library of Medicine's Public Access Working Group, and led the PubMed Central National Advisory Committee. This fall, he was recognized, along with UVM President Suresh Garimella and others as a "UVM Open Access Champion" by UVM Libraries.

"The sooner results become available and the more people that have access to those results, the quicker they'll be built upon and the faster the whole scientific enterprise will proceed," Dr. Ward says.
Read more about Dr. Ward and the open access movement in the Fall 2019 Vermont Medicine.

Tracy Mentors Students to Cultivate Their Strengths
Professor of Biochemistry
Paula Tracy, Ph.D.,
discovered her passion for mentoring as a postdoctoral fellow at the Mayo Clinic. While there, she would often take students, eager to learn about medicine through research, under her wing. When she arrived at UVM nearly 35 years ago, she brought her love for teaching with her. Since then, she has mentored more than 100 postdoctoral fellows, graduate, undergraduate, and medical students.
"Mentoring is about getting students to a point where they say, 'I can do this,'" Dr. Tracy says. "Because in science, there are peaks and valleys. The valleys can be really low and really long, and the peaks can be instantaneous and fleeting. But eventually, the high is so amazing that you figure out how to handle the valleys."
Adapted from a UVM OutReach blog post, titled
"UVM Is: Paula Tracy Mentors Students to Cultivate Their Strengths,"
by Erica Houskeeper. (Photo by Brent Harrewyn.)

Simpatico's VA Project Addresses Veteran Homelessness
More than nine percent of veterans in Vermont are homeless. Professor of Psychiatry Thomas Simpatico, M.D., is working on decreasing those numbers through a unique program.

Established in 2013, the UVM Supportive Services for Veteran Families (SSVF) Program is the only university-based program partnering with and funded by the U.S. Department of Veterans Affairs for this initiative. SSVF assists very-low income veteran families in Vermont and northern New York who are homeless or imminently at risk of homelessness gain and retain stable housing. It serves as a hub, contracting with organizations including Pathways Vermont, which maintains a landlord database and provides housing and case management services, and Easterseals Vermont, which provides care coordination. In October, Dr. Simpatico received the project's latest round of funding–a three-year grant for $4.5 million.

Having the program based at UVM has translated into a number of benefits, explains Dr. Simpatico. "We're driving down homelessness for vets, the program is impervious to political pressure, and it's a great model for other universities for providing state-of-the-art, morally-sound services." He adds that the SSVF model is also applicable to other populations, like those with substance use and mental health disorders.
"We're aiming for no return to homelessness," says Dr. Simpatico. "We plan to implement unique additions to the program to support more effective early detection and linkage of veterans and their families and aim to make this an exportable model."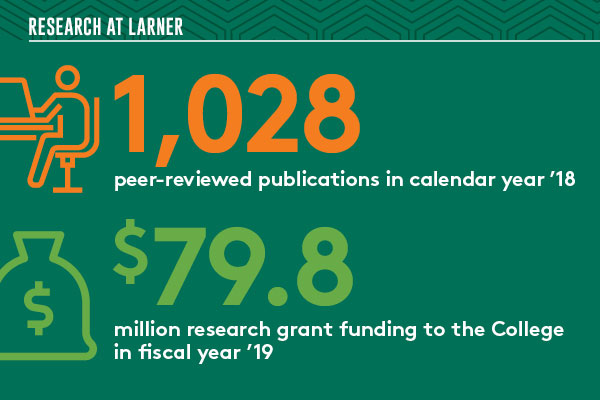 Text only version: Research at Larner
1,028 Peer-reviewed publications in calendar year '18. $79.8 million research grant funding to the College in fiscal year '19.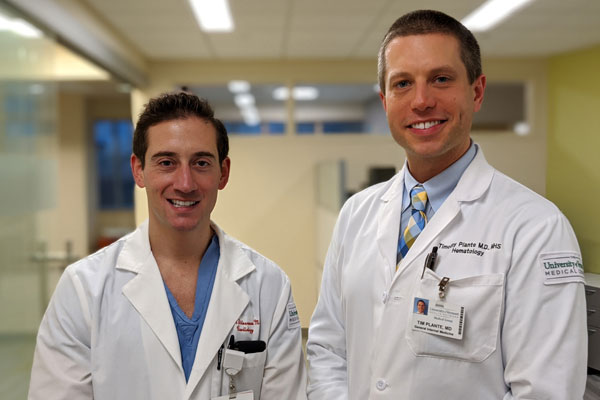 Silverman & Plante Study Beta-Blockers & Heart Failure

Nearly six million Americans have heart failure, a leading driver of healthcare costs in the U.S. A new study published in JAMA Network Open and authored by Clinical Instructor in Medicine Daniel Silverman, M.D., Assistant Professor of Medicine Timothy Plante, M.D., M.H.S., and colleagues, found beta-blocker use to be a risk factor for hospitalizations for heart failure among patients with a common "stiff heart" heart failure sub-type.

"A big problem with 'stiff heart' heart failure is that we don't have effective medical therapies," says Dr. Plante. "So, instead, we use the same medications that work for 'weak heart' heart failure. Because beta-blockers save lives in 'weak heart' heart failure, we assume they are also effective in 'stiff heart' heart failure patients—this assumption may be wrong."

Lead author Dr. Silverman, Dr. Plante, and colleagues analyzed data from the National Institutes of Health-funded TOPCAT (Treatment of Preserved Cardiac Function Heart Failure with an Aldosterone Antagonist) study, a trial of the medication spironolactone in patients with "stiff heart" heart failure.

Read more about Dr. Plante and Dr. Silverman's beta-blocker study.

Pictured above: Daniel Silverman, M.D., left, and Timothy Plante, M.D., M.H.S.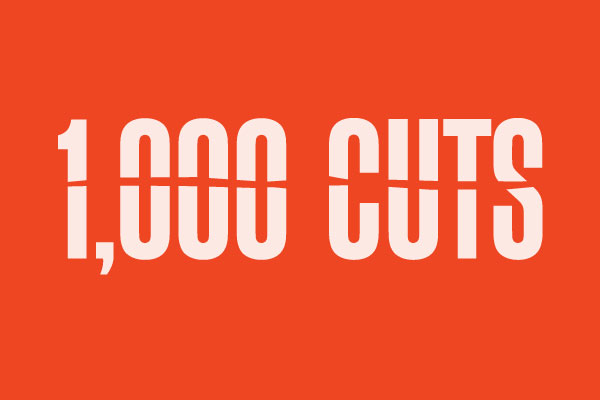 1,000 Cuts Program Takes Aim at "Mindless Tasks"
The Department of Medicine is on a quest to rid faculty members of "the paper cuts of everyday life," the mindless tasks that can drain time and energy. "They seem miniscule and unimportant, but when you have thousands of them a day, you bleed to death," says Professor of Medicine Benjamin Suratt, M.D.
The program—called 1,000 Cuts—invites department members to identify, via email, the "paper cuts" they experience through their work as physicians and educators. From nonsensical forms, to outdated processes, to confusing rules and regulations, the goal is to address some of the underlying causes of burnout, a constellation of symptoms that include emotional exhaustion, depression, and diminished sense of accomplishment. 1,000 Cuts takes aim at these causes of burnout. "These are all inherently systems errors," Dr. Suratt says. "How can we change globally what we're doing? How can we redesign the system?"

The program also seeks to focus physicians' time on what they were trained to do: care for patients. Through 1,000 Cuts, faculty can channel their energy into positive change. "Actually fixing something feels good," he says. "The hope with 1,000 Cuts is that we're inviting people into that process."
Read the full story in the Fall 2019 edition of The Chart.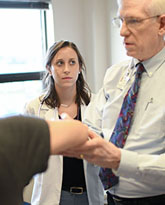 In reflecting on the Doctoring in Vermont program, in a few words, I find it refreshing, invigorating, and hopeful. It is such a pleasure spending time with the students, who are so eager and excited to see, talk to, and touch "real patients" after all the "book" learning they're doing and have done. It never ceases to remind me what an honor it is to care for patients and how much there is to learn and how long it takes to learn it, starting (in many cases) from no clinical experience."
~Excerpted from a reflection by Assistant Professor of Family Medicine Dale Stafford, M.D., who has been a Doctoring in Vermont preceptor for 30 years.
Pictured above: Dr. Stafford models how to assess a patient while Class of 2022 Larner College of Medicine medical student Anna Quinlan watches.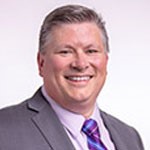 Associate Professor of Psychiatry Robert Althoff, M.D., Ph.D., was named co-chair of the Presidential Initiative Task Force on Emotional Regulation in Children at the American Academy of Child and Adolescent Psychiatry meeting held in October. The two-year task force will address the topics of irritability, anger, and aggression and will focus on meeting the mental health needs of "difficult to treat" children.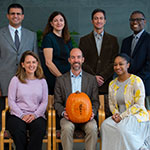 Jesse Moore, M.D., director of active learning and associate professor of surgery, is serving as chair of the Surgery Item Writing and Review Task Force for the National Board of Medical Examiners. The committee met earlier this fall to review questions and align the surgery subject exam with the American College of Surgeons/Association of Surgical Education Medical Student Core Curriculum.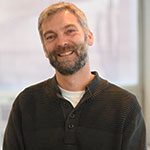 Associate Professor of Surgery Jonathan Boyson, Ph.D., was highlighted in the Nature.com "Editors' Choice: Best of Genes and Immunity 208" list for his article, titled "Regulation of invariant NKT cell development and function by a 0.14 Mbp locus on chromosome 1: a possible role for Fcgr3," which was one of the journal's 12 most cited and most shared articles of 2018.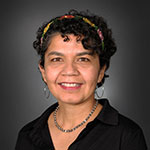 Roxanna del Rio-Guerra, Ph.D., has been named director of UVM's Harry Hood Bassett Flow Cytometry and Cell Sorting Facility (FCCS). Dr. del Rio-Guerra, the former FCCS manager, is a certified specialist in cytometry through the American Society for Clinical Pathology Board of Certification, and has over 15 years of experience in the use of flow cytometry in both basic and applied immunology research. She succeeds Jonathan Boyson, Ph.D., as the facility's director.

CITATION HIGHLIGHTS
Konen J, Murphy S, Berkman A, Ahern TP, Sowden M.
Intraoperative Ultrasound
Guidance With an Ultrasound-Visible Clip: A Practical and Cost-effective Option
for Breast Cancer Localization.
J Ultrasound Med. 2019 Nov 18. doi:
10.1002/jum.15172. [Epub ahead of print] PubMed PMID: 31737930.
Collins C, Lui Y, Santos AM, Ballif BA, Gogerly-Moragoda AM, Brouwer H, Ross
R, Balagurunathan K, Sharma S, Wright GJ, Davis S, Budd RC.
Detection of Cell
Surface Ligands for Human Synovial γδ T Cells
. J Immunol. 2019 Nov
1;203(9):2369-2376. doi: 10.4049/jimmunol.1900451. Epub 2019 Sep 23. PubMed PMID:
31548331; PubMed Central PMCID: PMC6804759.
Waheed W, Taicher C, Dulaney E, Eckenstein F, Hehir M, Sprague J, Tandan R.
Intraepidermal Nerve Fiber Density in Postmortem Skin: A Novel Approach.
J Clin
Neuromuscul Dis. 2019 Dec;21(2):69-76. doi: 10.1097/CND.0000000000000264. PubMed
PMID: 31743249.
Farhang B, Mathews DM.
Pain monitor: reality or fantasy in ambulatory
patients.
Curr Opin Anaesthesiol. 2019 Dec;32(6):727-734. doi:
10.1097/ACO.0000000000000797. PubMed PMID: 31651440.
Whitaker EE, Williams RK.
Epidural and Spinal Anesthesia for Newborn Surgery.
Clin Perinatol. 2019 Dec;46(4):731-743. doi: 10.1016/j.clp.2019.08.007. Epub 2019
Aug 15. Review. PubMed PMID: 31653305.
Taatjes DJ, Roth J.
In focus in HCB
. Histochem Cell Biol. 2019
Dec;152(6):391-395. doi: 10.1007/s00418-019-01831-2. PubMed PMID: 31760465.
Norris II, Weinberger CH, Holmes TE, Goldman GD.
Mohs Micrographic Surgery for
Advanced Centrofacial Tumors.
Dermatol Surg. 2019 Dec;45 Suppl 2:S79-S98. doi:
10.1097/DSS.0000000000002250. PubMed PMID: 31764294.
Kaminsky DA.
What Is a Significant Bronchodilator Response?
Ann Am Thorac Soc.
2019 Dec;16(12):1495-1497. doi: 10.1513/AnnalsATS.201908-604ED. PubMed PMID:
31774318.
Gell NM, Grover KW, Savard L, Dittus K.
Outcomes of a text message, Fitbit,
and coaching intervention on physical activity maintenance among cancer
survivors: a randomized control pilot trial.
J Cancer Surviv. 2019 Nov 27. doi:
10.1007/s11764-019-00831-4. [Epub ahead of print] PubMed PMID: 31776849.
Chamberlain N, Anathy V.
Pathological Consequences of the Unfolded Protein
Response and Downstream Protein Disulfide Isomerases in Pulmonary Viral Infection
and Disease.
J Biochem. 2019 Dec 2. pii: mvz101. doi: 10.1093/jb/mvz101. [Epub
ahead of print] PubMed PMID: 31790139.
Sisk B, Green A, Chan K, Yun K.
Caring for Children in Immigrant Families: Are
US Pediatricians Prepared?
Acad Pediatr. 2019 Nov 29. pii: S1876-2859(19)30499-1.
doi: 10.1016/j.acap.2019.11.015. [Epub ahead of print] PubMed PMID: 31790799.
Silverman DN, Plante TB, Infeld M, Callas PW, Juraschek SP, Dougherty GB,
Meyer M.
Association of β-Blocker Use With Heart Failure Hospitalizations and
Cardiovascular Disease Mortality Among Patients With Heart Failure With a
Preserved Ejection Fraction: A Secondary Analysis of the TOPCAT Trial.
JAMA Netw
Open. 2019 Dec 2;2(12):e1916598. doi: 10.1001/jamanetworkopen.2019.16598. PubMed
PMID: 31800067.
First LR, Kemper AR.
Seeing the Wellness in Our Patients and Ourselves Through
the 2020 Lens of Pediatrics.
Pediatrics. 2019 Dec 4. pii: e20193323. doi:
10.1542/peds.2019-3323. [Epub ahead of print] PubMed PMID: 31801851.
Janssens T, Burgy O, Rolandsson Enes S, De Brandt J.
In the spotlight: first
ERS Early Career Member Award winner, the ERS Lung Science Conference 2020 and
new ECMC members.
Breathe (Sheff). 2019 Dec;15(4):330-336. doi:
10.1183/20734735.0253-2019. PubMed PMID: 31803268; PubMed Central PMCID:
PMC6885338.

View Archive | Subscribe

Published by the Office of Medical Communications
The Larner College of Medicine
at The University of Vermont
Copyright 2019